Aloha Beijing! The Great Wall of China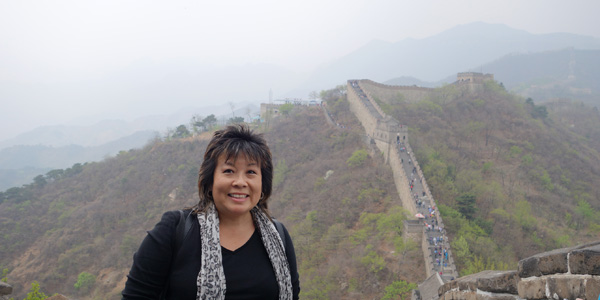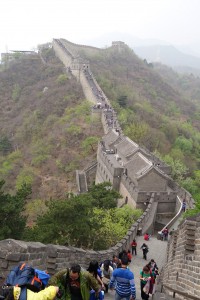 As mentioned in my initial travel post, it's been 30 years since I was last in Beijing. One of the highlights of my last visit here was visiting The Great Wall, which was started as early as 7th Century B.C. as several walls, and joined together over centuries to create the world wonder that we see today — even from space.
It takes about an hour and a half to get from Beijing proper out to one of three tourist posts commonly accessed on the wall (there are actually a couple dozen spots you can go to). We went to Mutianyu, which is the closest, and probably the most touristy. Since it takes so long, the bus driver really ripped it out there, and I wasn't able to get some REALLY quirky photos. You will pass many farms on your way out and back, so stay awake. There was a fruit farm with a colorful sculpture (?) of a fruit basket as big as a building fronting the orchard. There was a fishing bridge with a gigantic warrior statue standing guard, also as big as a building. And as you pass through the town, there are stores with fantastic Chingrish signs, like the "Poop Clothing Store." I almost feel like I need a special trip to go back through these quirky spots to take photos and see what they're about.
But, I digress. When you get to Mutianyu, you'll need to walk a ways up to the ski lift that takes you to the point in the wall that you can hike. If you turn left, it's supposedly flatter; if you turn right, as I did, it's steeper. The footing is uneven, so wear athletic shoes.
Visiting the Great Wall
I remember writing that we only made it to the first lookout point when we climbed this in 1983. Here I am, 30 years later, and I could only make it to the first lookout point (in the hour given). It was good to know that it didn't matter that I was younger and fitter back then; that's all you can do in a time given — more or less.
For more on The Great Wall of China, click here.
Cuteness overload: A whole class of Chinese kids — maybe 40 of them — were there on a field trip and ate lunch in one of the lookout towers. Here's a clip of them singing.
Up next: Tianamen Square, the Forbidden City, and Silk Alley!
These were just the highlights. For more photos, click here.
Disclosure: Hawaiian Airlines provided this trip.