Ag in the City & the Eat Local Challenge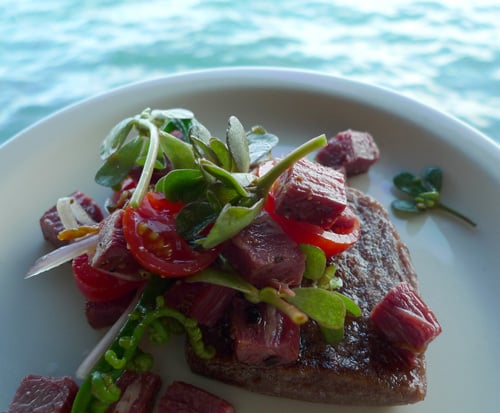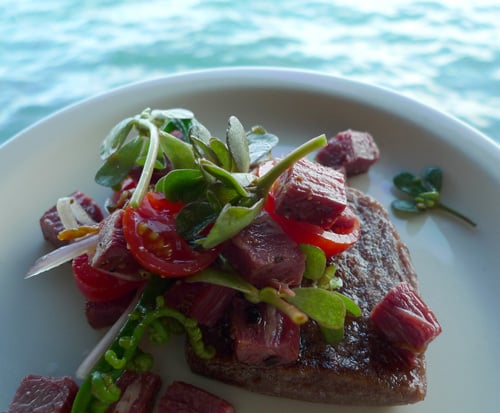 Once again, Kanu Hawaii is asking people across the state to participate in its annual Eat Local Challenge — but this time, it has been expanded from a week to a whole month. During September, the organization wants us to eat locally grown food "in order to build a more sustainable, secure and healthy local food system."
The third annual Eat Local Challenge officially launches at "Ag in the City: Stepping up to the Plate," a free event tomorrow (Aug. 31) from 4-7 p.m. at the Honolulu Farmers Market at Blaisdell Center. Booths will feature chefs partnered with farmers, showcasing dishes made with fresh local products:
Chef Mark Noguchi of Heeia Pier and Deli is paired with Kuahiwi Ranch. Noguchi will be preparing a dish featuring Kuahiwi's natural artisan beef. He will also be presenting a dish featuring Wow Farm tomatoes.
Chef Ed Kenney of town and Downtown is paired with MA'O Organic Farm. Kenney will be preparing dishes featuring items grown by both MA'O Organic Farm and Shinsato Farm island raised pork.
Chef Andrew Le and Martha Cheng of The Pig and the Lady will feature Ho Farms' produce in a grilled flatbread topped with roasted eggplant and squash, curried tomatoes, caramelized onions, pickled cucumbers and mint, and shaved ricotta salata.
Chef Sean Priester of Soul is paired with Pit Farm. Menu TBA.
Chef Kele Smith of Kahuku Na'ono will be paired with Kahuku Farms, serving veggie lasagna made with Kahuku long eggplant and luau leaves, with a basil tomato sauce..
We visited Mark Noguchi at Heeia Pier to hear more about "Ag in the City." Somehow, hearing about it from one of the chefs is much more exciting than reading about it.
Weekly mini-challenges devoted to growing our own food, learning about Hawaii's local food system and sharing resources about how and where to eat local will be promoted throughout the month-long campaign. In the final days of the month (Sept. 25-30) participants are challenged to eat strictly local. To see the entire month's schedule for Kanu Hawaii's Eat Local Challenge, click here.
By the way, Mari Taketa and I were out at Heeia Pier to eat with our Twitter friend Andrea Hamblin (@Pandiorama), as well as out-of-town food bloggers @Ms_Munchie and @BonneVivante (not sure if they want their names revealed). Here's what we ate.