Afterthoughts: Chinatown Lockdown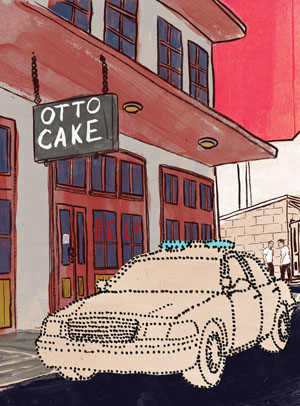 Remember that 2009 shotgun murder on River Street, the one that horrified the city and led to an outcry for more police enforcement in Chinatown? This month, the Honolulu City Prosecutor's office goes to trial with the case, charging Iosefa Pasene and Zorro Rye with the killing of Joseph Peneueta. It's encouraging that local authorities are on the job when it comes to outright, gangland-style murders.
But let's be honest: Law enforcement in downtown Honolulu is not what it should be—something that's recently been vividly illustrated.
In March, drivers and pedestrians heading up Smith Street in Chinatown started seeing a new window sign. The word, "HELP," scrawled in red across the front of cheesecake shop Otto Cake.
It wasn't graffiti. The plea came from owner Otto himself, after a runin with what he says was a belligerent drug dealer. Tired of constant drug dealing outside his little storefront, and harassment of both his employees and customers, Otto had started taking photos and reporting incidents to the police. The dealers, unhappy with the attention, reportedly singled him out for retaliation.
"One day, I was coming back to my store, I ran into a big drug deal," Otto says. "I saw it and shook my head at what was going on. They sent one guy over to yell at me and he punched me in the chest and head."
After this, and another incident in which Otto says he was threatened at a nearby bus stop, he put up his call for help and started locking his doors even during business hours, opening them only when a customer knocks.
Despite all the reports, and the photos, Otto says police aren't responding, at least not in a way that's yet made a difference.
Honolulu's Chinatown/Downtown district has seen amazing revitalization in the past decade: hip bars, cute boutiques, latenight diners. You can even get cheap pizza by the slice, as if we were in a real city! It's no secret, though, that the revival has been patchy. All too often, the wine shops and art galleries are fronted by huge piles of garbage, doorways that stink of urine and, yes, people who at least look like they might be acquainted with the drug trade in some way or another.
If you don't live or work around this, it's easy to laugh off the sketchiness as local flavor. Everyone who's spent any time in Chinatown has got a war story or three, to be trotted out over drinks. I'm perversely proud, for example, of the time, earlier this year, that an agitated man on Hotel Street wiped his blood all over me and then ran off into the night. Only in Chinatown, amiright?
But not everyone gets off with an offbeat anecdote, and Otto is far from the only one being chronically harassed. After his predicament hit the news, Otto says, "So many business owners came to visit and tell me their own horror stories. And it wasn't even the ones I knew, these were businesses I had never met, but we had this thing in common." So why is Smith Street or River Street less safe than, say, Bishop Street? Chinatown is hardly Baltimore, but why can't police ensure some basic level of safety throughout the city? Can't a man sell some cheesecake in peace?
HPD assured us that it is increasing foot patrols and conducting ongoing drug investigations. At this point, though, I've become skeptical.
In my experience, the police street presence in Downtown and Chinatown seems perpetually fixated on jaywalking and other manini offenses. When I see a grandmother being ticketed on Fort Street Mall for crossing on a red, and then, 100 yards up the mall, an obvious drug deal going down—it's hard not to be frustrated. OK, we jump on murders … and jaywalking. How about the mid-level problems that constitute 90 percent of Chinatown's woes?
For now, Otto remains frustrated, locked inside his shop, but says he's not going anywhere. "We can't let the dealers win. There are a lot of people who like my cakes, and don't want my business to go away. I'm just worried about people's safety."