After Shock
The 2006 earthquake is largely a memory for those on Oahu, but on the Big Island, the damage it caused still means daily cleanup efforts. For example, the quake stopped the flow of the Kohala Ditch, creating a lingering disaster that continues to shake up lives.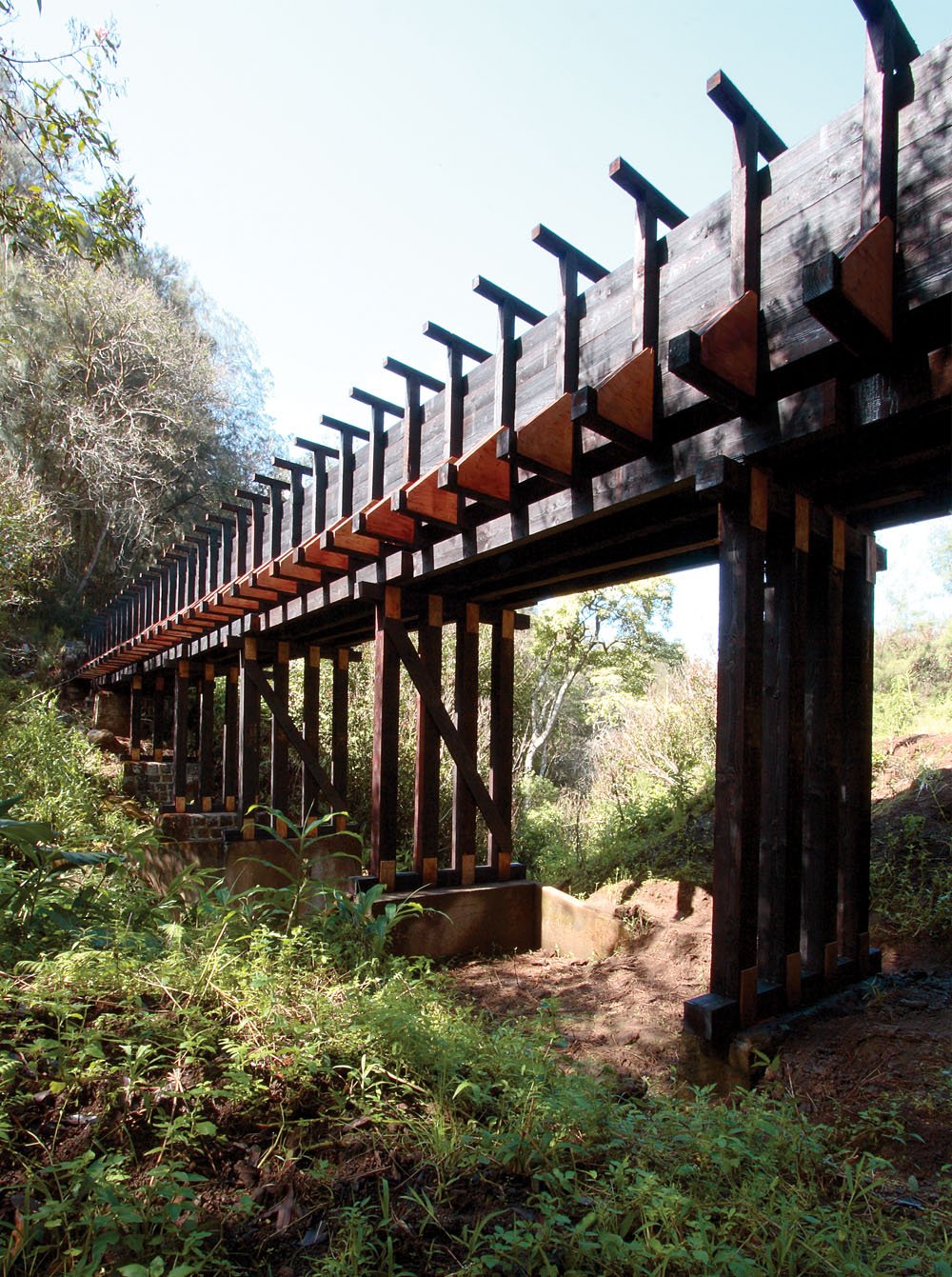 GENERALLY AN EARTHQUAKE LASTS FOR mere seconds, and then it's done. Sometimes you have to sweep up the broken glass. But last October's 6.7 earthquake, centered at Kiholo Bay on the west side of the Big Island and followed a few minutes later by a 6.0 aftershock, is far from over.
Oh, the earthquake itself is over. But a year later, there are still detours where road crews are working on earthquake-damaged highways and bridges. Kawaihae Harbor, which sustained extensive structural damage, is still operating with only a portion of its piers in use; repairs, say the harbormaster, will hopefully start soon. The nearby and venerable Mauna Kea Beach Resort, in danger of collapse after the quakes, remains closed for extensive rebuilding. The county's Parks and Recreation Department has 14 projects relating to earthquake damage, and only one has even gone out to bid. Paperwork, finding and receiving funding, doing the actual repair work, all inspire the same mantra: It takes a long time.
But for some in the agriculture business, the biggest problem from the earthquake is that their water source stopped flowing. And when you're a rancher, or a dairy owner or a farmer running out of water, you don't have time.
Left Dry
The privately owned Kohala Ditch was seriously damaged in the quake and, as a result, the water stopped flowing. Built in 1905 and 1906 by 600 laborers, almost all of them Japanese, the ditch is widely considered an engineering marvel. Seventeen men died during its 18 months of construction, which was authorized by an Act of Congress. Pre-earthquake, the 100-year-old ditch carried up to 12 million gallons of water per day along its 14.5-mile route, transporting water to many farmers and other users from Honokane Stream west to Hikapoloa, near Hawi. When that stopped flowing, many Kohala farmers and ranchers were suddenly and critically without the water they needed to run their operations.
The ditch's owner, Surety Kohala Corp., could not afford the enormous repair costs, and yet the ditch had been supplying water to many Kohala agricultural businesses and operating as a much-needed public utility, explains Rory Flynn, a member of the post-quake-organized Kohala Ditch Restoration and Preservation Project. The community-based group of eight members met every week or two for months in order to raise the $3.5 million needed to restore the ditch.
Ed Boteilho is the owner of Cloverleaf Dairy in Hawi, which used to be one of the ditch's biggest users. His dairy operation, consisting of 1,500 cows and 1,033 acres, is one of only two on the island and produces most of the Big Island's milk-3,400 gallons per day.
"We depend on the ditch for irrigation," he says. "It's our lifeblood." Without the water to irrigate his acreage, Boteilho says, he has had to purchase feed for his animals, driving up his costs.
"All I had to service 1,500 animals was a one-inch water line from the county," he says. "I put in new water lines, six pipes, to connect to the county water, and started hauling water. I tried to haul about 60,000 gallons a day just to keep my farm going. Some days I couldn't. Some days I could only haul 20,000 gallons."
As a member of the Kohala Ditch Restoration group, Boteilho says he has testified before the Legislature many times. "We're working to make the Kohala Ditch self-sustainable."
The group has raised the entire amount needed for repairs, with funds and other help coming from the federal, state and county governments, Kamehameha Schools, on whose land the ditch starts, the AT&T Foundation and private sources.
Surety Kohala had finished drilling a well just before the earthquake, Boteilho says. So a few farmers, ranchers and nursery owners desperate for water got together and found and installed a pump and pipes. They had the well online about six weeks after the earthquake. "We're pumping now for about 51 farmers in the area," says Boteilho. "About 250,000 gallons a day. If we didn't get that well going, I was out of business.
Boteilho says that, before the earthquake, his dairy operation was clearing around $300,000 per year. But "by Dec. 31, 2006, with all the extra expenses and fees and breakdowns and repairs and all we had to do," he says, "I was broke. Everything I was making, and should have made, was used up.
"It's been a really tough year," he says. "I'm working very hard to get water for my farm. All the businesses are just holding on."
Two other major Big Island ditches supplying farms, ranches and agricultural businesses were also damaged in the earthquake and are still undergoing repair. More than $9 million in repairs are under way for the 15-mile-long Waimea Ditch, which feeds 110 farms, and the 25-mile-long Lower Hamakua Ditch, which serves another 150 to 175 agricultural users.
An update on
HULIHEE PALACE
Photo by Macario
The stately old building, formerly a royal retreat owned and enjoyed by Hawaii's monarchs, sits on Kailua Bay. From the street, just a couple of minor cracks are visible and two spots that were obviously repaired and painted over. It appears to be no big deal-until you see the south side of the building. Where it looks like a wrecking ball swung into the palace. Huge chunks of plaster are missing, exposing coral block walls. Ragged cracks run around the wall, and holes expose the inside of the roof. Parts of the wall are no longer flush with the rest of the two-story building.

Fanny Au Hoy, the palace's administrator, says she was in tears when she first saw the damage. Her mother, the entertainer and song composer Aunty Lei Collins, was the palace's curator in the 1970s and '80s, and, like her, Au Hoy says she spends more of her time at the palace than at home.

Little has been repaired since the earthquake, though original furnishings have been removed from the premises and put into storage-because, Au Hoy explains, "the building was a threat to them."

FEMA has provided $1 million for repairs, and Daughters of Hawai'i, which runs the palace, continues a yearlong fundraising campaign to raise the additional $500,000 needed. "We are accepting anything, and are very grateful for everything," says Au Hoy.

"The bureaucratic process and the paperwork takes a lot of time, and the Daughters of Hawaii have learned a new definition for patience."

But, she notes, "It's important so generations of our keiki can see how our royalty lived," she says, "and they can say, 'Hey, imagine, I'm walking through these same doors that King Kalakaua did.'"

Though all but the entry hall and former dining room are off-limits until repairs are made, visitors still stream into the palace. A video, produced post-quake by students in Kealakehe High School's video program, plays in the former dining room and tells the palace's story.

"Thank goodness my mother didn't see the damage," says Au Hoy, whose mother passed away a few years ago. "She'd probably get out there with some mortar and start plastering away."
Day by Day
Last October, Hualalai Tayan, of Halaula in North Kohala, was a guide for Hawi's Flumin' Da Ditch kayaking tours, which became another casualty of the Kohala Ditch damage. She had just arrived at work on Oct. 15, 2006, when the ground started shaking. She says she heard a cracking noise, turned and became the only person known to have seen the historic Kohala Mill smokestack tumble to the ground. She didn't know it at the time, but her way of life would soon crumble, too.
The extensive damage to Kohala Ditch meant the end of the 10-year-old kayaking operation, which served 22,000 people a year and brought visitors into Kohala who might not otherwise have come. So in addition to its employees, the operation's closure also impacted shops and restaurants in Hawi and Kapaau.
When the kayaking operation ceased, Tayan lost her job. Then, when she could no longer make her car payments, she lost her car. Now she works as a stocker in the warehouse of Kapaau's Takata Store, and the mother of four says it's been a rough year of barely making ends meet.
She'd worked as a kayaking guide for five years, and says she used to wake up every morning looking forward to going to work. "You can never find cleaner air than up there," she says. "All the different wildlife, vegetation; it's just beautiful. And people loved it. Where else can you jump in a kayak with a local guide? You can't find a job like that. If it ever does open up again, I'm back there in a minute."
"The earthquake just shattered our town," she continues. "There are repairs that haven't been done yet. My biggest concern is my kids, my family. When I was working as a guide, I could give them little extras. Now I can't give my kids what I used to. If I could get a little-better-paying job it would be great.
"Hopefully it will get better," she says. Then she corrects herself, and speaks firmly. "It will get better."
Dry Ponds
When the Kohala Ditch stopped flowing, Lance Caspary's crawfish operation in Kapaau dried up. Literally.
When the first earthquake hit, Caspary jumped out of bed, wondering if he'd be safer under it, or if that would just be one more thing to collapse on him along with the roof. When the second earthquake hit, he was outside looking at how far the house had moved off its foundation. He watched the ground move in waves, like the ocean.
Now, his ponds are dry and sport weeds growing higher than his head, and the crawfish—his primary source of income—are long gone. He was also raising about 60,000 prawns at the time of the quake, and lost all but about 12 adult brood stock.
He's since built his operation back up to about 40,000 juvenile prawns, but has to haul water daily for his prawn nurseries, as well as for his household use and 450 coffee trees. With a 100-gallon tank in the back of his truck, he makes three trips for water every day.
"I'm so the 'water bearer,'" he laughs, adding that he's actually even an Aquarius. "It's been a long, hard haul," he says. "Hugely challenging. But somehow the months go by and I'm still here."
He says that, in spite of everything, he feels lucky. "It's tremendously rewarding to be able to make your living on the land, and to be able to take care of the land and have the land take care of you, and to enjoy the rhythms of the land and the seasons. I have native Hawaiian birds here—koloa, aukuu. I've known some of these birds and watched their families grow for generations."
"When the water comes back," he says, "I'll come back, too. If the water came back on by Christmas, I might have income by Easter.
"If they'll just give me some water and get out of my way, I'll be fine."
Photo by Macario
Lance Caspary is rebuilding his prawn business.
Chances are actually good that the water will be flowing soon, according to Michael Gomes, president of Kohala Ditch Co., the company Surety Kohala formed recently to make the ditch a separate entity. Repairs are well under way and the ditch is on the road to recovery, says Gomes. He anticipates the water will run again early in the new year.
One positive impact of the earthquake, says Ed Boteilho, has been "the aloha spirit; the ohana spirit that really came forth. It's been a challenge, but it's a good challenge," he says. Like many on the Big Island, he takes a philosophical view. "When you get into trouble, you can throw up your hands and walk away," he says. "Or you can dig in deep and push on."
Leslie Lang lives on the Big Island, where she writes for magazines and businesses. Her book, Exploring Historic Hilo, from Watermark Publishing, is available at local bookstores.