9 Tasty Experiences to Turn Your Picky Eater into an Adventurous One
Stuck in a Spam musubi, saimin, chicken nugget rut? Here's some food for thought.
(Note: This story was first published in HONOLULU Family magazine in 2017.)
A sunny morning in the garden and my boys are planting kale, trimming basil and feeding pigs. They scrub up and roll balls of mashed cassava, sausage meat, poi, 'ōlena and daikon for lunch — and actually eat them! I stop to pinch myself to see if I'm dreaming. Are my chicken nugget, Spam musubi-loving children really eating fresh vegetables?
We are at a community workday at Ho'oulu 'Āina, a 100-acre nature preserve in Kalihi Valley. How did we end up here? By asking the question all parents ask themselves: How can we get our children to try new, healthy foods? We decided to make food fun by finding out where it comes from.
We sampled exotic tropical fruits in Waimanālo, fished for tilapia and catfish and ate them for lunch in Wahiawā, learned about raising hens for eggs and visited a cattle ranch. We hope our ideas will spur your own farm-to-table adventures.
"If they grow it, they'll try it. Every school that has started a garden has seen children eat more vegetables."
Ready, Set, Grow!
As parents, we all want our children to lead long, healthy lives. Eating more fruits and vegetables will cut down their risks of heart disease, strokes and some cancers. But, with fewer than 10 percent of American children (and adults) consuming the recommended quantities of fruits and vegetables, according to the Centers for Disease Control and Prevention, how can we increase our families' daily intake of greens?
"If they grow it, they'll try it," says Kendra Ozaki, project outreach coordinator for Grow Hawai'i, a three-year gardening program for middle- school students at 15 independent schools across O'ahu.
"Every school that has started a garden has seen children eat more vegetables," she says, also noting the success of the Kokua 'Āina program in our public elementary schools.
The more the children try, the more they learn to like the flavors. And that's not the only benefit. Does your family know where its food comes from?
"From Costco," middle-school children told Ozaki at the start of their program.
Ozaki says that by the end of their gardening project, the preteens were harvesting their own ingredients to whip up kale smoothies; a perennial favorite among her students.
If your family would like to learn how to plant and harvest produce and cook up the fruits of its labor, Ho'oulu 'Āina makes for an ideal family field trip.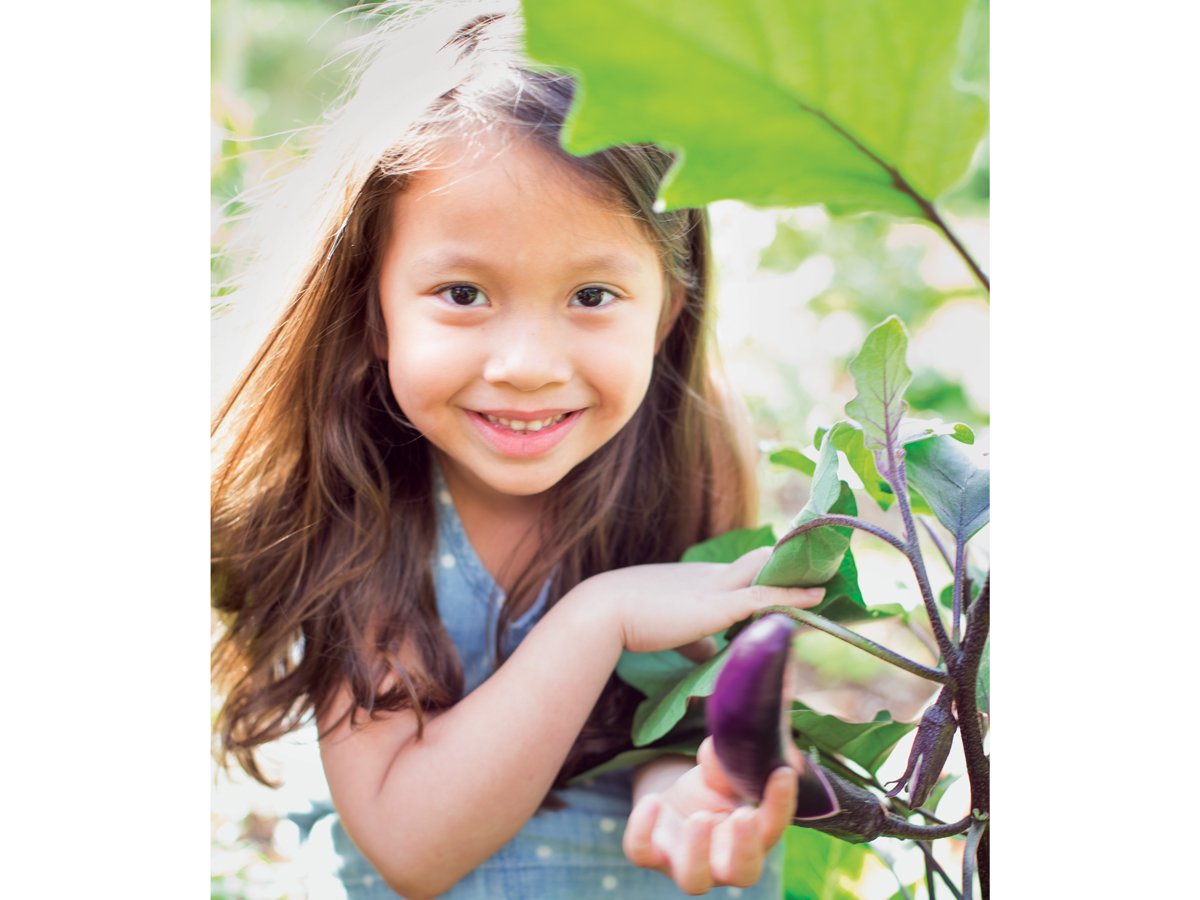 A branch of the nonprofit organization Kōkua Kalihi Valley, the program hosts a workday every third Saturday of the month. With fruit trees, vegetable patches, taro and a wealth of other crops and even animals in the back of Kalihi, there are tasks for every age and ability. More than 200 volunteers turn out each month to shovel, weed, plant, pick and then prepare lunch.
Our 5-year-old loved watering plants with a hose, holding a praying mantis for the first time and passing out plates and cutlery at the potluck. Chatting happily at week-old piglets and carrying armloads of tea leaves were the highlights of our 3-year-old's day. The organizers provide a welcoming atmosphere in which families can learn about gardening, nutrition, native Hawaiian and medicinal plants through hands-on work. Children enjoy cooking and eating the just-picked vegetables and the rest of the harvest is laid out on a long table for volunteers to take home. This is a great way to physically show kids what they've accomplished and then cook up more recipes at home.
---
SEE ALSO: 🥕 We Tried It: Kap'iolani Community College Farmers Market
---
Ho'oulu 'Āina has some dry land kalo (taro). But, to immerse yourself in traditional Hawaiian wetland kalo farming, and let your kids get gleefully muddy, head to Kāko'o 'Ōiwi in He'eia on the Windward Side. The organization hosts community workdays every second Saturday of the month and sells raw kalo and freshly milled poi through its website, kakoooiwi.org.
Best of HONOLULU Family winner Kahuku Farms is another great place to see and taste fresh produce. Jump on to a wagon for a 30-minute tour through papaya and apple banana trees that ends with a farm-fresh smoothie, harvested from those trees. Or, join the one-hour tour for a complete look at how food gets from its fields to your table.
In Your Own Backyard
Now that your family has caught the gardening bug, where do you begin? Set against the Ko'olaus in Waimanālo, Frankie's Nursery has a vast orchard of fully grown fruit trees and hundreds of species of small fruit plants for purchase. Exotic seasonal fruits are displayed with descriptions so you can try new flavors before committing to a full tree. We found egg fruit ("tastes like sweet potato"), black sapote ("brown-black chocolate-tasting, sweet flesh") and sapodilla ("tastes like brown sugar pear"). Our favorite was its Meli Kalima (Honey Cream) Pineapple. It took a lot of cajoling to get our older son to taste it, as he has found other pineapples too acidic. But, the fruit's sweet, mellow taste quickly won him over. The friendly staff can help you select a plant based on what you like and the conditions it will be grown in. We left with a navel orange tree and a Nishikawa avocado tree, despite being warned that the latter could grow to 35 feet!
For more expert advice, stop by the O'ahu Urban Garden Center's free Second Saturday at the Garden event.  The UH Master Gardener "Got a Plant Question?" booth provides a wealth of information for beginners and seasoned gardeners. You can even buy seeds and seedlings that university researchers have tested and bred specifically to thrive in Hawai'i. "You get a little advantage when you start so you don't have to think about all of the diseases and viruses (they would normally be susceptible to)," says Jayme Grzebik, UH CTAHR urban horticulturalist and master gardener.
While you browse, kids can roam through the Best of HONOLULU Family-winning Children's Garden's eight areas. My boys had to be pulled out of the hedge maze so we could go home.
Makai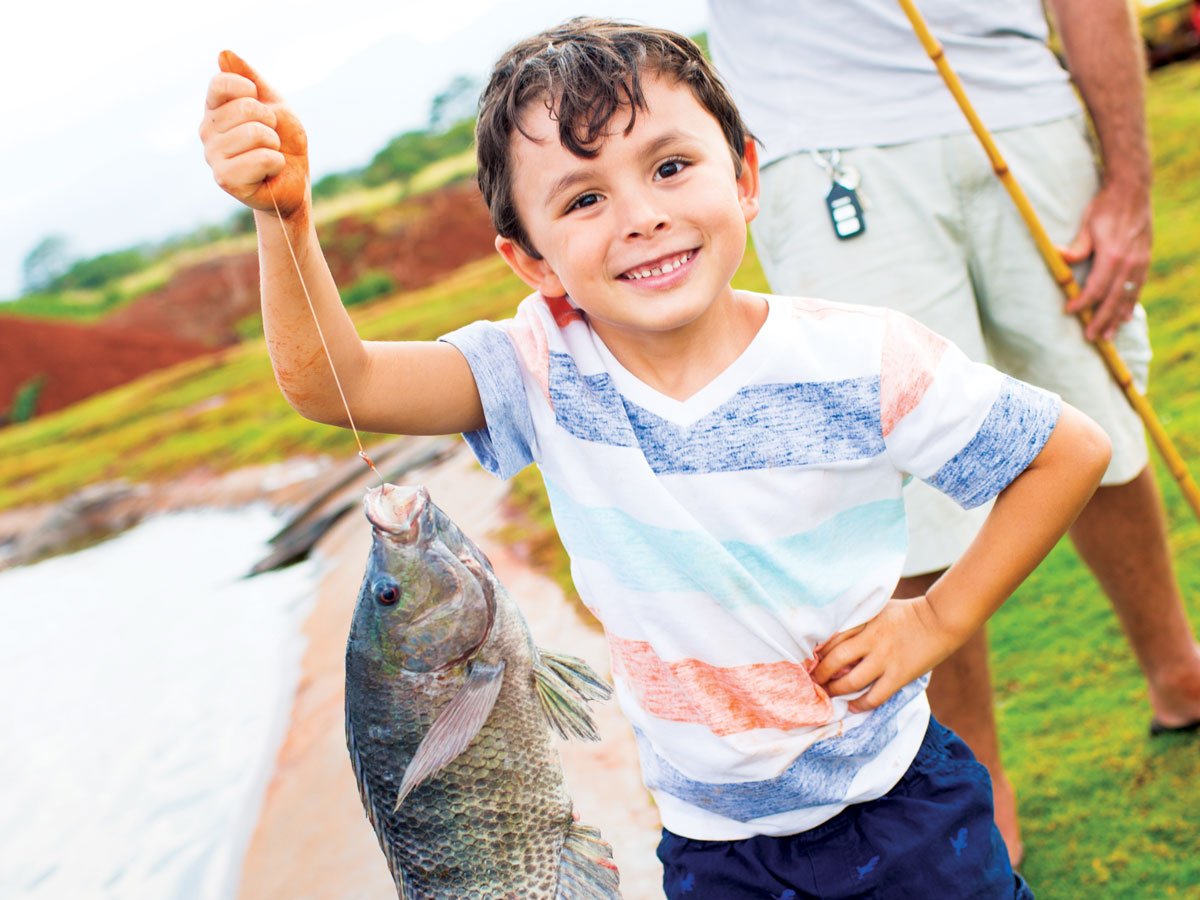 Fruits and vegetables are just one part of many families' balanced diets. If you want to learn more about the protein-packed animal side of the food chain, it will probably require a field trip.
Living on an island surrounded by water, fishing with kids can be easy. But, if you didn't grow up with fishermen in the family, it can be challenging to get started.
You're guaranteed to score at Ali'i Agriculture Farms in Wahiawā. The family-run business features three large ponds stocked with farm-raised tilapia, catfish and carp. Families can rent bamboo fishing rods that come with Ali'i Farms' secret bait, which we were told is irresistible to fish. Turns out, it was true: We hooked our first in fewer then 10 minutes. On the weekends, there is an almost constant stream of fish being pulled out of the water, accompanied by squeals of delight and the flapping of fish on the red dirt around the pond. During the week, you can catch and release the fish or pay per pound to take them home. On weekends and holidays, Ali'i Farms' owner, See Ba Thee, known as "T.C," will deep fry or steam your catch right there. My boys have never liked cooked fish (unless it's in fish stick form) but happily gobbled up their prizes, a Chinese-style steamed tilapia and deep-fried catfish, which is served with shoyu and calamansi.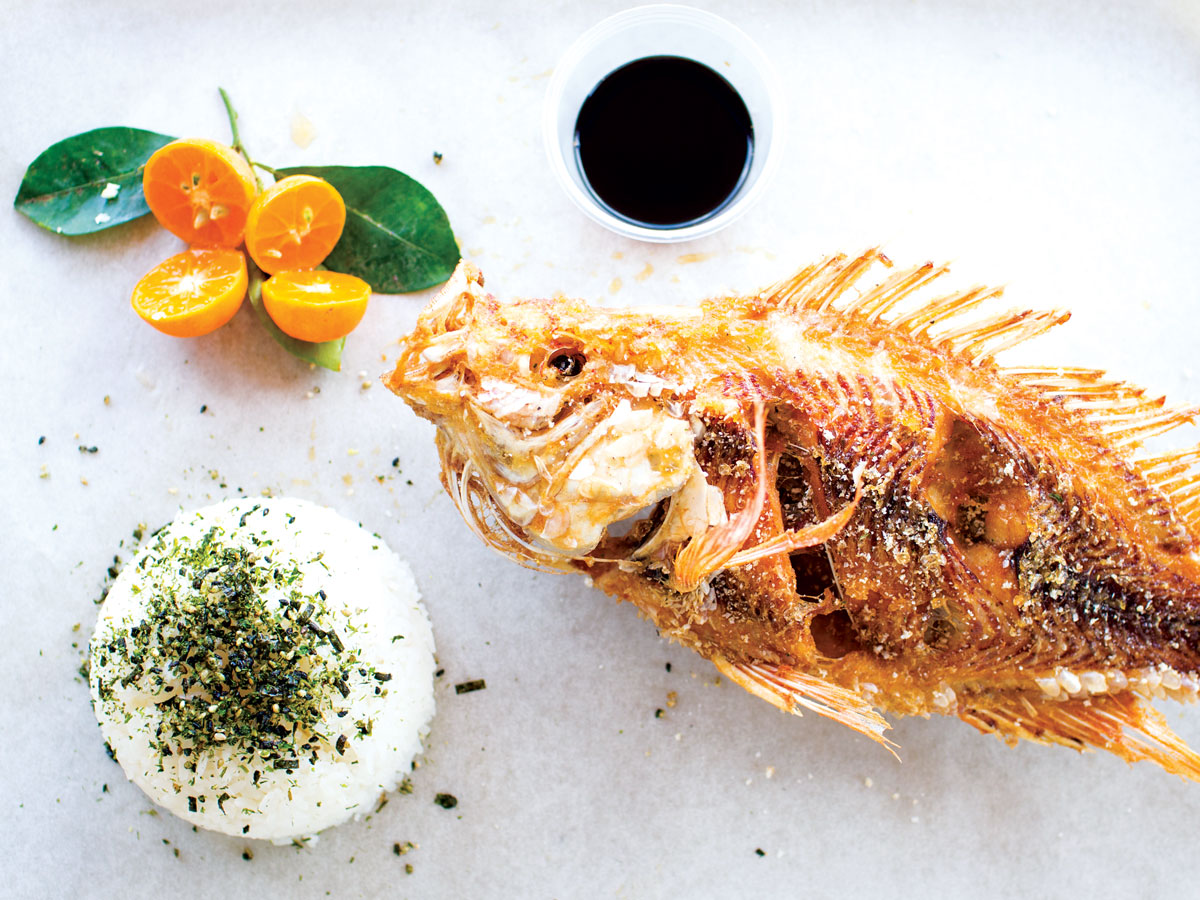 To see tons (literally) of freshly caught ocean fish, head to the Honolulu Fish Auction. It opens at 5:30 a.m. Monday to Saturday but there's just as much to see at 8 or 9 a.m. Wear covered shoes and a jacket, and ask for a free fish guide to help you identify the 'ahi, a'u, ono and more. Have a peek and then pop next door to Nico's Pier 38 restaurant to get a taste of that day's catch.
---
SEE ALSO: 🍍 Hawai'i Farmers Market Adventures: Spicy Grilled Pineapple
---
Mauka
"They're low maintenance; not like a dog where the parents will end up taking care of them," says Maxie Asagi of Asagi Hatchery in Kalihi. Chickens only need to be housed in a chicken coop, fed once a day and given water, she says.
Hens will lay their first egg once they are 5 months old.
"To get this first egg is such a good feeling; kids are so proud to have raised something," Asagi says.
One breed Asagi sells lays pink, blue and green eggs and another lays eggs so large you often get "double yolkers."
If you're ready to pick up a dozen, beware that the City and County of Honolulu ordinance limits ownership to two chickens per household.
While chickens are fairly easy to raise at home, beef is probably something you'd like to leave to the ranchers. Kualoa Ranch raises grass-fed cattle without hormones, steroids or antibiotics. Right now, at the ranch's free petting zoo, kids can see a white calf named Cool Whip along with his mother, Coco, as well as a pot-belly pig, a donkey, two goats and two tortoises. Afterward, you can pick up burgers made from Kualoa beef at the ranch's Aunty Pat's Paniolo Café. On kualoa.com, you can pre-order 15 different cuts of beef as well as dog bones so you can keep Fido happy.
---
SEE ALSO: 🐎 Our Guide: Kualoa Ranch
---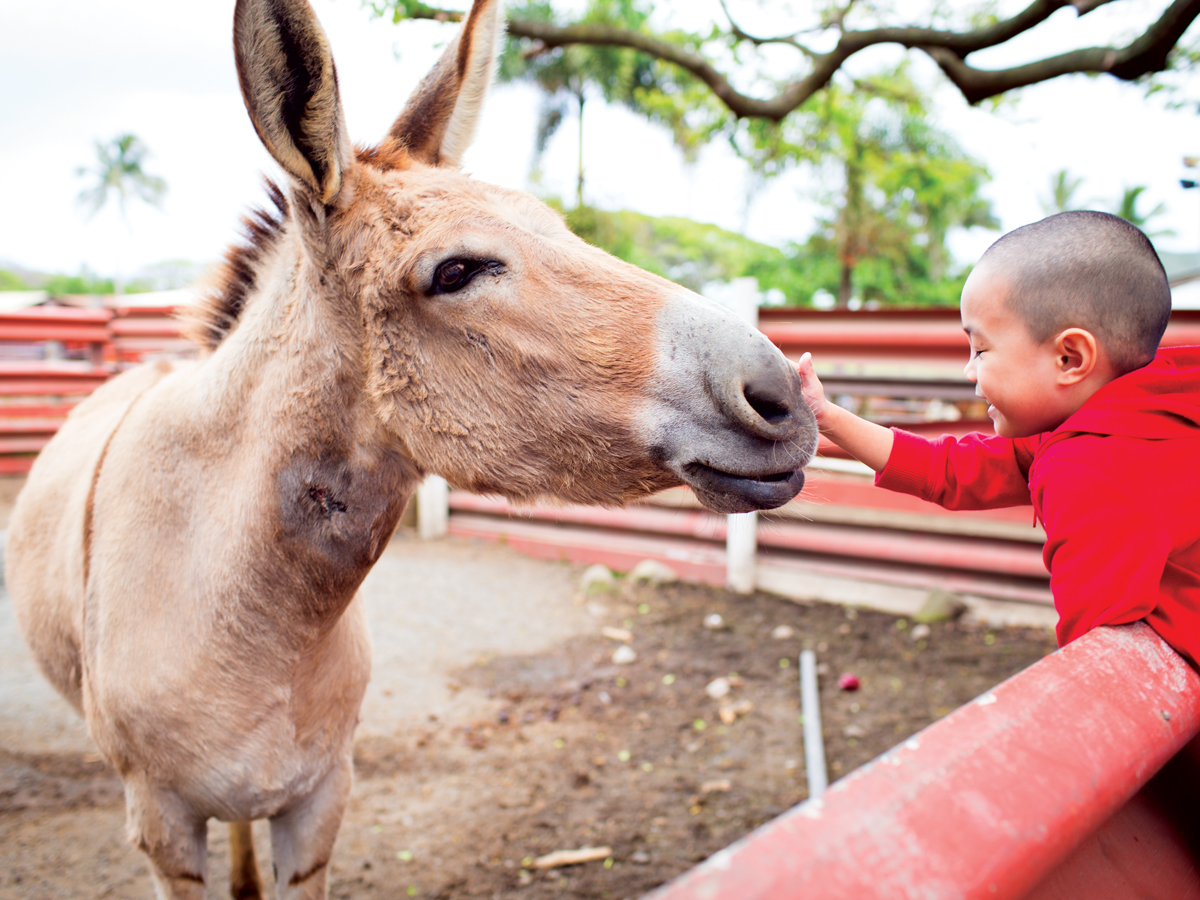 Kids' diets won't change overnight. Dino nuggets and mac and cheese still spark cheers from our boys. Since our taste adventure began, I've been pleasantly surprised by their new love of apple bananas and sweet corn from the farmers' market. They've also tried new meat that's not fried or processed into unnatural shapes. But, it's the new questions about worms and compost, fish scales, animal hides, sugar and fat and how ingredients travel from thousands of miles away to our table that shocks me. That's true food for thought.
---
Where To Go?