A5 wagyu, ikura, ceviche: Food at Friday's Joy of Sake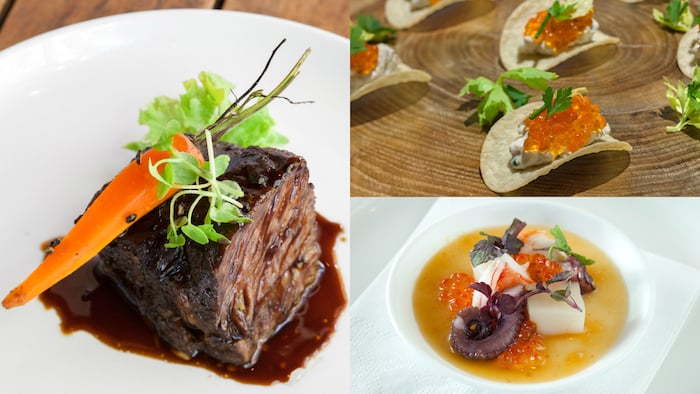 Sake and food go together like yin and yang, heaven and earth, ebony and ivory — all the good pairings that add up to more than the sum of their parts.
You think I'm overstating it? My eureka moment at Joy of Sake was back when it was at the Sheraton, before I became a board member and restaurant coordinator, before I knew anything about sake. I had in my hand a plate of Chez Kenzo's mentaiko spaghetti, and seeking the yin to the spaghetti's briny yang, I took it to the nearest sake table and went down the row, nibbling and sipping, until yin met yang and bloomed on my palate.
With a record 408 sakes this year and sakelicious bites from 20 restaurants, you'll have plenty of moments like this. Some things to keep in mind:
• Sake is forgiving. It doesn't fight with food. So don't overthink your pairings.
• In general, elegant daiginjos go with delicate foods like sashimi; fuller, fruity ginjo sakes go with chicken, seafood and herbaceous dishes; and big, bold junmai sakes go with fried foods, pork belly, pizza.
• There's lots of umami in sake. That's why it tastes so good with mushrooms, cheese, pipikaula, dried squid, poke … you get the picture.
• Nearly half the sakes — 49 percent — are in the most delicate, expensive daiginjo category.
• All the sakes are judged the week of the event. That means they're in peak condition, just recently bottled and kept chilled.
• Gold stars on sake cards mean the judges consider them exceptional; silver stars are very good. Small black stars mean the sake isn't sold in the U.S. — 59 percent are in this category.
Food-wise, the restaurants have collectively gone luxe this year. Here's a sneak peek at some of what you'll taste.
– Photos by Darryl Watanabe
Joy of Sake Honolulu
Friday, July 22
6:30 to 9 p.m.
Hawaii Convention Center
joyofsake.com
Tickets are now SOLD OUT online; there will be some at the door just before the event