A toast to Tuscany with Frances Mayes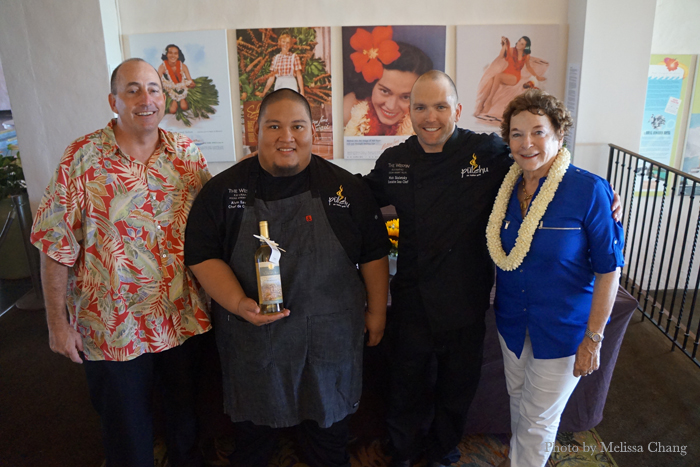 As if you needed an excuse to hop over to Maui … On September 23, Pūlehu, an Italian Grill at The Westin Kaanapali Ocean Resort (KOR) Villas is having a "Toast to Tuscany" dinner featuring Frances Mayes, the best-selling author of "Under the Tuscan Sun." You get to meet her, try her new Tuscan Sun Wines, and taste appropriate food pairings at the restaurant.
Pūlehu's chef de cuisine, Alvin Savella, and the resort's executive sous chef, Matt Skaletsky, have created a special four-course dinner for the event. Restaurant and wine list manager Jim Hansen has selected three wines from Mayes' label.
We got a sneak peek at the dinner yesterday, and got to meet Mayes herself — who was amazingly approachable and down to earth, considering her fame and accomplishments. She told us about how she and her husband discovered their home in Tuscany (where they live six months out of the year) was once a winery, so they tried to revive the old vines and make their own wine. After their first attempt, and subsequent failure, they were still determined to have their own wine label but accepted that they couldn't produce it themselves. They partnered with a Denver winemaker and hand-selected seven wines to express her favorite flavors of Tuscany, and a new label was born.
They've been launching the wine around the country, and the Westin KOR picked up on it and invited her to Maui for a special pairing dinner. These plates are just small tastes, not the full size servings.
Monchong with fregola (the little round pearls are pasta), fennel, and porcini cream. This was paired with the Pinot Grigio, or the Pensiero. The fregola is pretty neat!
The chefs took Molokai venison and created a familiar meat sauce for the fusilli pasta, topped with fresh ricotta cheese and micro basil. This was paired with the Aguri Sangiovese blend, which was a nice, strong bottle that could stand up to the venison, but wasn't too heavy.
The pork belly with kabocha risotto, sage, and pomegranate was perfectly paired with the Sangiovese, or Tondo Tondo. We were hesitant to eat the flowers and the sage, but it worked!
You might want coffee with your hazelnut chocolate torte, which is served with orange zabaoione and mint gelee. Something about this made me think of my childhood, and maybe you will, too. This will be paired with Toccare le Stelle, a prosecco.
If you want to go to this dinner, it's one night only at Pūlehu: September 23 at 6 p.m., followed by a screening of the movie, "Under The Tuscan Sun." Tickets are $125 each and can be purchased at HonoluluBoxOffice.com. The restaurant will continue to offer Tuscan Sun Wines after Wednesday, as well.
Toast to Tuscany
Pūlehu, an Italian Grill – Westin Kaanapali Ocean Resort Villas
6 Kai Ala Dr., Lahaina
808-667-3200
More photos here.