A taste of the Maui Chefs Invitational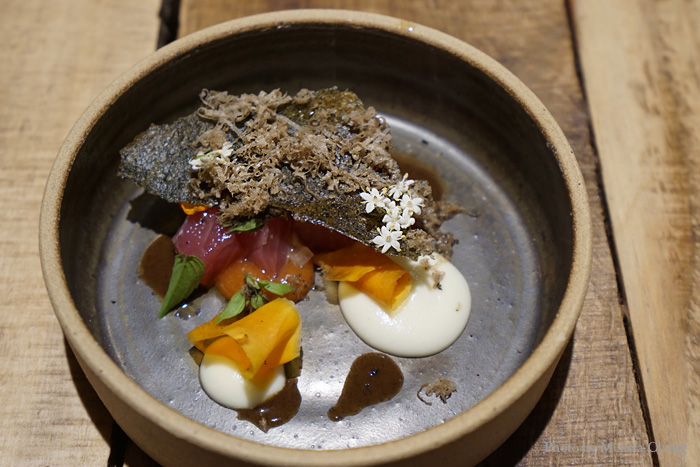 I'm constantly amazed to see how Maui's culinary scene is evolving — a little different from Oahu, of course — and last weekend, the scene got kicked up another notch with the inaugural Maui Chefs Invitational.
Mill House's chef Jeff Scheer brought the event to Maui after participating in Portland's "Chef's Week PDX" last year. On the mainland, they've had about 30 chefs, but Jeff started small with eight chefs and hopes to grow the roster gradually.
If you didn't hear about it, it wasn't for lack of publicity; the Maui media was all over it, and the event's cult following had people flying in to the Valley Isle just to attend, which helped them sell out all three days. I was fortunate that Dania Katz and Edible Hawaiian Islands magazine flew me in for the day to experience one of the dinners.
First, some behind-the-scenes prep with the chefs:
And then, our amazing dinner:
I can honestly say, that was one of the best dinners I've had in a while. Everything was innovative, delicious and well-portioned. Sometimes in cooking for large groups, the quality of the food can be compromised, but here it wasn't affected.
Jeff based his Maui Chefs Invitational on Chef's Week PDX, with the help of Top Chef finalist Gregory Gourdet of Departures in Portland, and Tia Vanich (who, incidentally, has Hawaii ties and is on her way to Waimanalo as you read this). Tia produces festivals and events for the music, food and art world, and created the Chef's Week PDX as a means for like-minded chefs to collaborate and celebrate their talents. It's got elements of some of your favorite reality shows: about 30 chefs share the same house or hotel, like Real World; and they use local ingredients to make secret, all-new dishes with their flair and expertise, like Top Chef (but without the drama).
If you want a seat for next year, keep checking with Maui Chefs Invitational. See you there!