A taste of Hawaii in Vegas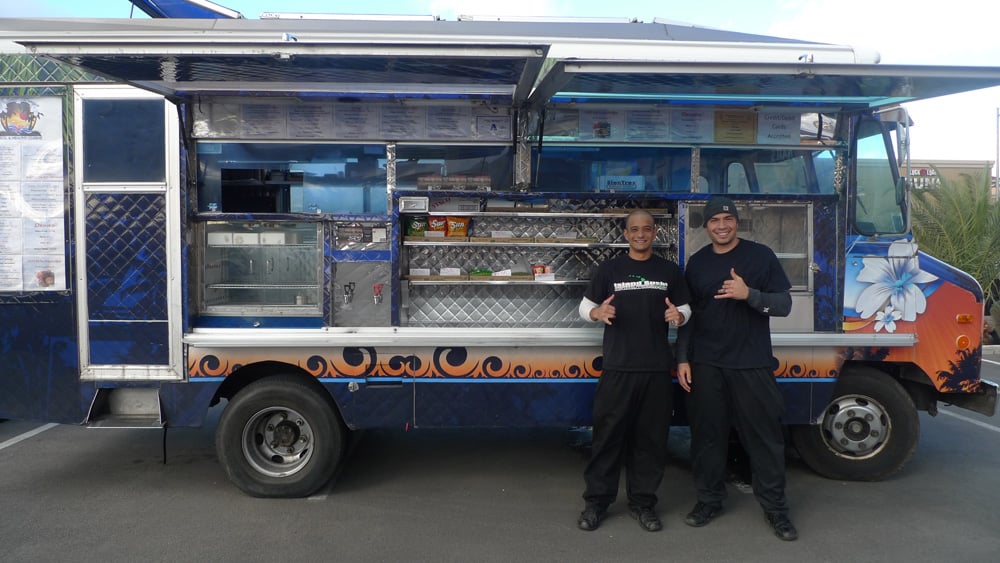 Let's face it, despite all the good food and world-class restaurants in Las Vegas, Hawaii people love to eat food from home when they're on the Ninth Island. It doesn't matter if they're only there for the weekend or for two weeks; they want their spam, poke, sticky rice, saimin, guisantes, and whatever else local grindage they left in Hawaii. Why do you think the California and Main Street hotels are so popular? Hawaii people who stay on the strip often drive out of their way to get some oxtail soup downtown, and some people who stay in the Boyd hotels never leave the property. They just want to feel like they're at home.
Well, if you are one of these people but are feeling a little adventurous, I have a couple of places you can drive to in Las Vegas that will give you a super garanz, brok-da-mout taste of Hawaii.
One of my favorites, which I visited last year, is Island Sushi & Grill in Henderson. I returned with Traci Toguchi (who is a Kaiser grad like owner Terance Fong) and Ed Morita.
Island Sushi & Grill
Picture 1 of 21
A lot of Hawaii locals drive 20 miles out to Henderson/Green Valley just to eat at Island Sushi & Grill — and I think I've become one of them. You can't get such fresh poke, sushi, and other local-style food like this anywhere in Vegas. And for the price, I'll be so bold as to say you can't even get this kind of food and value at home. I drove out to see what was new with Terance Fong (second from left), who oversees the sushi, and Royden Oshita (far right), who oversees the grill. They're pictured here with Mila Reyes and Jesus Chuy, who turn out some of the best Hawaii-style food right here in the middle of the desert.
Island Sushi & Grill
9400 S. Eastern Ave.
702-221-1600
My new favorite for local food in Las Vegas is Elena's Restaurant, which is closer to the Strip and a fairly easy drive from downtown. The original restaurant is still in Waipahu, but since Theo and Elena Butuyan retired to Las Vegas, their daughter Mellissa opened a spot there, too.
Elena's Restaurant
Picture 1 of 17
Elena's daughter, Mellissa (Butuyan) Cedillo opened a Las Vegas branch of the popular Filipino restaurant on 8/8/08. If you're ever craving home style Filipino cooking when you're visiting the mainland, Elena's will hit the spot.
Elena's Restaurant
2534 E. Desert Inn Rd.
702-791-7912
Disclaimer: Air & hotel were provided by
Boyd Vacations Hawaii
for an assignment for InsideOut Hawaii.
========
You can read all of Melissa's blogs at www.nonstophonolulu.com/urbanmixplate. Follow Melissa on Twitter @Melissa808, on Foursquare as Melissa808, or email at Melissa@nonstophonolulu.com.
My recent blog posts:
Dinner and dessert at Caesars Palace
New Year's Eve at Serendipity 3 in Las Vegas
Vegas: The day of the food coma
Vegas: Visiting the M Resort
Breakfast of champions: The Cracked Egg in Vegas
Vegas: A fun day on the Strip
Welcome to Vegas, baby
Where I'd tell the Obamas to eat
Hawaii: In Real Life ~ Midori-dori
Vegas lucky charms
Hawaii: In Real Life ~ holiday hot chocolate
Vegas, here I come!
Hawaii: In Real Life~building a gingerbread house
Tweets from the road: Marathon 2010
What's up with the knee high socks?
I want a Bit of Sugar!