A "Swarm" arrives at the Nonstop Honolulu launch party!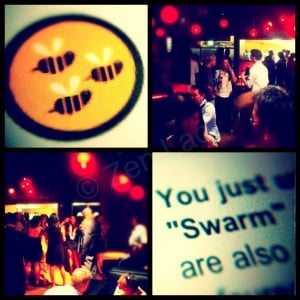 A social media first for Hawaii happened last night at the Nonstop launch party held at Ka Restaurant and Lounge. No it wasn't the the launch of Hawaii's newest food, events, and nightlife site or that Nonstop reached the one-million page views milestone less than a month after launching. It was Hawaii's first ever "Swarm!"
For those of you not familiar with the term "Swarm," it is an achievement badge from the popular location based mobile app, Foursquare. The "Swarm" badge can be earned by checking into a location on Foursquare with 50 or more people. A simple task that is a lot harder to accomplish than it sounds.
Event planner, Toby Tamaye, who organized the launch party for Nonstop, has been trying to get a "Swarm" badge for a long time. However, no matter how many people attended his events, there were never enough people on foursquare to get the badge… until last night.
Thursday morning, I wake up and check the launch party invite on Facebook to find that over 230 people have RSVP'd to attend. And, it wasn't just your average club going crowed. These were social media people who not only were active on Foursquare, but other location based apps like Gowalla and Yelp. It was then that I realized that this was as optimal an opportunity for a Swarm than any event before in Hawaii. So, Nonstop started to get the word out that we would be attempting to get a Swarm going at the launch party.
Swarm Timeline
By 6:00, 18 people have already checked in. I send out a few tweets to remind people attending the launch party to be sure to check in. That is how you can tell that you are at a social media party. Even through you are at a party, people still take the time to check their Twitter accounts.
I check Foursquare again at 6:30, there are 37 people checked in at Ka. It was then that I realized that a Swarm could actually be possible. After our official program thanking everyone for supporting the site, and for coming to the party, John reminds everyone to check in to Foursquare.
At around 7:00, an excited Lindsey Muraoka finds me and says that we need only 6 more people to get the "Swarm" badge. She then goes to tell Toby, and the two of them start working the crowd telling everyone they see to check in to Foursquare.
A few minutes later, Lindsey comes up to me and says that we did it. I check Foursquare on my phone and see that sure enough, there are 54 people checked into Ka. People start asking about how to get the badge, so I tell them to try checking in again, and then the Honolulu Twitter stream starts getting flooded with so many, "I just unlocked the 'Swarm' badge" messages that it trended locally.
At this point, the entire crowd is a "buzz" about achieving a Swarm. Toby holds his phone above his head and starts dancing in the circle. Then the kitchen doors swing open, and the owner of Ka comes running out saying, "We got the 'Swarm' badge!" At the end of the night, 63 people were checked into Ka Restaurant & Lounge on Foursquare making the Nonstop Honolulu launch party the first official Swarm in Hawaii.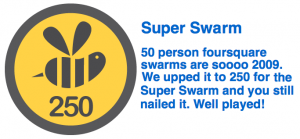 As geektastic as achieving the first Swarm in Hawaii was, I'm still a little unfulfilled. Someone pointed out to me that there is a "Super Swarm" badge that can be earned by checking into a venue on Foursquare with 250 or more people. There was an estimated 300 people at the Nonstop launch party Thursday night. A "Super Swarm" could have easily been achieved if everyone there were on Foursquare. Now that Hawaii has achieved its first "Swarm", the "Super Swarm" is within reach. At the next Nonstop party perhaps? Don't forget to check in!