A sustainable seafood dinner at Chef Mavro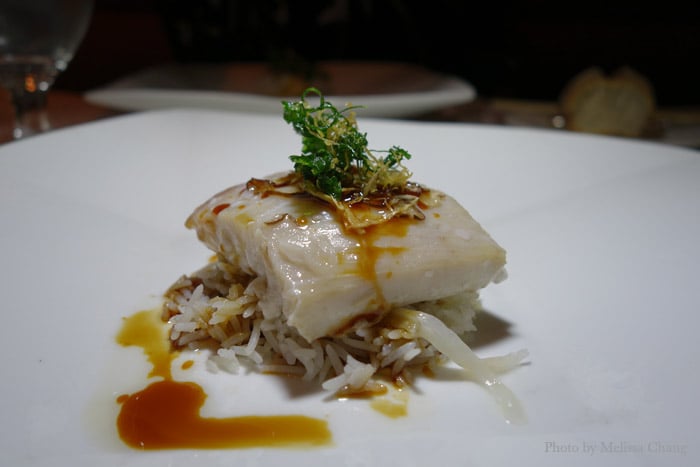 Living in Hawaii, we are conscious of the fish we eat from the water that surrounds us. And, as we know all too well during the holiday season, it can really take a toll on our budgets when demand for certain kinds of fish outweighs the supply.
Brooks Takenaka of the United Fishing Agency (a.k.a. the Honolulu fish auction) is constantly trying to educate restaurateurs and consumers on the wide range of Hawaii fish and the possibilities in preparing them. More importantly, he promotes the fresh fish from Hawaii nationally and internationally, to get the recognition our fishermen deserve.
Brooks and Chef George Mavrothalassitis held a collaboration dinner Friday night at Chef Mavro Restaurant not just to showcase sustainable fish but to benefit the Hawaii Seafood Council, a non-profit organization that supports responsible fisheries and sustainable seafood in Hawaii.
The fish were hand-picked by Brooks at the auction in the morning, and Chef Mavro created a seven-course meal with wine pairings by master sommelier Roberto Viernes.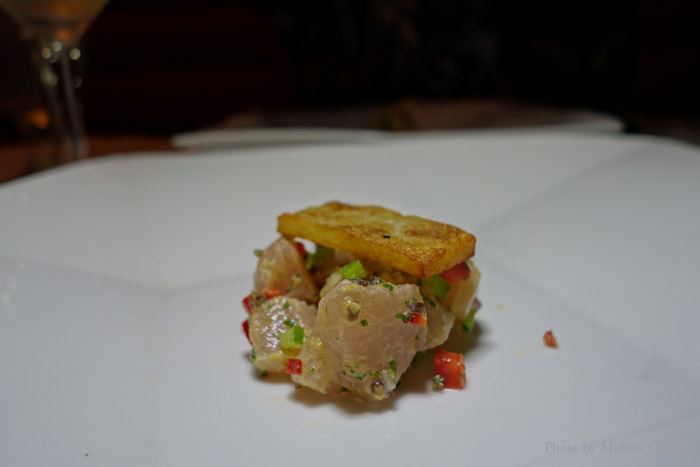 The first course was a hebi (shortbill spearfish) ceviche with Maui onion, cilantro, lime juice, jalapeno red bell pepper and ogo, topped with potato mochi. Every guest was surprised to be eating hebi this way, since it's a fish that is usually preferred cooked, not raw. The flavors, of course, were fresh and bright, and the potato mochi was a genius idea. This was paired with a 2013 Birichino Malvasia Bianca, which was perfect against the tart dressing. This wine was floral, light, and girly — my kind of wine!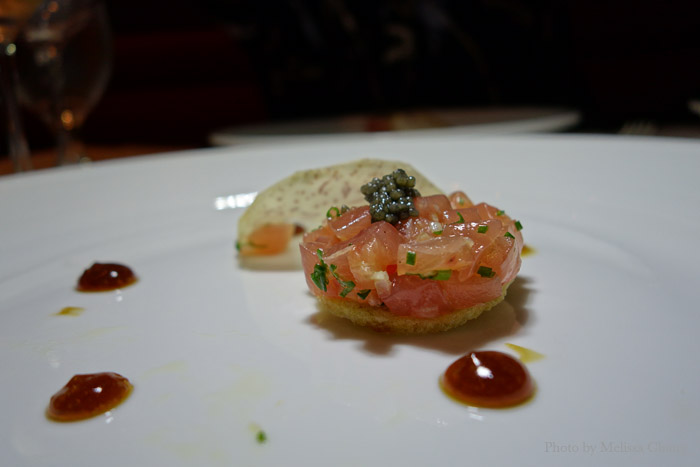 The second course, also paired with the Birichino Malvasia Bianca, was nairagi (striped marlin) poke, topped with paddlefish sturgeon caviar and served with a taro chip. The ponzu gelée had everyone oohing and aching; we could eat that gelée with other fish, all the time! At first I thought the fish was salmon because of the color, but Brooks said that you should never eat wild salmon raw due to its parasite.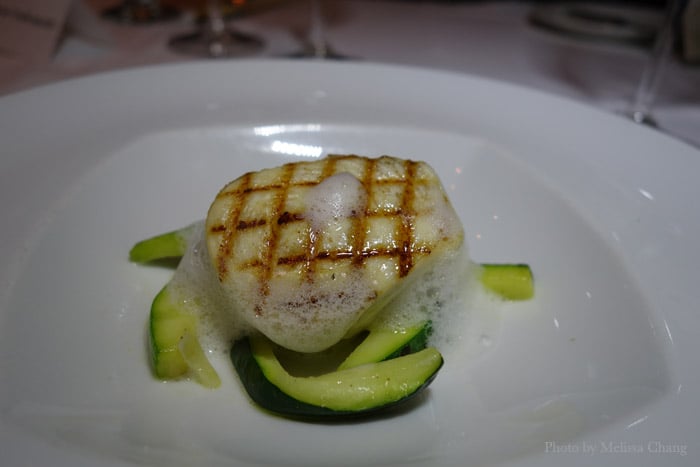 The third course was ono: grilled wahoo, zucchini noodles and zucchini jus. The zucchini was nicely salted and a good contrast to the mild fish. This was served with a 2013 Domaine Skouras Zoe white, a blend of Moschofilero and Rhoditis from the Peloponnese, Greece. I don't drink a lot of Greek wines, but the citrusy essence was a nice choice for the fish. I wonder if it could be paired with other fish, as well?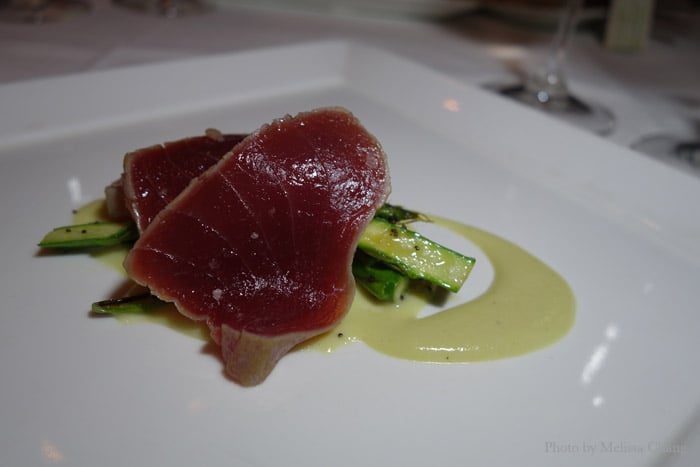 You've never had bigeye ahi like this: It was seared, yes … but the charred asparagus made for a unique, savory accompaniment. Who would have thought? The best part, though, was the garlic essence (the puree you see on the plate). Chef Mavro blanched the garlic five times, then pureed it with salt and olive oil. We all mopped the rest of the essence up with our bread, it was so good. This was paired with a 2013 Corbieres Rose from Domaine de Fontsainte, a blend of Grenache, Mourvedre, Carignane and Cinsault. I was surprised to have rosè with this, but it actually worked. There was a bit of tartness in the wine that complemented the savoriness of the asparagus and garlic.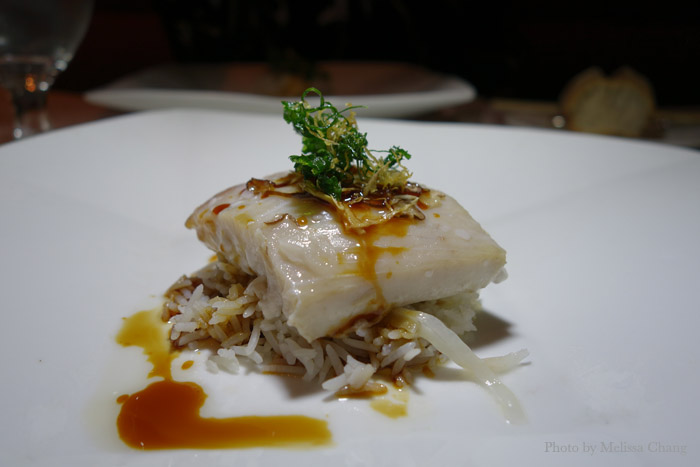 Our favorite dish of the night was this mahimahi: dayboat, Chinatown style, topped with ginger, green onion and cilantro. The basmati rice and soy topping just pulled everything together. It was better than any other Chinese-style fish I've ever had. On top of that, the wine pairing was perfect — a 2012 Reisling "Feinherb" from Dr. F Weins Prum. The light and sweet wine with the salty soy was a big hit.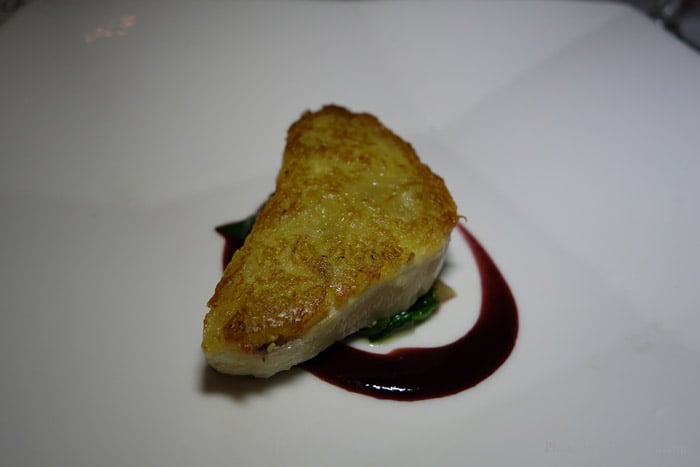 Shutome (swordfish) is easily the most underrated fish in Hawaii. Chef Mavro said that he didn't want to fuss with it too much because it was great on its own. Here, it's crusted with Yukon potato and sits on a simple bed of young spinach and pinot noir essence. Red wine and fish? Actually, if you are pairing a red with fish, people often recommend pinot noir. And, if you've eaten shutome, you know that this is a firm, versatile fish — it was almost like eating chicken breast. Roberto paired this with Weingut Fürst, 2012 Spätburgunder "Tradition" ("Spätburgunder" is pinot noir in German).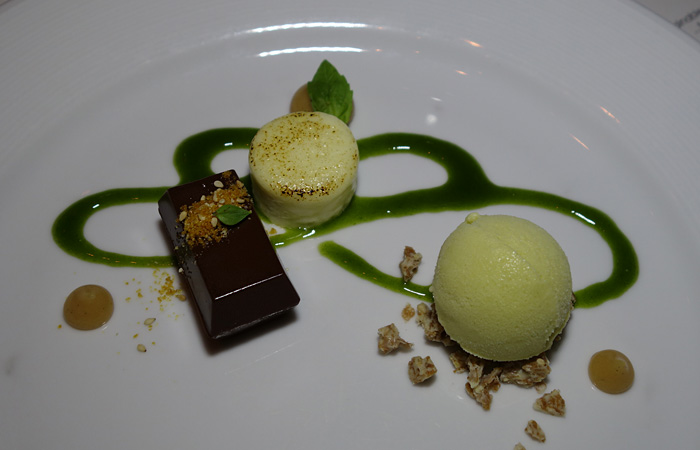 Dessert did not involve fish! This was a Waialua chocolate bar, yuzu "guri guri," chiboust (pastry cream with lightly beaten egg whites), caramel sesame crumbs and basil essence. Normally I don't care for basil in my desserts, but this was magic! Everything was light and refreshing, a perfect way to end dinner.
Brooks mentioned that he will be doing a series of such educational dinners at various restaurants around town. This was a fantastic way to start. Mahalo to Brooks and Chef Mavro for a really nice (and informative) dinner!