A quick stop in Takasaki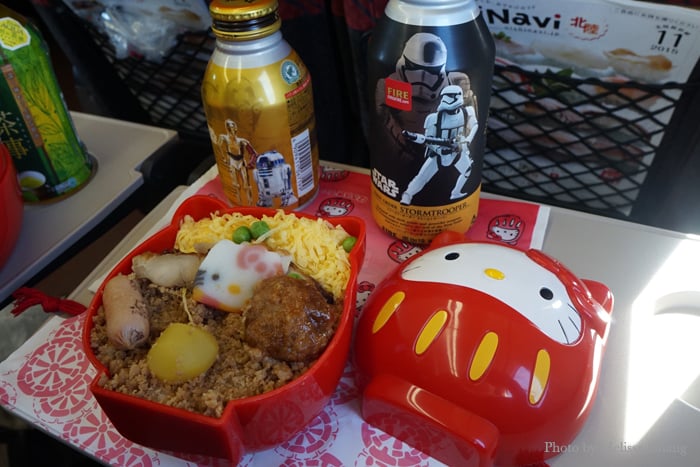 When traveling through Japan with my buddy Deb Aoki, it really is about the journey and not the destination. The destinations are great, but the only way we can make little discoveries is to stop along the way and see what we like. I know we could easily have trained it straight back from Karuizawa to Tokyo, but were we going to be travelers, or tourists?
Deb planned for us to stop in Takasaki for the night, just to get more of a taste of what was there. On our last trip, we passed through this transfer station, and it seemed to be a cute place to stop.
Did you know that Takasaki produces 80 percent of Japan's Daruma? The Daruma doll (also known as a Dharma doll) is a hollow, round, traditional Japanese figure modeled after Bodhidharma, the founder of the Zen sect of Buddhism. The eyes are blank, and you fill in one of the eyes when setting a goal. When you have accomplished the goal, you fill in the other eye. One explanation says that in order to motivate Daruma-san to grant your wish, you promise to give him full sight once the goal is accomplished.
But why are they made here? In Takasaki, there is a temple called Syorinzan Darumaji where the first Daruma dolls were made several hundred years ago. The priest of the temple made the original wooden carvings in the eighteenth century to give to the local people to bring them luck during a famine. We don't know if the Daruma saved them, but it has been a traditional icon ever since, and it is everywhere and in everything.
I do recommend that if you are traveling through Takasaki, be sure to leave time to explore the train station a little, since the expansive souvenir shop is full of many unique and wonderful omiyage — Daruma-themed, and otherwise.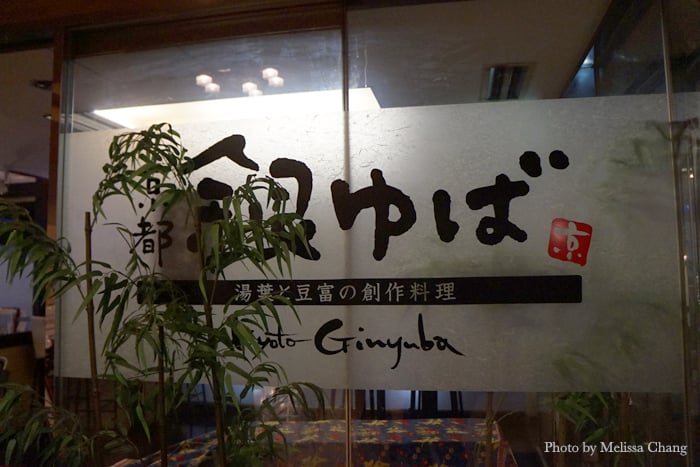 We stayed at the APA Hotel Takasaki Ekimae, which is less than a block from the station. We had not made dinner plans, but were delighted to find that there was a yuba specialty restaurant right in the lobby! We both love yuba! (If you don't know, yuba is tofu skin, like the "skin" you get when making pudding.)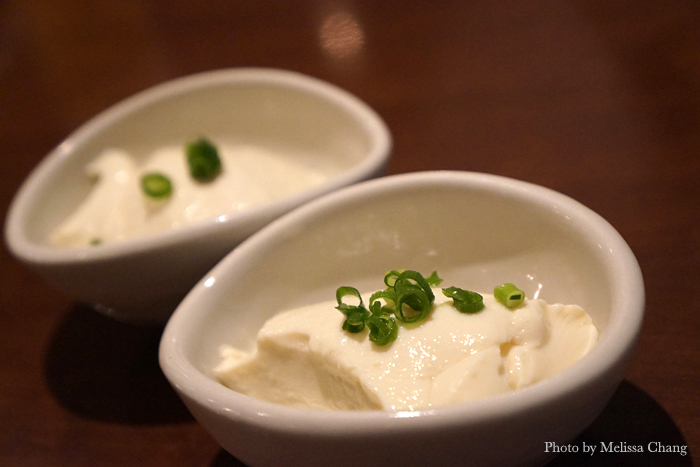 To start: Fresh, silky house-made tofu. Always a winner! But more so in Japan.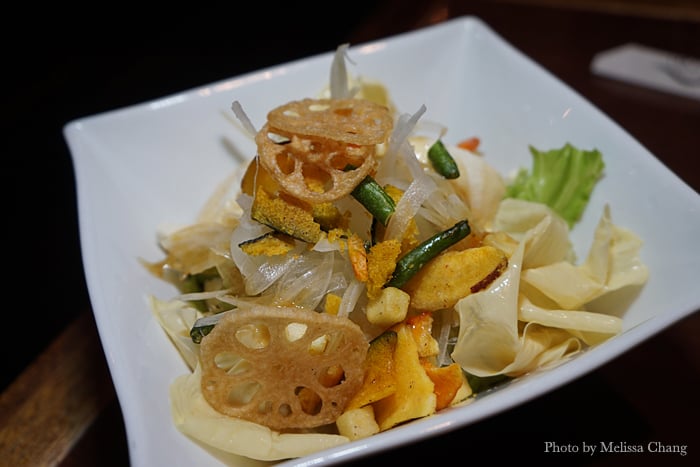 Yuba and veggie salad: Strips of cold yuba with fresh and fried vegetables, plus thinly shaved onions. This was so simple, but so delicious, and so painful in making me wonder why no one makes this at home.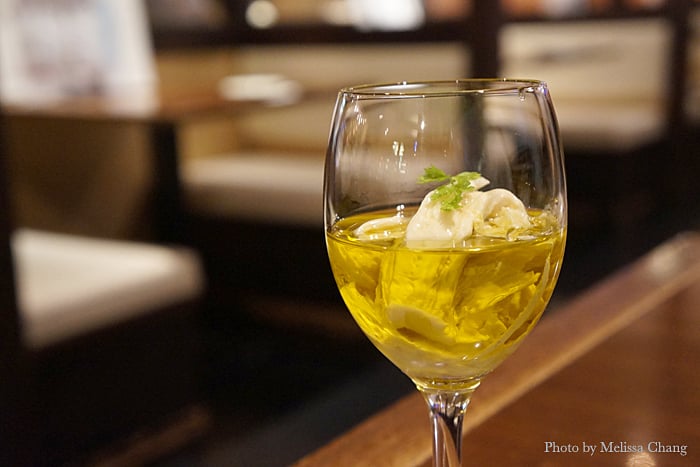 People might think this is weird, but I liked it. Italian-style yuba (580 yen): rolls of yuba in olive oil, so it was almost like burrata cheese in oil. Definitely put salt on it, as the overall dish is a little bland. Once you season it, it's great.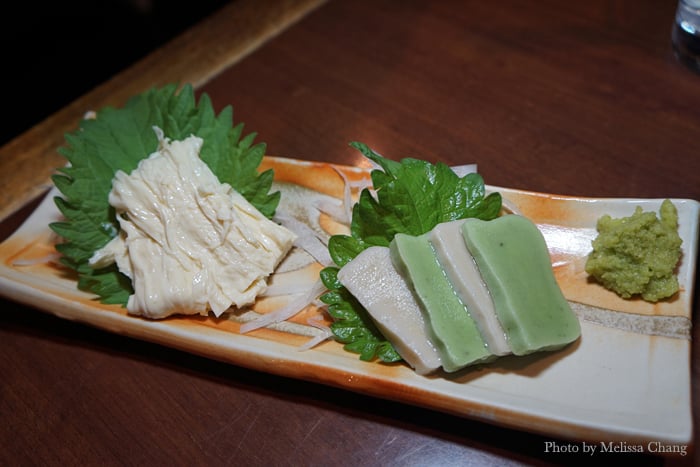 Now here's something I've never seen: Yuba on a shiso leaf and slices of wheat gluten pretending to be sashimi (800 yen). This is great for vegetarians, but as omnivores, we liked it, too. Put some wasabi on the gluten, dip in shoyu and eat (with or without ginger or veggies).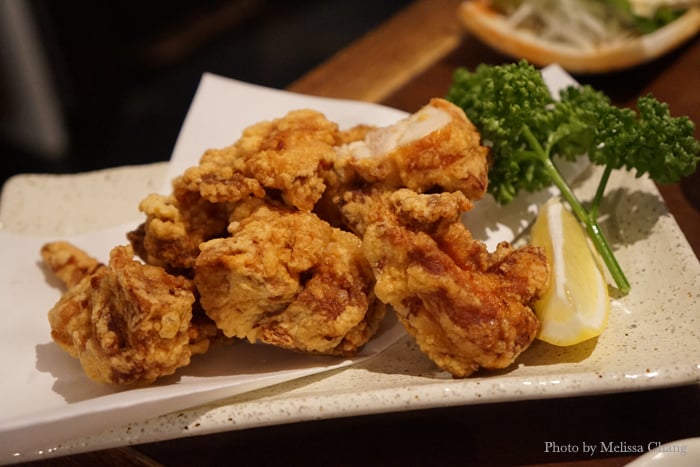 And for the non-veg, karaage chicken. Yum! Can't go wrong with that!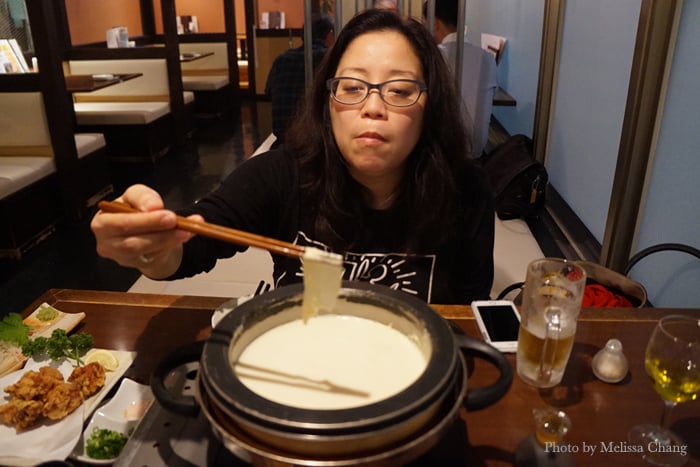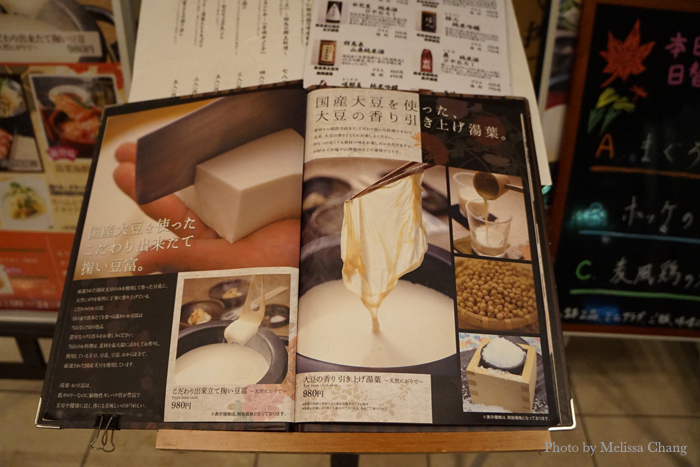 And then, the main event: Making our own yuba! The restaurant brings a special vessel that simmers the soy milk just enough so it creates a skin, much like the skin that forms when you make pudding. At the right moment, you skim the top and pull out your yuba. It's kind of fun, like doing fondue, but it's kind of a long process. You have to be patient and maybe nibble on other things as you take turns pulling out yuba. I can certainly appreciate the art of yuba now, and would probably prefer someone make it for me.
Kyoto Ginyuba
APA Hotel Takasaki Ekimae
370-0849 Gunma
Takasaki
Yashimacho 232-8
And that was it for Takasaki. I told you it was short! But the next post is about Hitachinaka, and I think it will be more entertaining.
For more photos from this trip, click here.