A look inside R/D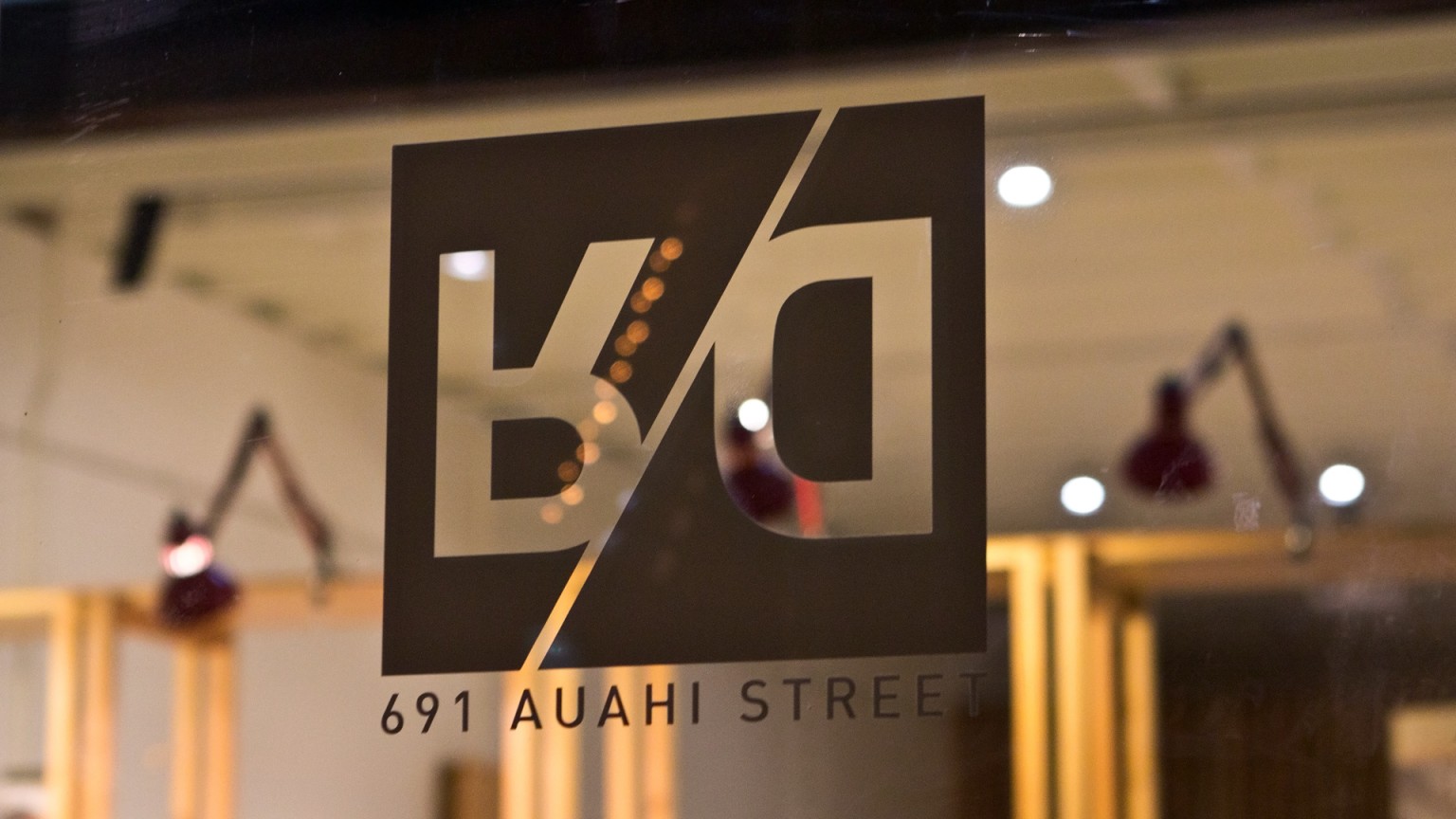 It's hard to believe R/D, one of the pioneers of the Auahi Street block of creative hubs, boutiques and workspaces in Kakaako, is only two years old. Despite the fishbowl-like accelerated pace of growth and creativity in the district, R/D, run by the folks at Interisland Terminal, remains a solid cornerstone of the Kakaako community; a haven for students, entrepreneurs and artists to grab a cup of coffee, get some work done, or just hang out. In addition, the spot – branded as a bookstore, workspace, coffee shop (it also houses the downtown branch of Morning Glass Cafe) and microcinema – hosts regular ongoing exhibitions, panels and feature film programs that focus on international contemporary film, art and design.
We had the rare chance to talk to one of Interisland Terminal's creative heads, Wei Fang, about how they ended up in Kakaako, what it was like to be one of the first tenants on the block, and how R/D is helping Honolulu's creative community do their best work.
Here are a few photos from inside R/D:
A look inside R/D
Picture 1 of 6
There's a few good reasons why R/D is one of our favorite spots in Kakaako. On a regular day, when we're looking for someplace to get work done, It's clean, quiet and consistent. There's free wi-fi, comfortable chairs and good coffee. And you'll never get looked at funny, no matter what you're reading or working on.
Several times a month, you'll find something special going on here, too. From Hawaii Cocktail Week seminars to themed film festivals to presentations by well-known members of the local and international creative community, it's a versatile space which lends itself well to a variety of events.
R/D
691 Auahi Street, Kakaako
Tue – Fri: 7:00 am – 7:00 pm
Sat: 11:00 am – 5:00 pm
R/D Upcoming Events:
October 21-23
Cine à la MODE: HiFi (Hawaii Fashion Incubator) and Interisland Terminal present three outstanding documentary tales of how, why and what we wear, followed by discussions with local guest speakers. A $5 donation per film is suggested.
Monday, October 21 at 7 p.m.:
GOD SAVE MY SHOES: Women and their undying relationship with shoes.
Tuesday, October 22 at 7 p.m.:
PAUL SMITH, GENTLEMAN DESIGNER: A look at men's fashion through the world of Paul Smith, who has 400 shops and outlets in 35 countries, 12 clothing lines and over 400 million euros in annual revenue.
Wednesday, October 23 at 7 p.m.:
SCHMATTA: Rags to Riches to Rags: The history and present day of New York City's famous garment district.
Friday, October 25 from 6 to 8 p.m.:
Design Week HNL: "BYOBook" Mixer: Pick a book from your shelf to use as a conversation starter among fellow design enthusiasts and participate in the Shutterstock Napkin Sketch Contest for a chance to win a prize package from Shutterstock valued at $350.
Friday, November 15:
ii Gallery Exhibition Opening: Kaʻili Chun: A new exhibition featuring the work of artist Kaʻili Chun.