A look inside CoXist Studio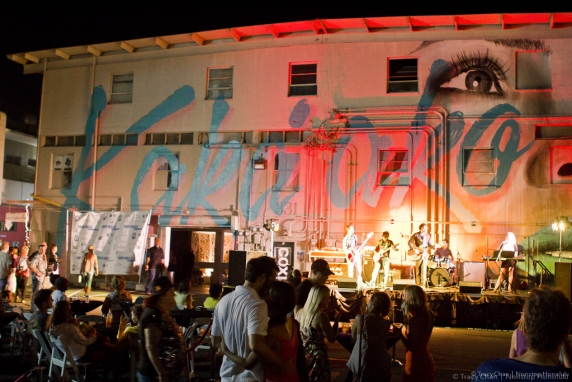 CoXist Studio — headed up by Casea Collins-Wright and her partner, UH Manoa School of Architecture professor Jason Selley — has evolved into one of the most versatile venues in Kakaako. Originally started last fall as an Urban Design project, the space is raw enough to accommodate any kind of art show or event, yet has unique accents of its own, like the beautifully crafted wooden paneling behind the bar and permanent installations, all created by University of Hawaii Manoa architecture students.
CoXist was intended to be a temporary space for a few shows, but the artsy, minimalistic warehouse has since hosted some pivotal Kakaako nightlife events, like Yelp's Urban Mashup party, Three Walls Music Festival, Caleb Shinobi's Abstract Noir fashion show and various hanging art exhibits like the Revenant architecture exhibition. There's always something special going on at CoXist during Honolulu Night Market too.
We talked to Collins-Wright just before the Three Walls Music Fest; here's her take on CoXist and the Kakaako community as an art incubator:
Here's a look inside:
A look inside CoXist Studio

CoXist Studio
331 Keawe St.
808-351-5898
www.coxistudio.com