A Lana'i adventure with Island Air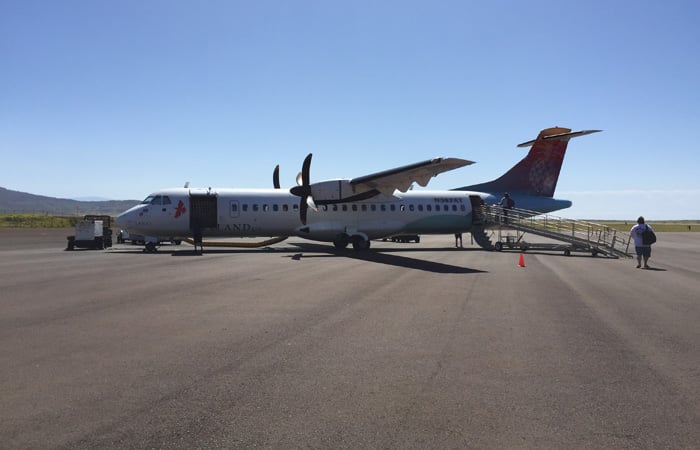 Olena Heu and I recently were invited on a familiarization tour of Island Air and the island of Lāna'i. What a cool girls' getaway, right? I hadn't been to Lāna'i in about 10 years, and had never flown Island Air, so this was quite an educational adventure. It was exciting to be with my travel gal pals Catherine Toth Fox, Pam Davis, and Ritsuko Kukonu, too!
Island Air has come a long way since it was founded in 1980 as Princeville Airways. Billionaire Larry Ellison bought it in 2013 and has been trying to breathe new life into the airline, which commutes to the island he now owns.
After a briefing with Island Air President and CEO Dave Pflieger, we headed off to the gate. Note that this is at the terminal across the post office, so it has its own parking lot. Check in is faster than at the large, commercial gates, so you don't have to arrive at the airport ridiculously early; but if you do, you can coffice using Island Air's free wifi and charging stations.
If you are headed to the Four Seasons Lana'i, as we were, you can come early to take advantage of the lounge. There are comfy chairs and sofas, and you get a friendly towel greeting.
If I showed you all the snacks they provide in the lounge, it would take up too much blog space, so you can see it all on my Flickr. You get a variety of hot and cold snacks and drinks, free of charge, and you can take some for the road.
You don't just get coffee, you get cappuccino! Note the microwave for heating up the food.
And of course, you can coffice in the lounge. There are ample outlets for charging, plus free wifi.
The lounge was great, but I don't think I showed you anything you didn't already expect. Here's what surprised and delighted us: Most people think that Island Air's planes are tiny 10-seaters, but they are actually much larger, 64-seat ATR-72 turboprop aircrafts. They can't be much larger to fly to Lāna'i, however, since the runway and airport is so small.
The other thing that surprised us was that fares can go as low as $52 one way. Island Air offers more than 250 weekly flights between the islands of O'ahu, Maui, Lāna'i and Kaua'i, so it's a nice alternative for interisland travel. (First checked bag is just $15.)
Here's the inside of the plane. Unlike other flights, you have to turn your phone completely off when in the air — you can't just put it in airplane mode. The turboprop fleet allows Island Air to fly at lower altitudes, which they do, so the trade off is that you get nice views of our state's coastlines, mountains, and waterfalls. Pam and I passed the time looking for whales (she saw one from the air).
During the flight, you are offered Maui Grown Coffee, pass-o-guava juice, or water. They also have a gorgeous magazine produced by the Nella Media Group (which I stole).
We had to wait a bit for our bags — okay, my bag, since I was the only idiot who checked my stuff on — since they had to unload supplies and produce from O'ahu. Island Air brings items to Lāna'i on every flight, every day.
Overall, it was a pleasant experience to and from the Pineapple Island, with a smooth little flight that was even better because I got to hang out with my girlfriends. These are just the highlights. To see all of my photos from this trip, click here.
To see more, check out the hashtags #FlyHappy #IslandAir and #FSLanai on social media!
Up next: Olena shows you our adventures on Lāna'i!
Disclosure: This trip was provided by Island Air and Four Seasons Lāna'i.