A Dim Sum Crawl of Chinatown
Six stops on a Saturday morning to get all our dim sum faves in Honolulu's Chinatown and we are stuffed.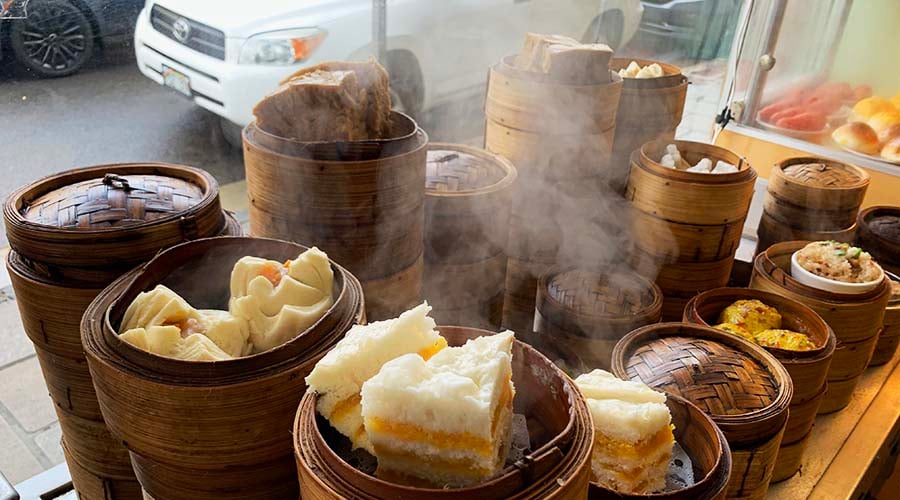 We're not historians, but we're willing to bet that dim sum might have been the first brunch ever eaten. Originating in China's Guangdong Province (formerly Canton) and eventually gaining massive popularity in Hong Kong, it's synonymous with yum cha, midmorning tea accompanied by just enough small bites to tide you over until lunch. These days, going out for dim sum usually means a full meal, often including plates of noodles and even dessert.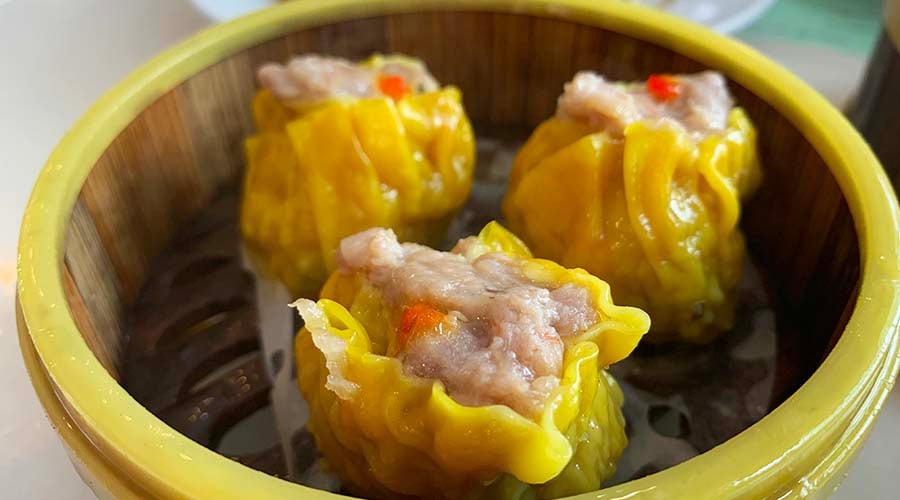 Siu mai from Fook Lam in Chinese Cultural Plaza. Photo: Jason Chin
We took a stroll through Honolulu's Chinatown recently. Our goal: Hit as many of our favorite dim sum spots as possible in one morning and order the best choices, including some unique to each restaurant. We managed to get to six spots in two and a half hours, with some time in between to explore a bit of the neighborhood.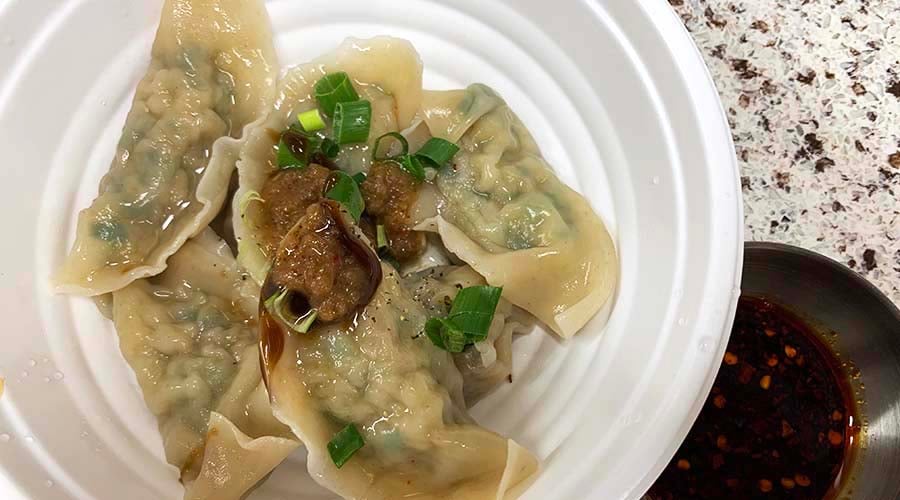 Boiled dumplings, $4.50 for a half order of 6 pieces at Fong's Meat Shop. Photo: Jason Chin
Our first stop was a new stall in O'ahu Market connected to Fong's Meat Shop, which is popular for their roasted meats, particularly the char siu. Fong's recently opened a mini-restaurant that serves dumplings and a char siu sandwich that's a Chinese variation on banh mi. We enthusiastically ordered their jiaozi, a boiled dumpling filled with pork, won bok and chives.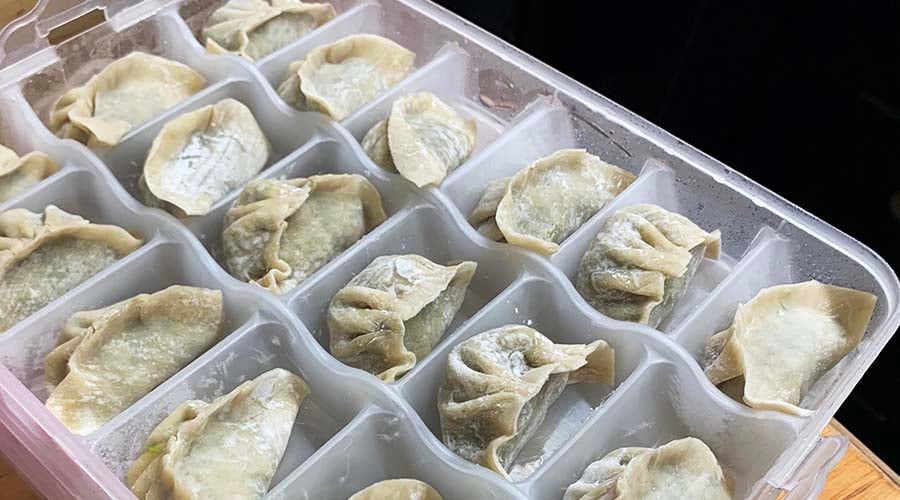 Each dumpling was wrapped by hand by the owner's mother, tucked in a compartmentalized tray to prevent sticking (where can we get this tray?) and boiled right in front of us. Knowing we had a full day of eating ahead, we asked for a half-order of six pieces for $4.50. Topped with onion jam and the usual vinegar, chili oil and soy sauce on the side, it was a pleasant surprise and a nice start to the day.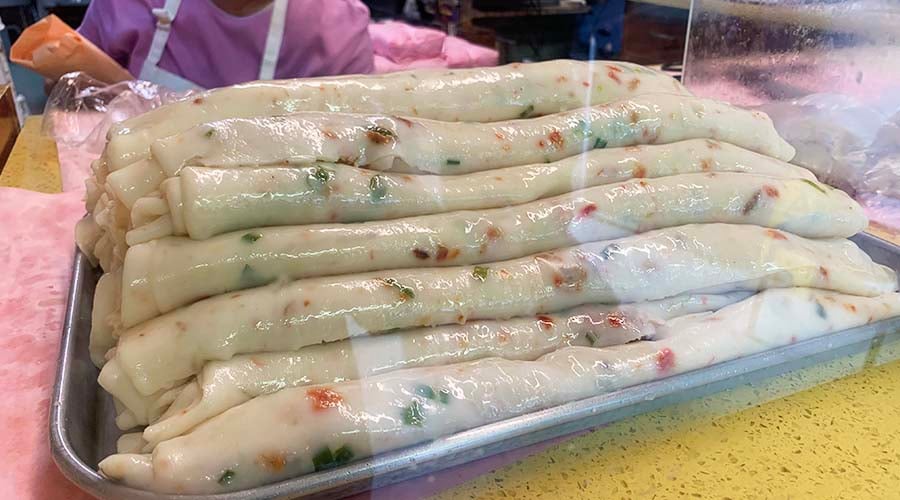 Look fun is $2.50 a roll at Chi Kong Look Funn Factory on Kekaulike Mall. Photo: Jason Chin
Though the name has changed recently, little else has at Chi Kong Look Funn Factory (formerly Ying Leong) apart from some signage and the offering of a beef chow fun. We'll need to go back for that soon. This multi-generational shop churns out serious nostalgia and great look fun. You can get your choice of shrimp, char siu or mushrooms embedded into handmade rolls of steamed rice noodles, still a bargain at $2.50 a roll. Be sure to grab a bottle of dark soy sauce while you're in Chinatown, as it's a perfect accompaniment.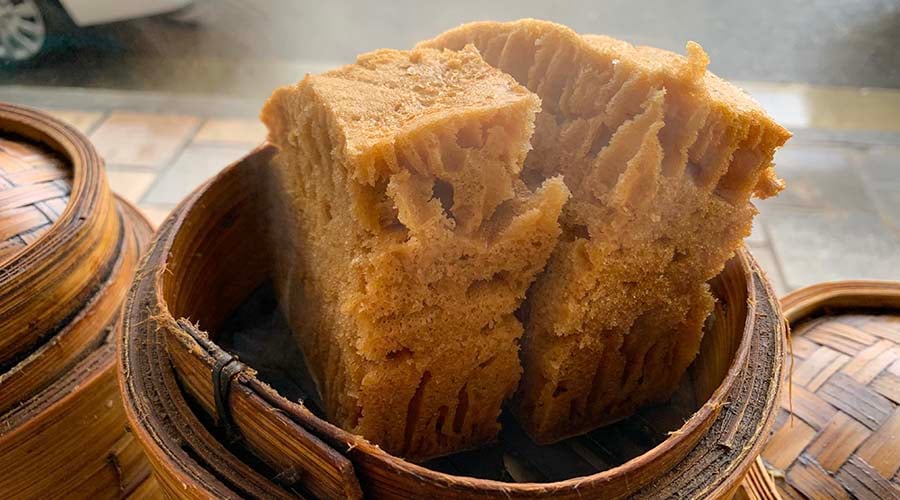 Ma lai go brown sugar steamed cakes, $3.80 at Happy Garden. Photo: Jason Chin
Knowing that sit-down restaurants would slow us down, we went to Happy Garden on Maunakea Street (Editor's note: The restaurant has closed) next so we could pick out what we wanted from the steam table by the door to eat as we strolled. The steamed cake or ma lai go has a strong brown sugar presence but is very light in texture.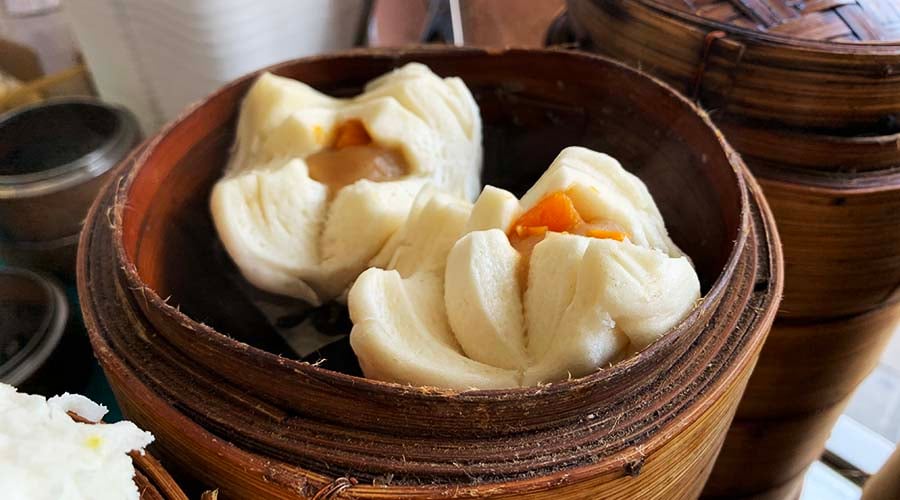 $3.80 for two lotus paste buns at Happy Garden. Photo: Jason Chin
We also got some lotus paste buns, which look like open-face manapua. The filling of sweet paste and savory duck egg yolk is very similar to  what you'll get in a moon cake.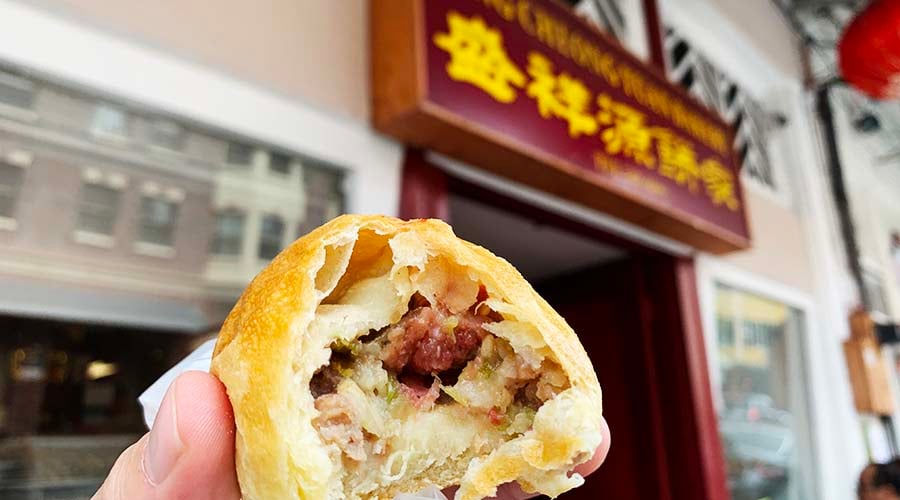 Ma tai soo from Sing Cheong Yuan Bakery, $1.50. Photo: Jason Chin
Just down the road on the same side of Maunakea Street is Sing Cheong Yuan Bakery. Though not a restaurant, they make many of the classic foods that we associate with dim sum restaurants and evolved manapua joints. Their jin dui (crispy fried mochi balls filled with things like coconut or black beans and rolled in sesame seeds) is not to be missed and might arguably be the best in town. Check out the savory char siu jin dui, too. Not to be missed is their ma tai soo, a baked pastry filled with pork, daikon, onions and much more. This one contrasts what you'll find at Char Hung Sut in a lot of ways. If they could only merge the two together to make the ultimate ma tai soo …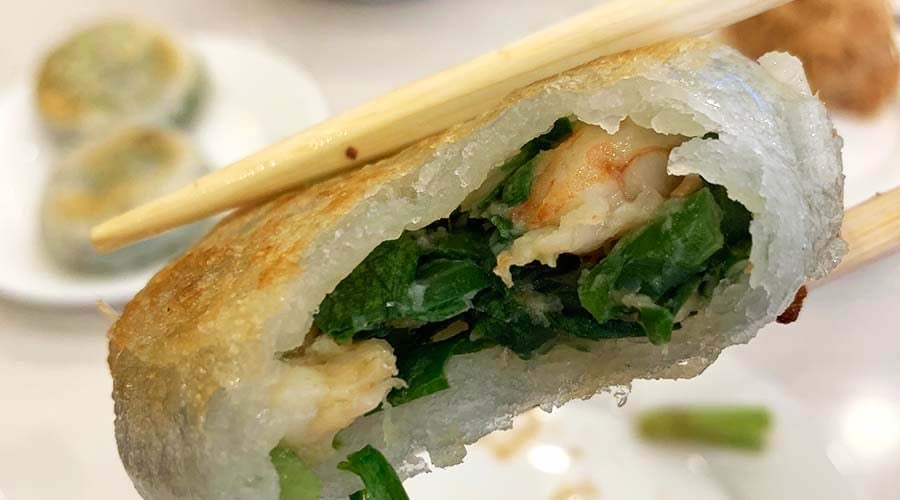 Pan-fried shrimp and chive dumplings are $4 for three pieces at Tai Pan Dim Sum. Photo: Jason Chin
Off to Cultural Plaza, where the dim sum choices can be overwhelming, we hit up Tai Pan first. Though you won't see little carts going around this cozy space, you will find many of the classics on the menu. We went with the pan-fried shrimp and chive dumplings, which are crisp on the surface, slightly chewy, and have a bit of bounce to the shrimp.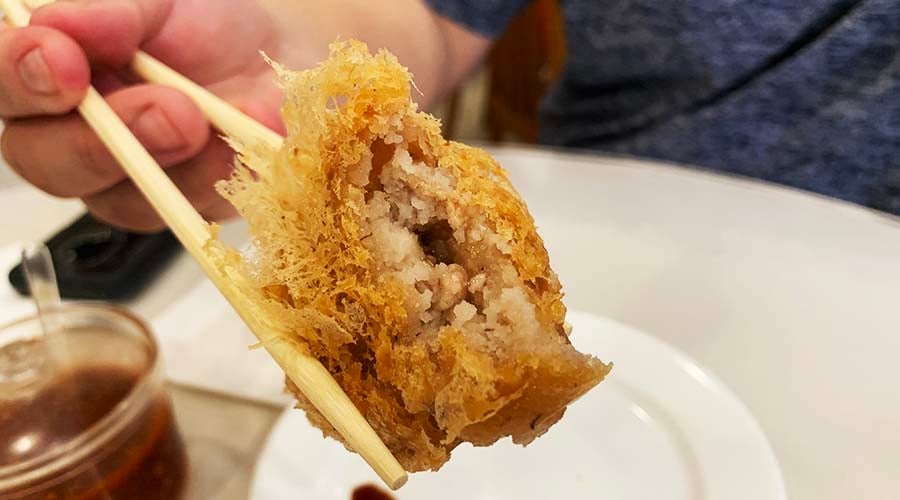 Wu gok fried taro dumplings are $4 for three pieces at Tai Pan. Photo: Jason Chin
The classic wu gok or fried taro dumplings are very light and crisp, filled with tender bits of nicely seasoned ground pork.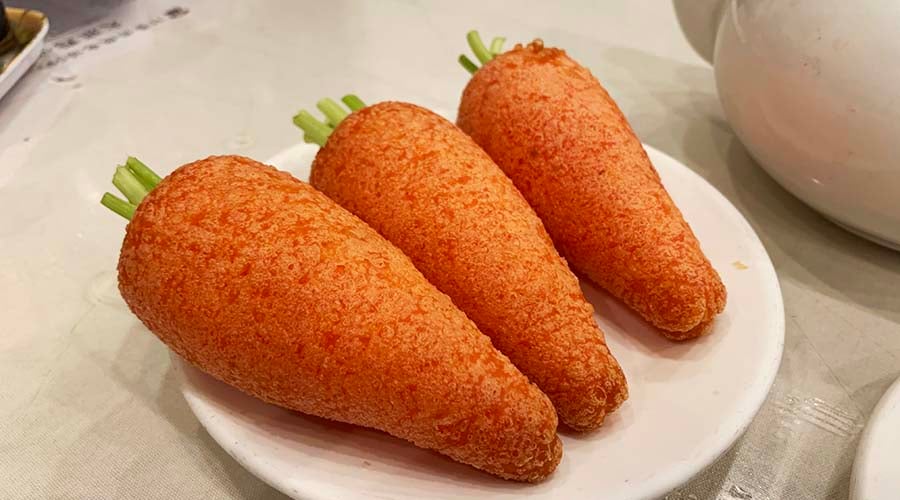 Tai Pan's fried carrot-shaped mochi with custard is $4 for three pieces. Photo: Jason Chin
They also have a carrot-shaped fried mochi filled with custard. It's one of those things that tastes nothing like what it looks like, but in a good way.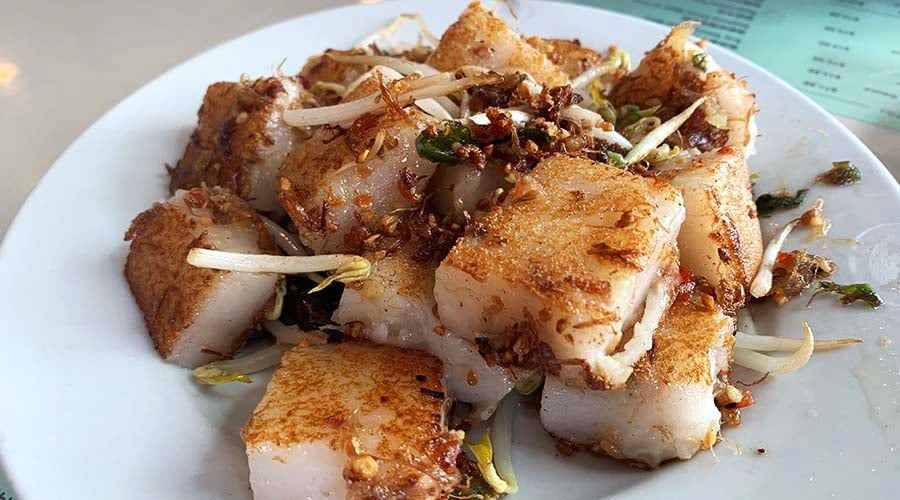 Pan-fried turnip cakes with XO sauce and bean sprouts at Fook Lam, $8.95. Photo: Jason Chin
Finally, we ended with the mecca of dim sum spots in Chinatown: Fook Lam, located on the river side of Cultural Plaza. There's always a line, and it's one of those places worth waiting for—bustling and noisy with a strong Hong Kong vibe. If you find yourself here at the end of a dim sum crawl and have room in your stomach for only one thing, get the pan-fried turnip cakes (lo bak gao) with XO sauce. The daikon is cooked down slowly and mashed into thick paste, steamed, then sliced and pan-fried. The addition of XO sauce—the ultimate umami bomb and luxury condiment of dried shrimp, dried scallops, dried chiles, dried ham, garlic and shallots—is something we don't see at very many places.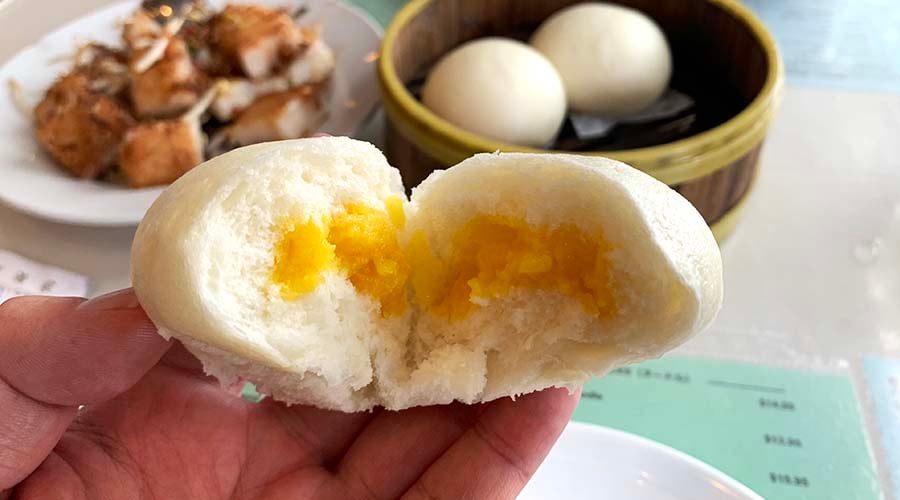 Custard buns at Fook Lam, $3.75 for 3 pieces. Photo: Jason Chin
Our other favorite here is the steamed custard bun or nai wong bao, which is best piping hot—a tasty alternative to the dan tat or custard tarts that people are more familiar with. And the hidden gem that's often overlooked is Fook Lam's curry tendon, an explosion of flavor and texture.
Curry tendon at Fook Lam, $7.95. Photo: Jason Chin
Barely able to stand up after our dim sum crawl, we did take home a lot of leftovers and lessons learned. We would recommend not ordering more than two or three items at each spot. Go in a group of three people, since most items come in sets of three. Also, skip breakfast and don't make dinner plans because you might not get up from your food coma. The full dim sum crawl is not for the faint of heart, so don't say we didn't warn you. If you decide to just hit up one or two spots on this list, you're already winning in our book.