A chef's view: In the kitchen for Hawaii Food & Wine Festival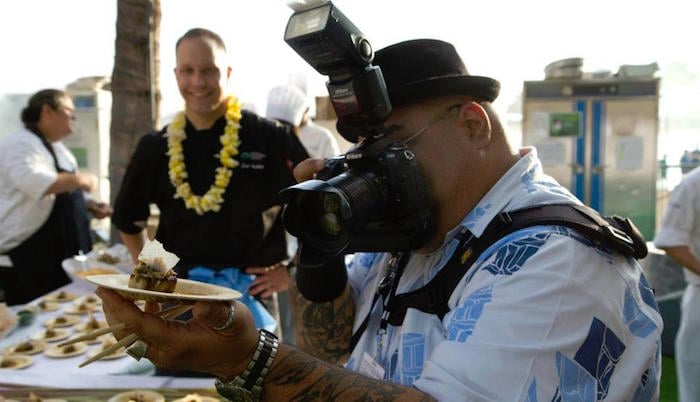 I'm a baker by trade, and after culinary school and working around the country with great chef-mentors, I had a job as the pastry chef at Longhi's Ala Moana. Then in 2009 an injury to my right hand forced me out of the kitchen. I transitioned into photography, which led me into the political arena.
I worked with a string of election campaigns and eventually became the social media director for Mazie Hirono's 2012 U.S. Senate campaign. I was a successful political operative, and I was paid very well. Although it is great to be on the winning side of election night, the candidate's victory was not really my own. Soon I began to question if I wanted to spend the rest of my life jumping from campaign to campaign as a professional electioneer?
There came a crossroads. I had started blogging and taking photos for the Hawaii Food & Wine Festival. The festival and primary election day were around the same time that year, so I had to choose between one or the other.
Deep inside, I still yearned to somehow get back into the food industry. I took a leap of faith and resigned from the campaign.
Great chefs, the crowds, the food – the festival was amazing as always. As I photographed it all, I realized that I had the skill set to be cooking there, not just looking through the view finder of my camera as it happened around me.
Four years have passed since that epiphany. During that time, I've helped to open two restaurants, closed one of them and been nominated for a Hale Aina Award. Through the highs and lows I remained focused, and two weeks ago I experienced the Food & Wine Festival for the first time as a baker.
It was several months after I started working in the bake shop at the Modern Honolulu that I remembered that the hotel was one of the host venues of the festival. That was odd, considering that I had covered events there since the festival's inception. During a conversation with executive chef Keith Pajinag, I asked what he was planning for his Food & Wine dish this year. He said that it was going to be an ice cream sandwich with ulu cake and huckleberry ice cream.
I found the combination rather odd, but it made sense when he explained that it represented the merging of cultural influences he experienced being born in Hawaii and raised in the Pacific Northwest. I was still skeptical about the flavor combination but excited about the prospect of working again with ulu, an ingredient that I became well acquainted with during my time at Highway Inn Kaka'ako.
I learned at Highway Inn that ulu pala (ripe breadfruit) worked well as a replacement for bananas in banana bread recipes. When it came time to start developing chef Pajinag's dish, I recommended that we start with the shop's banana bread recipe, tweaking it until the desired flavor and consistency were achieved. He agreed and we started testing out the recipe.
Obstacles arose during the testing phase. The acidic huckleberries reacted with the baking soda in the ulu bread, turning it blue and creating a metallic flavor. Yet as we went through various iterations, it became clear that the ulu-huckleberry flavor combination did in fact work, and it worked well. Chef Pajinag signed off on the final recipes, and we were ready to go.
The week leading up to the Festival for me was electric, with each day building upon the excitement of the day prior. We went into mass production with the help of culinary interns from Kapiolani Community College, and had 1,200 ice cream sandwiches ready to go with a day to spare.
On the day of the event I was talking with Dane Nakama, a photographer that I worked with at previous Food & Wine Festivals, and he showed me his photo of the dish that I had helped to create. That's when it hit me.
I had come full circle. That yearning I had four years ago, standing on other side of the lens, had become a reality.
Here is the ulu bread recipe that we developed for chef Pajinag's dish. It has been scaled down for home use and yields one loaf. If you plan to bake it into sheets like we did for the ice cream sandwich, omit half of the baking soda from the recipe.
Ulu Bread
12 oz Ulu pala
4 oz Coconut milk
8 oz Oil
3 ea Eggs
8 oz Brown sugar
0.5 oz Baking soda
9 oz All-purpose flour
pinch Ground ginger
pinch Ground cinnamon
0.5 oz Cocoa powder
Combine wet ingredients (ulu pala, coconut milk, oil and eggs) in a food processor or blender and blend until smooth. The mix should resemble a thin mayonnaise.
Sift together dry ingredients (brown sugar, baking soda, flour, ginger, cinnamon and cocoa powder).
Combine wet and dry ingredients in a mixing bowl until a smooth batter forms.
Pour batter into greased pan(s) and bake in a 325º F oven for 20-30 minutes or until an inserted wooden skewer comes out clean.