A chat with Jake Shimabukuro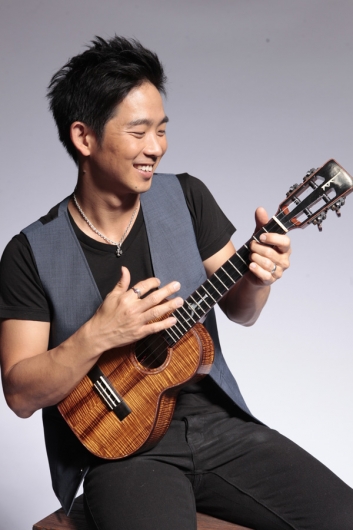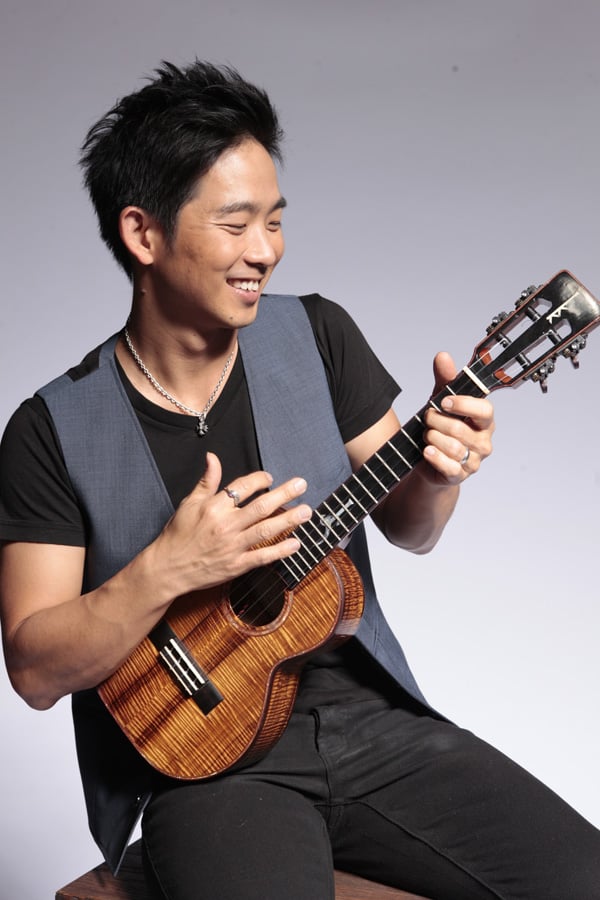 Jake Shimabukuro exudes a calmness that initially may be characterized as mellow and understated, but as he discusses the evolution of his music, it's clear Hawai'i's biggest ukulele ambassador is a replica of his musical style — perhaps quiet at first, but then full of thought, energy and ambition.
Shimabukuro is in the midst of another world tour. This year, the 37-year-old will perform 135 shows across North America, Australia and Asia, ending with his grand finale on Dec. 5 at Blaisdell Concert Hall. This is the third year for the Jake Shimabukuro and Friends Concert, a one-night hometown show with Shimabukuro playing alongside musician friends, mentors and other local talent who have yet to be publicly announced.
It's a gathering that Shimabukuro greatly looks forward to, giving him an chance to tell stories through his music by blending Hawaiian, rock, jazz, blues and other sounds, and inviting some of Hawaii's other top musicians to share the stage. The first year of the concert, Paula Fuga and his brother, Bruce Shimabukuro, joined him. Last year, guitarist Vernon Sakata, jazz bassist Dean Taba and drummer Noel Okimoto were in the mix. "Hawaii is always my favorite place to perform," Shimabukuro says. "It's always nice to see familiar people in the audience, but I also get to collaborate with musicians who inspire me and who have been mentors to me."
Looking ahead to 2015, Shimabukuro is planning another busy year of international touring, perhaps adding Europe to the schedule. He also will be releasing a new CD that he says will showcases the complexity and range of the ukulele, incorporating traditional Hawaiian melodies with modern music. Even after years in the business and dozens of CDs recorded, there's more the Honolulu native hopes to unleash with his chosen instrument. "I want this one to be very experimental," he says. "I want to try different things — to showcase different sides of instrument and show its evolution. It's about melding traditional music with modern. I want to bring the two together."
You can catch Shimabukuro in his finale concert of the year, Jake Shimabukuro & Friends, on Dec. 5 at Blaisdell, Concert Hall. Until Sept. 17, we'll be offering $10 off any ticket. Here's info on that promotion.
Here's a look at some of our favorite Jake renditions and performances:
"Rolling in the Deep
An amazing interpretation of Adele's hit. From this clip, it's clear the ukulele has broader capabilities as an instrument than most would imagine.

"Bohemian Rhapsody"
Shimabukuro interprets Queen's signature song, prefacing his performance by calling the ukulele the "underdog of all instruments," then killing it.

"While My Guitar Gently Weeps"
Jake's duet with Australia's master guitarist Tommy Emmanuel of this classic Beatles song shows how beautifully the ukulele and guitar can work together. In 2006, Shimabukuro's popularity reached new global heights after a video of him playing George Harrison's masterpiece on YouTube went viral, with now more than 13 million views.

"Blue Roses Falling"
Shimabukuro performs "Blue Roses Falling" on home turf in Hawaii Kai. Here, we get to see his mad finger work up close.

"Dragon"
Love the soulfulness of this live performance.

2nd Annual Jake Shimabukuro and Friends Concert
Here's a look behind the scenes and during last year's concert at Hawaii Theatre.