7 Things I Learned at 7: An Interview with Joseph Serrao, Owner and Designer of Salvage Public
7 Things I Learned at 7 is a recurring interview column from the HONOLULU Magazine fashion team. This month we sipped tea with Joseph Serrao of Salvage Public.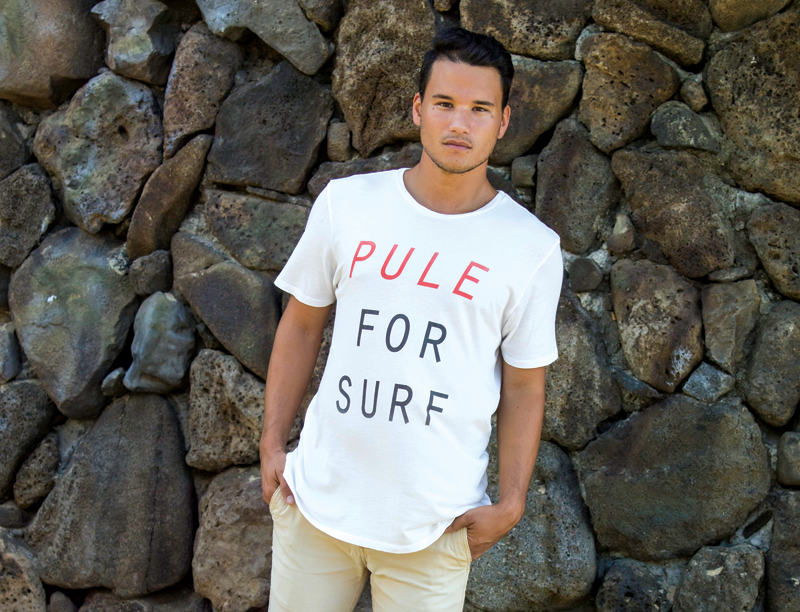 Who: Joseph Serrao
What: Owner and designer of Salvage Public
Wear: PULE FOR SURF Salvage Public T-shirt and khaki pants from high school.
Sip: Starbucks Very Berry Hibiscus Tea
You might know him as the could-be-model surfer guy who makes super-soft tees, but there's more to like about Joseph Serrao. Not often in the scene, the Kamehameha alum likes to play it low key and focus on the business, but we got him to unfold a few secrets, including one that's a bit batty.
SM: Starbucks?
JS: I'm not a heavy drinker.
SM: Oh, got it. Let's start: Three words that best describe you?
JS: Minimal, fun-loving and creative.
SM: What fashion decision do you regret?
JS: Hyper-color shirts and a bowl-cut hairstyle that my brother trimmed for me for five years!
SM: What would be your plan B?
JS: Something in the field of architecture and suburban planning. Possibly a land-use developer, I've always been into community layouts.
SM: Who is your superhero alter-ego?
JS: Batman. He's way cooler then the others. When I was a kid, my grandma made me my first Batman costume for Halloween, and I dressed up as him for four years, and then five years throughout my college years.
SM: If you were on the cover of GQ, what would the headline say?
JS: Designer of the Year.
SM: What would you lie about?
JS: I lie about my age all the time. People don't believe I'm in my 30s, they think I'm much younger. I don't care to correct them because secretly I wish I was in high school again.
SM: If you could've picked your own name, what would it have been?
JS: Finley. It's my grandpa's name and I always thought it was pretty cool. I would love to give that name to my own son or daughter someday.