7 Things I Learned at 7: A Drink With Kūha'o Zane
We had a pau hana drink with Kūha'o Zane, Director of Design and Marketing for Sig Zane. Here's what we learned.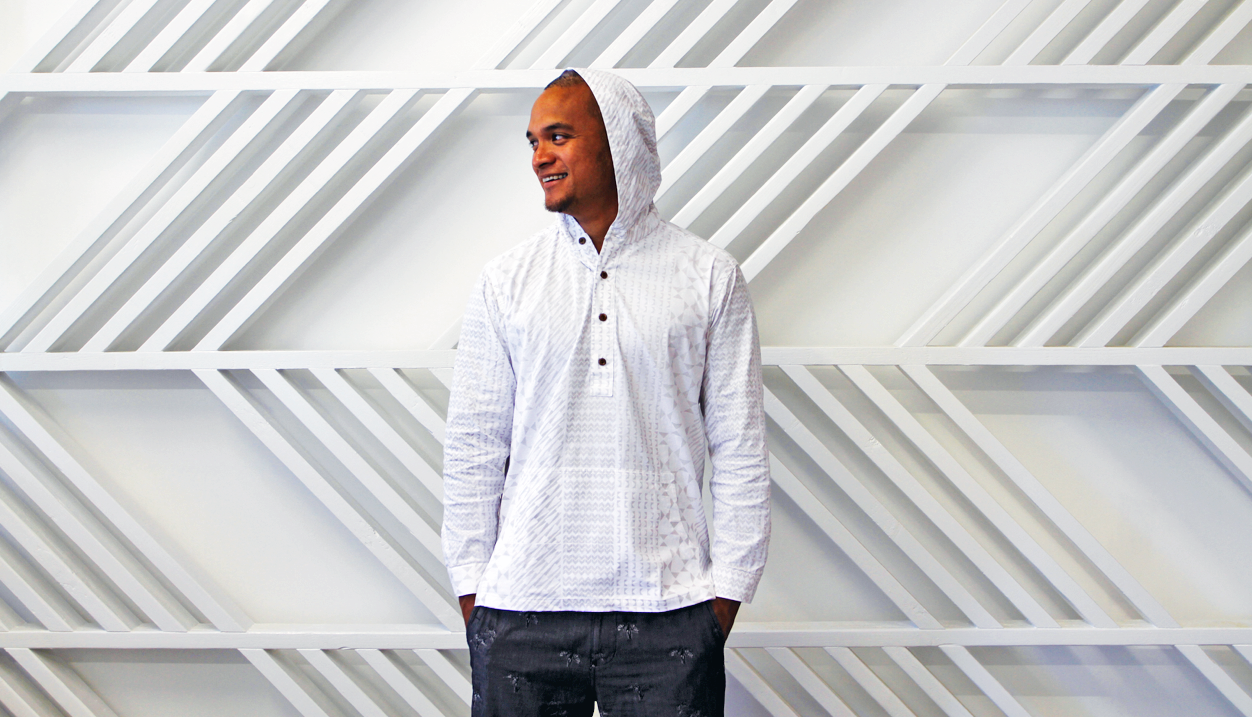 A while back, I emailed a designer, "What's something no one knows about you?" He replied with, "Let's grab a drink first!" I laughed, but something clicked. Why would a (relative) stranger reveal any deep secret to me, with or without alcohol present? To him, I'm a nosy editor with a deadline, not a childhood friend.
From this, an idea grew. Instead of hunting down an answer via email or text, maybe we should pursue an alternate route of communication to get to know people we write about in a more natural setting. Sitting face-to-face and talking story is something us locals are good at so why not try this approach? A meal would take too long, with hectic work and family schedules, so we settled on one pau hana drink. Everybody can steal 30 minutes now and then.
So, I did grab that drink with the designer who inspired it all, and here's what he had to say.
Who: Kūha'o Zane
What: Director of Design and Marketing for Sig Zane/Founder of SigZaneKaiao
Wear: Hurley Drift pants, Hurley X Sig Zane collab, button-down shirt, Supreme beanie and a bunch of cool bracelets.
Sip: Manifest's Knob Creek Single Barrel
SM: Describe yourself in three words.
KZ: Creative, contemporary, culture.
SM: Tux or Aloha shirt?
KZ: Tux. An aloha shirt is my everyday T-shirt, so any chance I have to mix things up, I'll take it.
SM: What do you lie about?
KZ: Nothing, really. Oh, I do (occasionally) lie to my grandma. When I'm on O'ahu I do a little shopping. Every time I unload my car at her Mānoa home, she seems to be there. 'What's in the bags?' she always asks. 'Groceries,' I reply. It's usually large bags carrying shoes, or clothes, or a new bag. She wouldn't understand. She's pake!
SM: What's the sexiest hula move a guy dancer can do?
KZ: Shouldn't you ask a girl that! Okay, if I had to choose one, it would probably be the back bend. You're kneeling and leaning back, while keeping your upper body straight. It requires you to really use your ab muscles. (For the record, no demonstration was given.)
SM: Ice cream sundae topper?
KZ: I'm not a huge ice cream person. When I was little, my cousins and I would line up for ice cream. When it was my turn to be served, I was more focused on the design of the Meadow Gold box. The opening was like an envelope. Why? It made it so hard and messy to get to the ice cream out.
SM: Your last meal would be?
KZ: There's a guy who lives across the street from me and every Friday he sells freshly made poi. I always drive over there (because no one walks in Hilo unless your car broke down or something happened) to buy a bag before it runs out. And one magical day a year, there's a lady who sells laulau right next to him. It's so 'ono. Combine those two, plus chili pepper water, definitely my last meal.
SM: Your dad is…
KZ: Sig Zane. Pau.