7 Reasons to Get Out
November 2007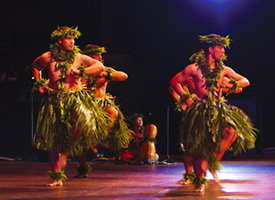 Dance, Dance
The 2007 World Invitiational Hula Festival at the Waikiki Shell features dancers from all over the globe celebrating Hawaiian culture through the art of hula. The three-day event also offers vendors, crafts, food and lomi lomi massage. www.worldhula.com. Nov 8-10.
Nov. 2 -Gulp
The annual Kona Coffee Cultural Festival kicks off 10 days of events celebrating Kona's 179-year coffee heritage. As the oldest food festival in the state and the only one of its kind in the country, the festival is worth the cost of the plane ticket. A $3 pin grants you access to more than 50 activities, including tastings, art exhibits, coffee farm tours and more. Call 326-7820 or visit www.konacoffeefest.com. Nov. 2-11.
Nov. 3-Laugh out Loud
Celebrated Filipino-American comedian Rex Navarrete returns to the Pipeline Cafe stage after almost two years away from the Islands. Prepare to laugh at Navarrete's classic comedic comentary on being Asian in America, with loads of new material that any audience can appreciate. Visit www.hawaiieventsonline.com for ticket information. Nov 3.
Nov. 10- Treat Your Taste Buds
It's a chocolate extra-vaganza–the fifth annual Chocolate Extravaganza, in fact. Satisfy your every chocolate desire with an all-you-can-eat buffet of chocolate creations– for a good cause. Proceeds from the event will go to Honolulu Habitat for Humanity, Family Promise of Hawai'i and Emmanuel Episcopal Church. Buy tickets at the door or call 262-4548 for details. Nov. 10.
18- Listen Now
Spend the evening listening to an eclectic mix of music at Leeward Community College Theatre's annual guitar concert. Directed by Peter Kun Frary, The LCC Guitars are set to play songs ranging from Mozart to Joplin in orchestra, ensemble and solo performances. Tickets will be available at the door. For more information, call 455-0385. Nov. 18.
22 – Earn Your Dinner
This Thanksgiving Day, trot your way to the finish line in the Honolulu Marathon Clinic's 33rd Annual Turkey Trot. The strictly-for-fun 10-mile run is sure to ease your mind about that second, or maybe even third, piece of pie. honolulumarathonclinic.org/turkey-trot. Nov. 22.
Get Global
The Honolulu Academy of Arts opens its annual World Art Bazaar. The popular event offers unique hand-made wares including art, clothing, jewelry and other ornaments from the far reaches of the earthÑjust in time for the holidays. For hours, call 532-8700 or visit www.honoluluacademy.org. Nov. 24-Dec. 9.