7 Emergency First Aid Classes You Can Take and One for Your Kids
Are you prepared in case of an emergency? Here's a roundup of classes that can help keep your family safe.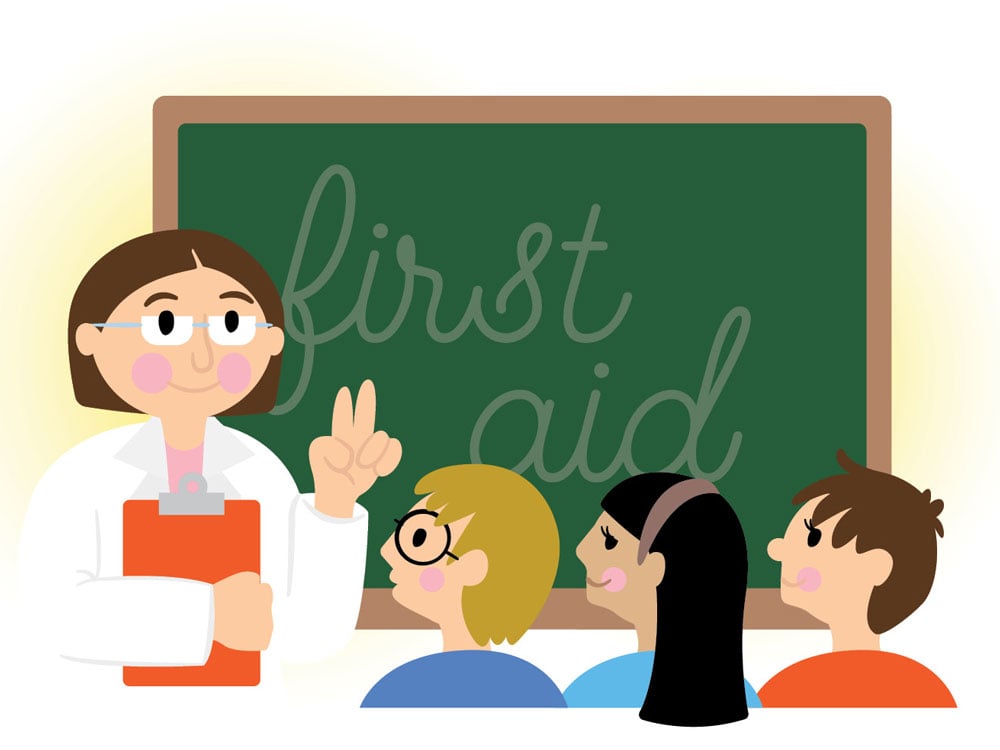 Illustration: Kelsey Ige
American Red Cross Hawai'i
Classes: "Adult and Pediatric First Aid/CPR/AED" teaches basic, life-saving skills plus CPR and the use of the AED. "Babysitting Basics" teaches youth ages 11 and older how to care for little children in medical emergencies.
Tip: The Red Cross offers two styles of learning. The "Classroom" course does not require preparation ahead of time. The "Blended Learning/Online+Classroom" requires students to watch an online video at home prior to joining the instructor in the classroom.
Duration: Two hours for "Online+Classroom;" seven hours for "Classroom;" and four hours online for "Babysitting."
Location: 4155 Diamond Head Road
Web: redcross.org/local/hawaii/take-a-class
Phone: (808) 734-2101
AMR American Medical Response
Classes: "Heartsaver First Aid CPR/AED" covers medical emergencies, and CPR and AED usage for babies, children and adults. A separate class, "Pediatric First Aid CPR/AED," specifically covers children's safety and is not listed on the website. Call to inquire. Certification cards for both classes are from the American Heart Association.
Tip: Some classes are designed for people with medical backgrounds. When searching for classes for the layperson, look for the keywords "for the general public."
Duration: Between six and eight hours, with a meal break.
Location: 99-840 'Iwa'iwa St., 'Aiea
Web: amrhawaii.enrollware.com/schedule
Phone: (808) 487-4900
Castle Medical Center
Classes: "Heartsaver CPR AED" is an American Heart Association-certified class that teaches CPR, the use of the AED and choking relief for all ages. It does not teach basic first aid (burns, life-threatening allergies, heat stroke, etc.).
Tip: For a basic noncertification course, consider the "Infant Safety" class, which addresses choking, home safety and Basic Life Support techniques for infants and small kids.
Duration: Four hours for "Heartsaver CPR AED;" three hours for "Infant Safety."
Location: 640 'Ulukahiki St., Kailua
Web: castle-med.org/classes-n.htm
Phone: (808) 263-5400
Fast CPR
Classes: "AHA First Aid CPR (Infant, Adult and Child) and AED" is a fast-paced, comprehensive program designed for busy people. The instructor issues American Heart Association certification cards immediately after class.
Tip: The classes titled "First Aid Only" do not include CPR and AED training.
Duration: Between one and three hours, depending on course description.
Location: Century Square, 1188 Bishop St., #1110
Web: fastcpr.org
Phone: (808) 548-7711
Kapi'olani Medical Center for Women and Children
Classes: "Infant Care for Grandparents and Caregivers" teaches the latest methods in CPR, basic first aid, car-seat safety, sleep positions and more. This is not a certification course.
Tip: Kapi'olani offers this class only a few times a year. Call to inquire.
Duration: Two-week series for a total of six hours.
Location: 1319 Punahou St.
Web: hawaiipacifichealth.org/kapiolani/health-wellness/classes/class?id=4637
Phone: (808) 527-2588
Lin Solutions
Classes: "Adult and Pediatric First Aid, CPR and AED" covers drowning, choking, allergic reactions, trauma and other life-threatening emergencies. The instructor, an American Red Cross-licensed training provider, can train on-site. Classes typically are held on the first and last Saturdays of the month, and on Sundays.
Tip: Lin Solutions conducts two types of classes, "classroom" and "blended." The latter requires participants to self-study ahead of the skills test.
Duration: Six hours for "classroom;" two hours for "blended."
Location: 91-6221 Kapi'olani Parkway, 'Ewa Beach. On-site training is available.
Web: linsolutions.com
Phone: (973) 462-8884
Training for Children
Kids 4 CPR (formerly Hawai'i Heart Association) is a nonprofit group that trains children in cardiopulmonary resuscitation. Group instructors visit schools and community groups throughout the state to teach children age-appropriate techniques, including "hands-only" CPR. Call (808) 369-8756 or visit kids4cpr.org.