6 Places on O'ahu to Get Your Strawberry Sando Fix
We tried this fluffy, creamy Japanese sandwich at Daily Whisk Matcha, Coco Bloom, Island Banana, U-Kitchen, Mana Sandwiches and Don Quijote.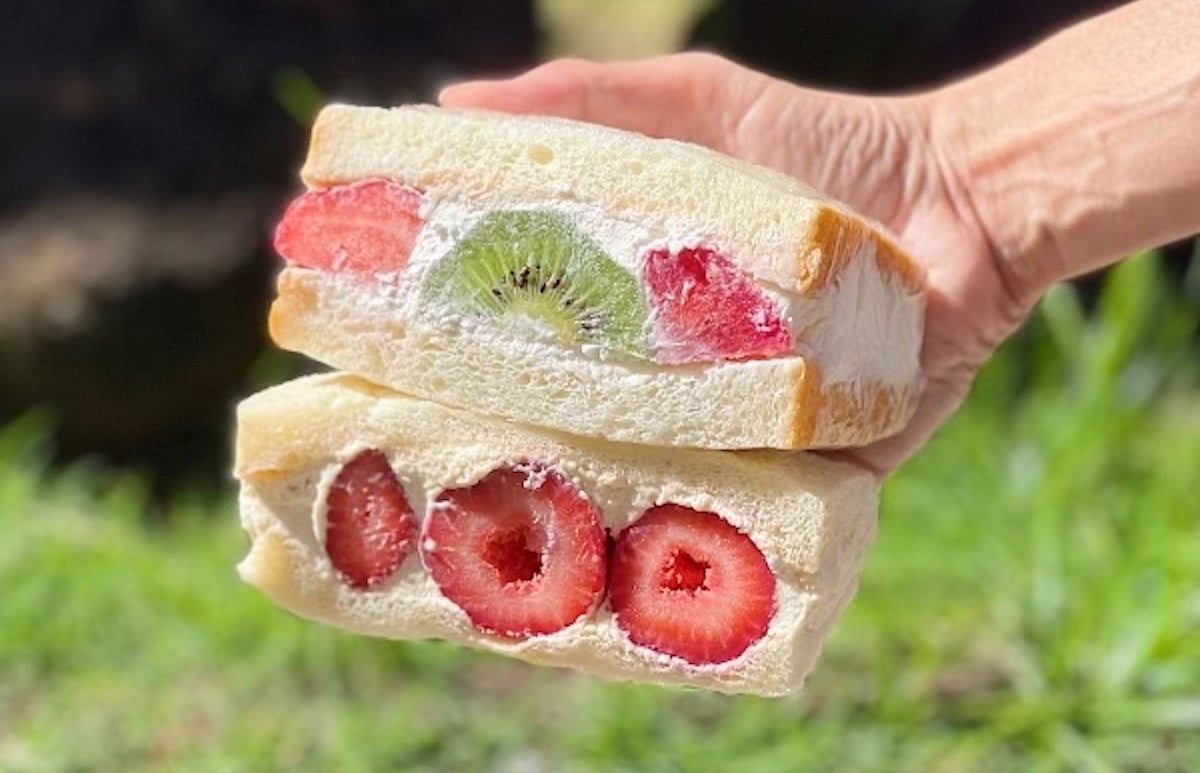 I cannot deny my obsession with fruit sandos. There is something about the pillowy texture of bread mixed with fresh fruit and whipped cream that makes my taste buds long for more. Strawberry sandos especially are the way to my heart. They remind me of stopping by 7-Eleven in Japan before getting on the Shinkansen for trips to faraway places.
I am sure my parents will be proud of me when I say that my goal for the rest of 2022 is to try out every place on this island that has a strawberry sando on its menu. Starting with Ala Moana Center's new Mana Sandwiches, I have tried six so far so naturally, I feel well on my way to becoming a sando testing professional. To put my new skills to the test, here's a list of pros and cons of each of the six sandos.
Daily Whisk
Matcha
Kaimukī
Pros: I normally would not spend $8.80 on a sando, but considering that this one comes with two sandwich halves, it's a great value. Daily Whisk also adds other fruits such as kiwi and banana into their sando, so you get more fruit for your buck. Overall, the fruits and fluffy cream make this sando delicious.
Cons: They use freshly made milk bread, but the bread does not have the same softness of Brug Bakery or La Tour Bakehouse breads. On top of that, Daily Whisk does not cut off the crust. No hate to the crust lovers out there, but leaving crusts on your sando should be criminal.
1114 11th Ave., (808) 490-3436, dailywhiskmatcha.com, @dailywhiskmatcha
---
SEE ALSO: Here's the Scoop on Kaimukī's New Matcha and Coffee Spot
---
Coco Bloom
Kaimukī
Pros: My teeth sink right into this sando ($8.40). The cream is something comparable to a melted marshmallow. I do what I call the bounce test and lightly squeeze the bread. If the cream and bread bounce back to their original shape, that's how you know you're about to bite into a cloud. Coco Bloom's sando passes my test. It makes sense, since the bread is from La Tour. For health nuts out there, the strawberries and house-made whipped cream are both organic.
Cons: Although the strawberry sandos come with two halves, they are two-thirds of the size of the Daily Whisk ones despite being only 40 cents cheaper. And the strawberry slices—I get four large ones and the two on the ends are much smaller in size.
3221 Waialae Ave., Suite A-3, cafe.coco-bloom.com. @cocobloomkitchen
---
SEE ALSO: Katsu Sandwiches and Burgers Headline a Healthy Menu at Coco Bloom Kitchen—Really
---
Island Banana
Various farmers markets
Pros: The thick cream. Is there anything I hate more than biting into a sando and getting a mouthful of bread? No. The cream on this sando ($6.35) feels more like a luxe spread rather than an airy texture. My eyes widen like a little kid at a candy store when I see the cream overload. I love the balance between the thick cream and soft bread. My mother gives her stamp of approval when she takes a bite and says, "Wow, this bread is so soft."
Cons: Do not get me wrong, I am not afraid to get down and dirty with my food. But this sando is on a whole other level. The thick cream presents a double-edged sword because although delicious, it gets everywhere. It overflows all over my hands and gets all over my hair when I bite in. It does not help that the sando is packaged only in plastic wrap, which does nothing for its structural integrity. Pro tip: Eat this sando right when you get it.
---
U-Kitchen
Multiple locations
Pros: This is the most unique tasting cream I have had. It's a delicate balance between whipped cream, butter and sugar, with the butter a bit more prominent. In tasting a lineup of sweet sandos, it's nice to have one that's less sweet. At $6.90 for two halves, this sando is the most affordable on my list.
Cons: At the back of the sando is something that looks and tastes like straight-up butter. Upon inspection, the cream is curdled from what I assumed is a larger butter content. The bread is soft, but like Daily Whisk Matcha, the crusts remain. And unlike the other sandos here, this one has only two strawberries and no other fruit.

---
SEE ALSO: Two-Minute Takeout: U-Kitchen Bento Shop in Kalihi
---
Mana Sandwiches
Ala Moana Center
Pros: You cannot go wrong with buying a sando at a store that specializes in making them. I do not know whether this is a pro or a con, but I always end up leaving Mana with at least two more sandos than I came for. This place fuels sando fanatics like me. The small shop at the Lanai food court at Ala Moana Center feels like a Japanese experience. Sandos are aesthetically laid out and are comparable in taste to those in Japan. The Brug bakery bread is fluffy and creamy. I bite in and hear the sound of air bubbles softly popping inside the cream.
Cons: For $5.75 you get a half-sandwich that is smaller than the others. I have seen people eat their Mana sandos in three bites. With this price point, I always joke that Mana is the Gucci of sando shops. If you are shopping, the mall location is convenient. If you are stopping by just to get a sando, the parking might be a hassle.
1450 Ala Moana Blvd., (808) 201-4948, manasandwiches.com, @mana.sandwiches
---
SEE ALSO: We Tried Mana Sandwiches, a New Japanese Sando Shop
---
Don Quijote
Multiple locations
Pros: I am surprised to see a strawberry sando waiting for me in the chilled foods section at Don Quijote. These are made by a local business called Sweet Haato. I live in Mililani and trust me, it is hard to get my sando fix in Central O'ahu. Don Quijote's Pearl City store makes it convenient for me to pick up my sandos as I shop for groceries. This is your quintessential strawberry sando, sweet and milky. No surprises here.
Cons: As these sandos have been in a cooler, the bread does not feel as soft. My advice would be to leave the sando out for a couple of minutes to let the bread warm up. The price point is also high because at $6, you get one half, which is more than Mana's price. However, if you get the sando a day before the expiration date, you get $1 off, and it still tastes delicious.
Multiple locations, donquijotehawaii.com, @donquijotehi

---
Sweet Haato
Waikīkī
Pros: The chocolate cream. This cream elevates your regular strawberry sando with another flavor profile that blends well with the Japanese milk bread and strawberries ($6.25). The cream is not overly sweet—in fact, the chocolate cream tastes more like a latte. Sweet Haato's sweet, large strawberries also never disappoint.
Cons: Sitting in the refrigerator makes the bread cold, making it the hardest to chew out of all these options. The store sometimes has limited amounts of their sandos so I would suggest calling in ahead of time to see whether they have your desired sando in stock. If not, check Don Quijote or Times, both of which also carry Sweet Haato sandos.
438 Hobron Lane, Suite 216., (808) 429-1449, @sweethaatollc