5 Staycation Deals on O'ahu for Kamaʻāina
Here are some of our favorite hotel deals for residents.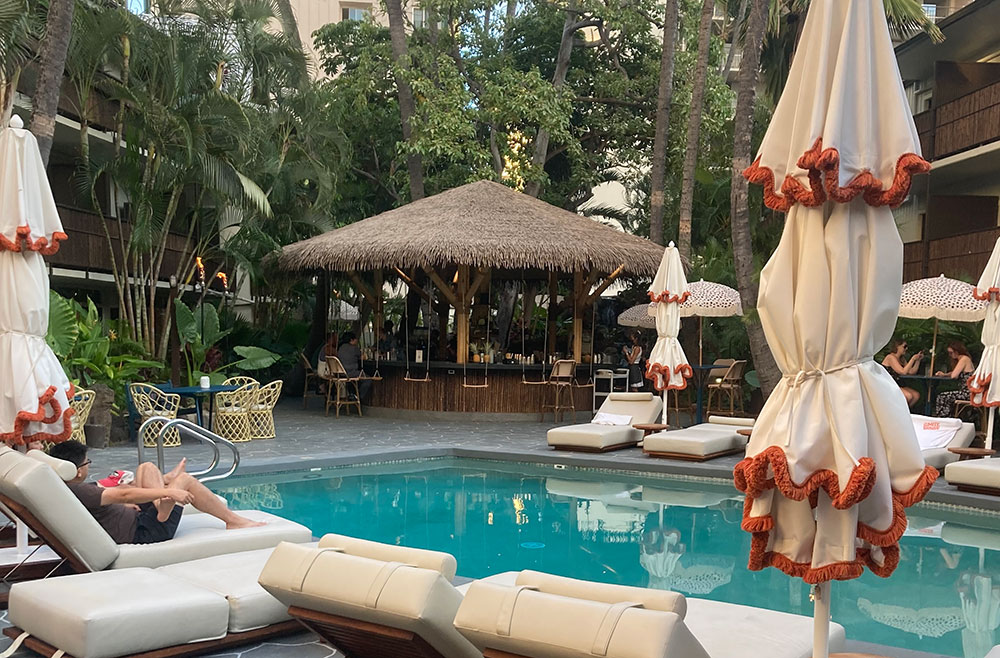 Farewell, summer 2022. We'll miss all the opportunities for (finally!) travel, after two long years of being marooned on the island. We'll miss your sunsets on the beach and days spent by the pool. We'll miss the feeling of getting away from it all, even if we have to brave summertime airport security to do it. In fact, school only just got officially underway, and we're already jonesing for another jaunt abroad. One of the reasons we're lucky to live Hawai'i, though, is that the perfect holiday—a night or two out of the house—is always just down the road. We get millions of visitors a year, all of them in an awfully big hurry to shuttle themselves to our world-class beaches and unforgettable scenic coastlines—but why should they have all the fun?
For O'ahuans, the staycation is an art. With some of the best oceanfront resorts in the world and a wide range of prices and styles, there's a lot to choose from. Here are some of our favorite kamaʻāina deals for this semester's staycation weekend or weekday.
White Sands Hotel
We love this retro, hidden gem, which gets bonus points for its affordability and fabulous on-site bar/restaurant. On the hotel's website in the next few months, room prices for the property (which was recently remodeled and rebranded in a hip, retro style) will drop as low as $189 with the "Local" promo code, which gets kamaʻāina as much as 18%-off the best available rate. To sweeten the deal, the hotel will throw in a $25 daily (up to $100) food and beverage credit at the property's delightful poolside Heyday restaurant. With its modern tiki cocktails, ultra-tropical vibes (including: swings at the bar!) and casual-meets-elevated entrees, this spot is a can't miss. —Whitesandshotel.com
The Prince Hotel
The Prince Hotel, located at the very entrance to Waikīkī, next to the marina, doesn't get as much attention as it should (it has a beautiful lobby, a chef's kiss buffet that's one of the best on the island, and a fantastic rooftop bar, after all!), but maybe these kamaʻāina deals will change that. Yes, you read that right: deals as in multiple! Look for 40%-off an ocean-view room (as low as $221 a night), or 20%-off an ocean-view room and—yes!—a daily breakfast buffet for two. —Princewaikiki.com
The Kāhala Hotel
The Kāhala Hotel, located just outside of Waikiki—which gives it a much quieter, more private atmosphere—feels like luxury the moment you step into its gorgeous, airy lobby with its high ceilings and dramatic chandeliers. And the price tag reflects it: Rooms at this beauty easily start in the $500s. But thanks to its incredible 40%-off kamaʻāina deal on most dates, locals can treat themselves to a taste of that luxury, too. We know what you're thinking: Is this one of those times hotels will promise big discounts, but not have any availability for those rooms when you try to book? (We've all been there.) When the folks at the Kāhala promise 40%, they deliver. Rooms in October right now are available for as low as $327 before the typical taxes and fees. —Kahalaresort.com
Disney's 'Aulani
.Sometimes you want to get out of the city, right? (Or, at the very least, just not have to fight traffic on your commute into town.) Ko Olina's lagoons are perfect for families doing a little weekend holoholo, but even more fun when you treat the kids to a weekday stay at Disney's 'Aulani, where they can visit all their favorite Disney characters and enjoy the lazy river, rapids, private snorkeling lagoon and splash zone. A 35%-off weekday kamaʻāina room rate makes it all possible: You can stay at this typically pricey property for as little as $411 in October. —Disneyaulani.com
Kaimana Beach Hotel
Kaimana Beach Hotel has never looked fresher or more lively, thanks to a recent facelift, and its location on one of locals' go-to Waikīkī beaches makes it a particularly attractive staycation option. The hotel staff has you in mind, too, with a 15%-off room rate and a Kaimana Club Pass. Other than the typical wi-fi, bath amenities and housekeeping service, the Club Pass gives guests access to hula, weaving and lei-making classes (starting Oct. 1), along with circuit training, yoga and cruiser bikes. The hotel will also assist guests with making reservations for stand-up paddleboards and surfboards from Kai Sallas Pro Surf School. —Kaimana.com