5 Questions to ask Before Hiring a Home Inspector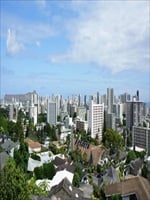 If you are buying a home, you will want to find a reputable home inspector to thoroughly check your home for any unseen or potential disasters. This is your opportunity to see what's on the "inside" of the house through the eyes of a professional. Remember the acronym PRIES for 5 essential questions to ask your home inspector before hiring:
Policy: What is the policy for any oversight or errors on the part of the inspector? Does the company have an insurance policy or other safeguard against errors, which could otherwise turn very costly for you.
References: Who has used this inspector in the past? Are there any complaints on file with the Better Business Bureau or other organization such as a professional society of home inspectors? Find out how long references have lived in a home, as some problems may take time to surface, but could have ultimately been prevented by a good home inspection.
Included: What is included in the inspection? Be as specific as possible, to ensure you cover your bases and there is no miscommunication in regards to what will or will not be inspected.
Experience: How much experience does the company have? What type of education and training have they received? Do they specialize in homes similar to what you are looking at in terms of material and location?
Sample: Ask the inspector for a sample report. How thorough is the report? Does it include pictures? Potential hazards? Solutions? The clearer and more in depth the inspector's report is, the better.