5 Amazing Things to Do on O'ahu
Check out this short list of fun activities to remind yourself just how lucky you are to live here.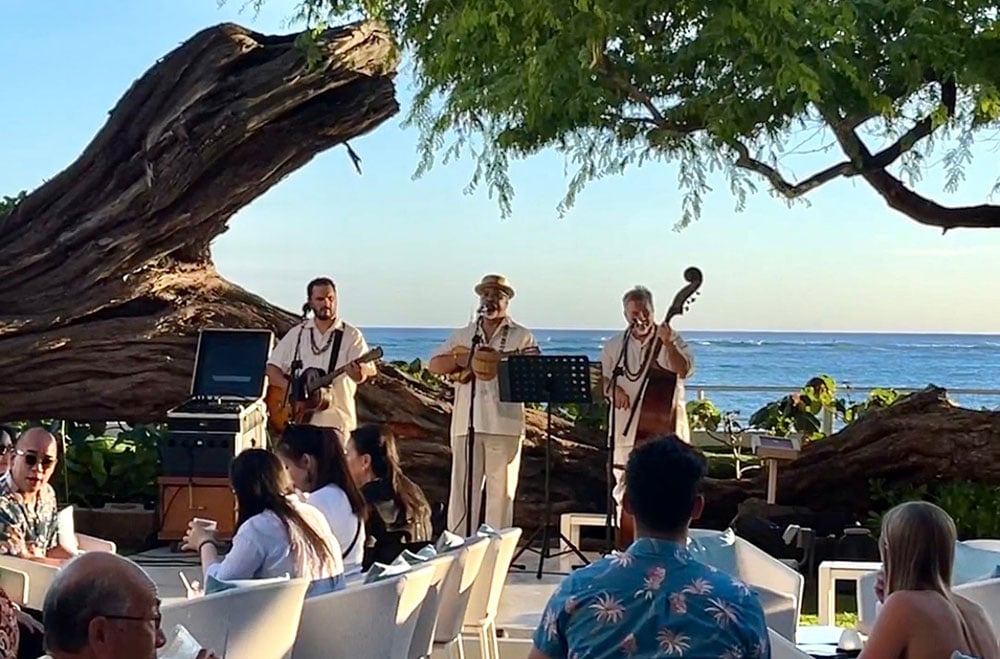 Enjoy a Beachside Cocktail Crawl in Waikīkī
Waikīkī gets a bad rap for a couple of good reasons (those crowds, that traffic). But when it comes to relaxing beachside venues and tropical cocktails—we're talking adult slushies topped with fruit, flowers and wee parasols—Waikīkī is hard to beat. For your next special occasion or holiday weekend, live it up in tropical style. Gaze at the gorgeous waves at one of the most iconic beaches in the world while sipping sumptuous cocktails at top-tier hotel restaurants. We like to start on one end of the strip (try House Without a Key) and slowly meander toward the Moana Surfrider's Beach Bar.
---
SEE ALSO: Halekulani's House Without A Key Revamps with New Pūpū and Cocktails
---
Experience the Kāne'ohe Bay Sandbar
It's a little dispiriting that so many locals have yet to experience the Kāne'ohe sandbar, because it is gorgeous out there. Seeing the island and dramatic Ko'olau Mountains from that perspective is a magical experience. And who doesn't like frolicking in chest-high waves and crystal-clear waters? The tricky part is getting there—unless you're lucky enough to have a friend with a boat. If you're up for it, a kayak trip would do the trick, or consider getting together a big group of friends and booking a private charter for an afternoon of fun.
---
Hike the Rugged Olomana Trail
The Olomana Trail is certainly not off the beaten path, and it's for a pretty darn good reason: It culminates in a breathtaking view of the Windward Side that draws adventurous hikers from across the island. It requires a few hours of strenuous uphill hiking, some semi-gnarly rope-climbing, and a certain comfort level with dizzying heights, but when you're finally perched atop Olomana's spindly precipice with a 360-degree view of the ocean, mountains and rainforest, you'll see that it was all worth it. But please note, this hike on state land is open to the public, but is not maintained by the state and recommended only for experienced hikers. There is now a sign posted at the entrance warning people cites the dates and areas where there were fatal falls.
---
SEE ALSO: The Ultimate Guide to Hiking on O'ahu
---
Treat Yourself to Sunday Brunch at the Four Seasons
Check out the beautiful indoor-outdoor seating here and the seemingly endless array of delectable food choices—including sashimi, charcuterie, oysters, crab, poke, lobster tail, porchetta, prime rib… phew! This luxury indulgence is one of the best brunches on the island, and so worth the drive to the West Side. At $95 a person, it's definitely an extravagance best reserved for special occasions, but if you're looking to have a Sunday brunch experience that's more than your typical French toast and eggs, the Four Seasons Resort O'ahu at Ko Olina is a must-try.
---
SEE ALSO: Best Brunch Buffets on O'ahu
---
Pay a Visit to Bishop Museum
There's so much more to Hawai'i than parasol-topped cocktails and scenic hikes. Bishop Museum is an amazing resource backed by a staff of dedicated academics and scientists doing important research on the histories and ecosystems that make these Islands so unique. Learn about Hawai'i's endemic plant species and remarkable geology and the culture that created both intricate, beautiful feather cloaks and navigation methods that helped its people traverse the vastest ocean on Earth. There's so much to learn and see at Bishop Museum.