48 hours in Sin City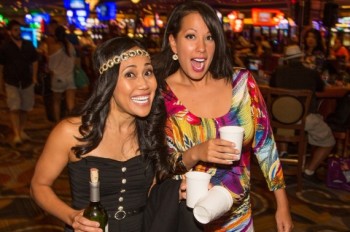 What happens in Vegas… well you know the rest, right? I am going to go against everything that quote is made of and completely divulge some of the highlights from my latest adventure spent in Sin City.
My good friend, Emi, is getting married in a couple of weeks, and she thought it would be memorable and exciting to jump on a plane and head to Vegas for a few days. We used miles and booked our flights less than a week prior to departure. With nothing planned, literally not one thing (even our hotel room was in the air), we set out on an experience we will never forget. Here's a look at just some of the highlights we had while in Vegas for 48 hours.
Day 1
Once we got in Friday morning around 1 a.m., we were hungry and after checking in to our hotel, (a friend managed to score us a great rate at Bally's), we walked over to the Cosmopolitan for Secret Pizza (3708 S. Las Vegas Blvd.). The grab-and-go restaurant is located on the 3rd floor near the escalators and pool tables, in a hidden and unmarked hallway. Secret Pizza has no sign, hence the name. You will see a crowd of people waiting in line to get in and order the New York-style thin crust pizzas. You can order by the slice, which starts at $4.50 or indulge and share a whole pie. We actually stopped here everyday during our trip — it was that good.
The next day we decided to go to a pool, but which one? We didn't know, but we had heard about the various beach clubs on the strip and opted to go a bit fancy. We cabbed it over to Encore Beach Club (3121 S. Las Vegas Blvd.) at Wynn Las Vegas Encore Hotel. This pool party has been dubbed Vegas' premier beach club with its 26 cabanas and eight pool bungalows. Once you are in, the scene is unlike anything I have ever seen before. Hundreds of half-naked, 20-somethings dancing, drinking, wading and waiting for drinks. The drinks were $12 for a Budlight and $19 for a bloody mary, but once the initial shock and sense of being overwhelmed and physically inadequate wears off, the music is nonstop and the atmosphere is fun. And surprisingly, the $20 poolside cheeseburger we ordered was very good and worth every penny.
Lucky for me, Emi had some foodie friends who live and work in the area. And my friend Tony drove over from Los Angeles to hang out. They took us out for dinner to a modern Japanese restaurant off the strip called Yonaka Modern Japanese (4983 W Flamingo Road). Being from Hawaii, I thought we had amazing modern Japanese food, but this place is phenomenal. If you go during happy hour the prices are very affordable, five of us ate like kings and only paid $20 each including tip.
Next up was dessert. Have you heard of Sweets Raku (5040 W. Spring Mountain Road)? It's a dessert restaurant that only serves dessert and they also offer a prix fixe menu dessert tasting. Brilliant. I want to do a food revHeu on this place, so details are forthcoming.
After dinner we met up with a couple of other friends who were also visiting Las Vegas. This growing group attempted to get in to see Calvin Harris at Hakkasan at the MGM, but all five lines to get in were too long and the place was at capacity. While some proceeded to drown their sorrows, and others tried to gamble the night away, I wondered if there were any tickets to Lady Gaga the next night. Guess what? I found some on Stub Hub for only $38. And after purchasing the tickets to see Gaga I also managed to finagle my way in to see Calvin Harris for an hour! AMAZING!
Day 2
We woke up and decided we rather eat a buffet than go to another pool party. So the decision was made to walk over to Caesar's Palace, home of "The Best Buffet in Las Vegas" — Bacchanal (Caesars Palace Drive). That night, prior to the Gaga concert, we had a fabulous dinner at Michael Mina's Pub 1842 (3799 S. Las Vegas Boulevard). The nachos and seasoned fries were outstanding.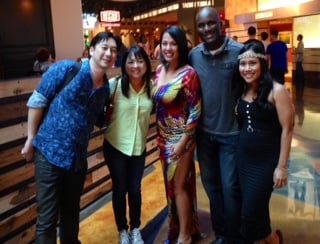 The Lady Gaga concert was phenomenal; she actual sounds better live than on the record. The fans are adorable, many of them dressing up as her or in costume. "Little Monsters" could be seen everywhere! It was interesting to see fans from elementary school all the way up to the elderly. We were seated in the nosebleed section stage, left of the main stage, but despite being so far, you could still hear Gaga's amazing voice resonate through the MGM Arena and everyone leapt to their feet as soon as the concert began. It was full of great dancing, innovative set design, interesting costume changes and of course unique interludes. Seeing Lady Gaga perform was certainly the highlight of the trip.
The rest as they say is history. We made it back safe and sound and didn't really spend too much money while on our 48-hour getaway. This is one trip I will always remember, because unlike other vacations sometimes it's fun to just fly somewhere, without a plan and without a schedule and just do what feels right.