23 Things Every Local Must Have in Their Car
Island living requires island-style supplies. Don't find yourself stranded without these essential items in your trunk.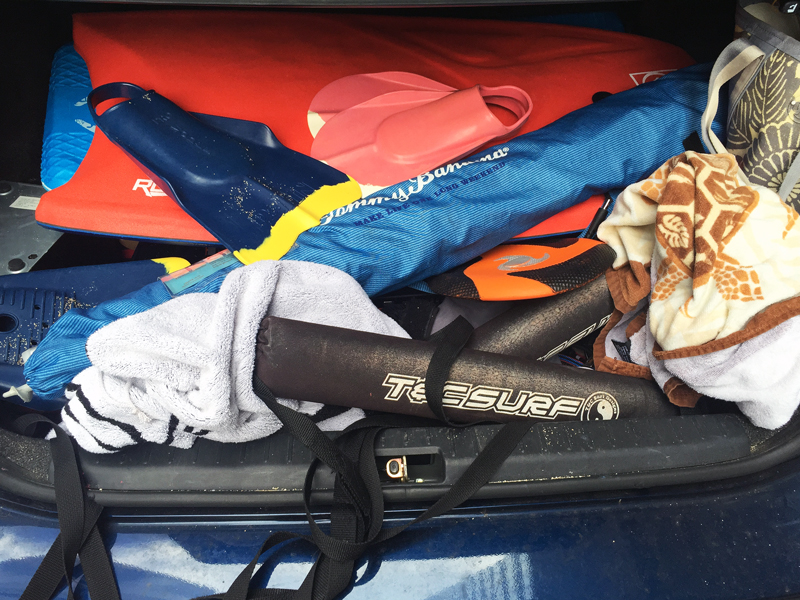 Locals are always packing for heat, which means keeping their car primed with an Everyday-Carry that's ready for the beach at a moment's notice. After all, locals know the tragedy of sitting bare-bottomed on sun-baked sand (why did you leave your beach mat at home?) or encountering a beer bottle with no bottle opener in sight.
The contents may vary from pickup truck to station wagon, but here's our vehicle EDC that we wouldn't be caught dead without. Do yourself a favor and check these off your trunk list.
1. TOWELS
Because getting shave ice with a wet bottom never made anyone happy.
2. SLIPPERS
In case you're not already wearing some. Though odds are pretty good that you are.
3. FIRST AID KIT
For when you don't want to pee on your friend's Portuguese Man-O-War sting.
4. WATER JUG
For staying hydrated between Green River sodas, and for washing all that sand off your feet.
5. CHOPSTICKS
Those side-of-the-road plate lunches taste better when you don't use your hands, trust us.
6. WET 'OKOLE SEAT COVER
Nobody likes that mildew-y seat smell after a surf sesh.
7. Beach MAT
You'll never have to preplan a sunbathe sesh again.
8. SUNSHADE
The one day you forget this is the one day your AC breaks—don't test your luck.
9. BOTTLE OPENER
When the world provides you with wine or beer, you don't ask why and you don't ask for a bottle opener. Bring your own.
10. SUNSCREEN
This ain't the '60s, people. If you live in Hawai'i and you don't rightfully fear skin cancer, you've got some priority issues.
11. CHEAP SUNGLASSES
Love 'em for a day, leave 'em at the beach—and pick up a new pair at Long's the next day. The circle of life.
12. SWIMSUIT
What can we say, we have bad self-control. The ocean is, like, right there, man.
13. WATERPROOF POUCH
Dripping swimwear can wreak havoc on phones.
14. DIRT DEVIL
If you don't stay on top of all that sand, you'll end up with a car that looks more like an extension of Lanikai.
15. QUARTERS
Parking in Waikīkī, parking in downtown—don't be caught unprepared.
16. Folding Chairs
For comfort, and to avoid sand in the pants.
17. FINS AND SNORKEL
You get it at this point, right …
18. A COOLER
You don't want that poke to go bad, do you?
19. TUPPERWARE
To hold all those leftovers your aunties force on you after a barbecue.
20. Beach Umbrella
Here's a tip—you can get an awesome one at Costco.
21. Boogie Board
So you're always prepared to catch a wave.
22. Toilet Paper
For those beach bathrooms without.
23. Roof racks
For surfboards and more—foam roof racks are handy for strapping anything to the top of your car!
What's in your everyday arsenal? Let us know in the comments!