2021 Hawai'i College Guide: HONOLULU Magazine's Tips to Navigating the Road to College
Ready, set, college!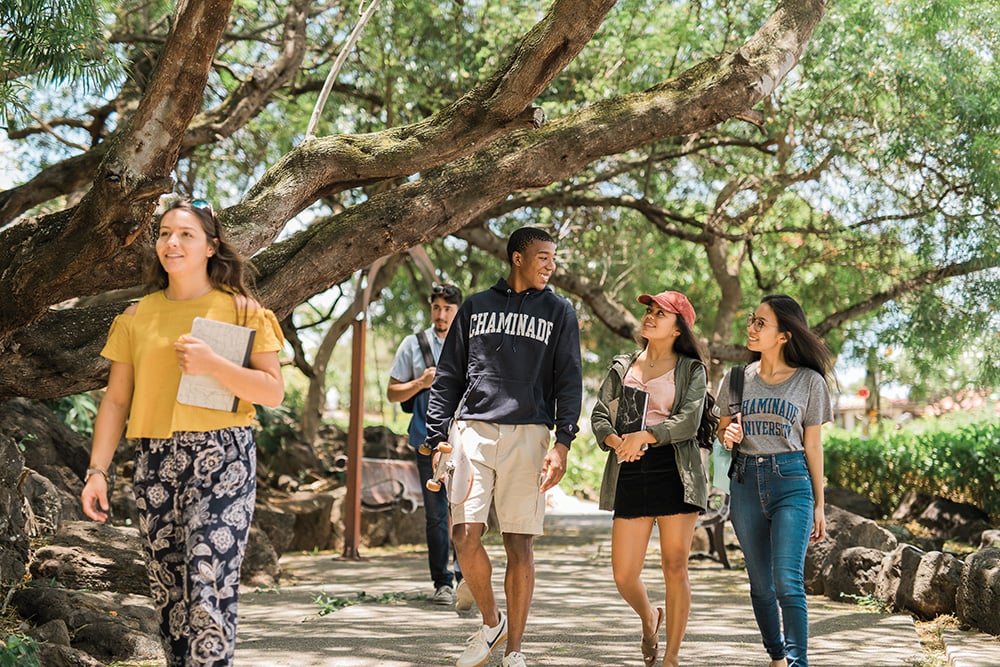 Time flies when you're parenting, and it seems we go from talking about the Tooth Fairy one minute to having serious conversations about college the next. The opportunities provided by higher education—economic, social and psychological—are enormous, but the task of finding the right school can seem just as huge. Soaring tuition costs have raised the stakes, and there's a lot more college pressure on young people than there was just a few decades ago. But, with research, patience and organization, you can definitely come up with a strategy that works for your family.
It's never too early to start looking, even freshman or sophomore year," says former Mō'ili'ili resident Pamela Funai, who has completed the college search process for her two kids and now lives in New York. "If you go on family vacations or the kid has the opportunity to travel, take half the day to go see a school in that city just to see what it's like. After a while they all start to look the same, but you'll get a better sense of where the student wants to be."
Her son, Thomas Ikeda, graduated from the University of British Columbia at Vancouver in May 2019. "The program they have—a forestry program—[was] perfect for him," says Funai. "I mean, they have a farm on campus."
Funai's daughter, Madeline Ikeda, is beginning her senior year at Wesleyan University in Connecticut. "She [wanted] to play volleyball, so she became interested in seeing the school because they were interested in her," says Funai. Then, when she visited, "Having the chance to stay there in the dorm with some of the other students helped her make her decision."
"Growing up, you think, oh, scholarships are for the top, smart people and you don't think you're worthy of them, but there are so many scholarships, you just have to look."
— Jamie Hearther
Funai and her family have learned the importance of being proactive during a college search. Bits of advice from a veteran? Complete essays and scholarship applications the summer before senior year. Visit colleges during vacations or on trips with a team, even if you don't want to go to school there. Visiting colleges in different areas gave her children the chance to get a feel for what environment they were looking for. "If the kid feels good about being at the school, that makes it a whole lot easier," says Funai. "They know what to expect, they're not going someplace completely brand new."
According to Malia Kau, a college and career counselor at Radford High School, students are applying to an average of seven schools. "Have two 'reach' schools, schools they've always dreamt of attending. Have two 'guaranteed I'm going to get in' schools, and then three in that middle range," she says. "We aren't just talking about the academic range, but also looking at cost."
The key is to start early with your strategy, around the freshman year of high school. "Encourage your child to do what they love, but to also give back with that talent or gift," says Donna Finley, founder of a private college counseling practice in San Diego. "Maybe your child is great at soccer and she or he can give classes to underprivileged kids. It's not always about the résumé. It's about being a good human being. And, hopefully, the side effect is finding a good school and something they want to study."
Financial Aid
The parents and education experts we talked to agree on one thing: It's critical to involve teens in the financial conversation from early on. It's easy to get caught up in the excitement and not look at the financial realities. "College is ridiculously expensive, especially for kids coming from Hawai'i. It's important to find out what the price tag is and what resources they have to minimize the cost," says Kellee Hearther, a mother who completed a college-search process for the second time three years ago. "I've spent hours and hours on the internet myself looking for scholarships."
The biggest provider of student aid in the country is the office of Federal Student Aid, which handles loans, grants and work-study programs to the tune of $150 billion each year. Other sources include state aid, aid from colleges and aid from nonprofits and private organizations, like Rotary or Lions clubs.
All students should start with the Free Application for Federal Student Aid, which takes about half an hour to fill out online once you gather tax returns and other pertinent documents. The application will also be shared with the financial-aid offices of the colleges listed on the application, so the colleges can figure out what aid they want to offer. Colleges look at the cost of attending the school, subtract the expected family contribution, and that indicates the financial need. Applications are available each year on Oct. 1 for the following year at fafsa.gov. Important note: FAFSA applications need to be filled out each year a student is in college.
Anywhere from three days to three weeks after filing, the office of Federal Student Aid sends you a Student Aid Report. Look this over closely to make sure everything is correct. From there, a college can send you an aid offer, either on paper or electronically.
Don't discount the possibility of independent scholarships. Mid-Pacific Institute graduate Lamar Carter, for example, armed with his FAFSA application, landed one of only 10 scholarships offered annually by the John A. Burns School of Medicine that not only paid for his entire undergraduate tuition at UH Mānoa, but also guaranteed admission to the School of Medicine. Many students would have been happy to call it a day at that point, but Carter had also used his FAFSA results to pursue a wide range of independent scholarships. "There were organizations giving out anywhere from a few hundred dollars to $2,000," he says. "I wouldn't get any of the scholarships I didn't apply to, and there's no harm in applying, so it just made sense."
However, it's important to note that scholarship money is available even if you're not at the top of your class. "Growing up, you think, oh, scholarships are for the top, smart people and you don't think you're worthy of them, but there are so many scholarships, you just have to look," says Hearther's daughter, Jamie, who attended Radford High School.
---
Upcoming Dates
Oct. 1
FAFSA forms become available. The online FAFSA application must be submitted by 11:59 p.m. Central time on June 30, 2021. However, many colleges will require this earlier. Complete the CSS/PROFILE to find more scholarship options.
November
Hawai'i Community Foundation opens its scholarship application process. Check hawaiicommunityfoundation.org for updated deadlines.
February/March
The deadline for financial aid applications at most colleges.
March
Many colleges send out acceptance letters during this month.
May 1
Many colleges require that you reply with your intent to enroll by this date.
---
Nationwide (but not federal)
Nearly 400 colleges, universities and scholarship programs use the College Board Scholarship Service application, called CSS/PROFILE, to determine to whom they'll grant aid. The application is different from FAFSA and takes between 45 minutes and two hours to complete. There is a fee to file this application, so only do so if the school(s) or scholarship programs of your choice are asking for it. It's $25 for one college or program; additional reports are $16.
State level
In 2018, the University of Hawai'i Foundation raised $180.3 million to support UH students, programs, research and faculty. "The bulk of our students are still first-generation kids or of minority/immigrant status, so the need for scholarships is particularly great," says Donna Vuchinich, former president and CEO of the UH Foundation. She recommends using the organization's database, found at uhfoundation.org, to "slice and dice it" to see what financial aid might be a good fit. She has two pieces of advice. One, if a student is enrolling in a community college, ensure she or he is taking at least 15 credits. "If kids don't take that many credits, they don't tend to do as well." Second, apply early: "November and December for summer scholarships; February through May for fall. Don't wait until you graduate to start looking."
The Hawai'i Community Foundation administers more than 200 scholarship funds and annually awards $4.5 million in student aid for students bound for college locally or on the Mainland. "We begin the process in November, and encourage families to start early," says Eric La'a, the philanthropic adviser at HCF. "The application process is quite extensive." The good news? The platform is set up so students can be matched with more than one scholarship. But the number of applicants has increased significantly in recent years, so apply as early as you can.
Students who are of Hawaiian ancestry may be eligible for scholarships through the Office of Hawaiian Affairs (OHA). Visit oha.org/scholarships for information on the OHA programs.
Applications
When it came time to find a college, Le Jardin Academy parent Jennifer Souza let her daughter, Taylor, take the reins. "Let them have ownership of it," she says. "Don't try to do it and apply to schools you want them to apply to."
U.S. News & World Report and Forbes are helpful resources for comparing schools. Websites such as cappex.com can help inform you of what your chances are of getting in.
The Souza family incorporated college visits into vacations, and, when Taylor traveled for volleyball, her team would take some time to visit a college in the area.
"I wish that some of my friends took more control of their application process rather than their parents," says Taylor Souza. "When you ask them, 'Why are you applying to this school?' and they say, 'I don't know, my parents want me to apply there,' that won't work. If you don't have a reason you want to go there, you're not going to enjoy it."
Taylor Souza applied to 13 colleges and was accepted to 12. The only college she was not accepted to was her "reach" school. She advises other students to not be too disappointed if they receive a rejection. "If it's meant to be, it's meant to be," she says. "Admissions directors know their schools, and the application process is so complex that, just reading your answers to these questions, they can tell what kind of person you are. So, if they don't think you're a good fit, there's probably a reason for it."
The Common Application
Nearly 900 colleges and universities, including some schools abroad, accept the Common Application. That's a lot of schools, and can save you time on not having to fill out what feels like 413 applications.
However, check with every college to which you're applying to ensure they accept the Common Application. Use the Common Application at commonapp.org.
---
Crunching The Numbers At UH Mānoa
(2019–2020 School Year)
$11,304
In-state tuition (average)
$33,336
Nonresident tuition (average)
$16,956
Western Undergraduate Exchange rate
$16,632
Pacific Island Exemption rate
---
The Essay
Colleges and universities are most interested in grades and scores, but essays can be a tiebreaker. It's similar to a job application: The résumé is like the application, and the essay is more like a job interview, a human connection. Here are some helpful tips:
• Parents should not write their children's essays for them, but should help proofread.
• Skip the story about volunteering abroad. It's become a cliché.
• Google the school of interest, plus "essays that worked."
• The website inlikeme.com, which focuses on college applications, has a lot of resources on essay writing.
Should you hire a college counselor?
Jamie Hearther turned to counselor Kau and Radford's College and Career Research Center's staff. "I don't feel the need to leave that room," she says. "I could probably do the entire college application process right there in that room with those amazing women."
Kau meets at least once with every high school senior at Radford, but shares her college expertise with any student. "I wish all of our students and parents knew about it," she says. "It's really a service open to everybody no matter what grade they're in, no matter what they want to do in their future."
But some counselors are simply overwhelmed. "Nationally the average is 400 students per counselor; that's why people turn to independent educational consultants," says Finley, the private college consultant. She works with students as early as freshman and sophomore year, helping with course selection, extracurricular activities and developing career interests. "Kids used to think they had to be well-rounded. Now, it's go deeper, instead of wider." She works with juniors on applications, essays, college selection and financial aid options.
Some consultants charge hourly, others have a package price. Visit the Independent Educational Consultants Association at iecaonline.com to find a consultant.
"If a family takes a trip to Los Angeles for a family vacation freshman year, I would definitely tell them to take a look at a couple of campuses where they're at."
— Malia Kau
Western Undergraduate Exchange Program
Hey, neighbor! Can I get a kama'āina discount? Actually, you can. The Western Undergraduate Exchange Program allows students from 15 western states, plus the Commonwealth of the Northern Mariana Islands and Guam, to attend colleges and universities at 150% of the school's in-state tuition, rather than at an out-of-state rate. There are more than 160 institutions participating; check the database at wiche.edu/wue/students. But there are loopholes, too. Some colleges require a certain ACT or SAT test score, others limit the number of program participants each year, and still others only feature it for certain majors. There is no separate application process; it's part of the regular process and you check off the WUE box. Our advice? Apply early and check with the admissions office for the institution you want to attend for more details.
Making the Most of Your College Visits
Since road trips from Hawai'i can't happen, it can be challenging for families to tour Mainland colleges. But if you can afford a trip, there are two schools of thought: Go before the application process, to narrow down choices, or go after acceptance, to aid in the final decision-making. The costs of college tours are not tax deductible, but, if parents can piggyback a legitimate work trip onto the college visit, that may be a way to cut down the costs of airfare, hotels and a rental car.
Viewpoint: go before
"If you can physically visit, visit—if you can afford it," says Hearther. "It can rule out spending money on applications for universities that your kid probably isn't going to like." She points out that all college brochures have beautiful pictures of their school, and you don't realize how physically big or small a school is until you visit.
"If a family takes a trip to Los Angeles for a family vacation freshman year, I would definitely tell them to take a look at a couple of campuses where they're at," says Radford's Kau. "Even if it's just to get a feel for what colleges have to offer." After visiting family in Montana, the Hearther family decided to take a look at Montana State University. It wasn't Jamie Hearther's first choice, but after visiting she was impressed and put it on her college list.
Lamar Carter says doing a site visit really helped clarify the decision he had to make between two schools. He was considering the prestigious Johns Hopkins University, and took a guided tour of the Baltimore, Maryland, campus to get a better sense of the school. "I had a host student and stayed in one of the dorm rooms for two nights," he says. "There were activities, and all the admitted students got a chance to know each other. I had been feeling a little paranoia about getting into that competitive of a university, especially in such a different environment from Hawai'i. But, after going there, you see that people are just like you. They're humans, they bleed blood."
Carter ended up deciding against Johns Hopkins, in favor of UH Mānoa and the John A. Burns School of Medicine, but says he's glad he was able to make a choice based on the full set of facts, rather than assumptions about a school he had never seen in person.
"I think it's always good to visit colleges as early as possible to get a feel for what a college campus is like," says Kau. If you can't make it for a tour, take advantage of the opportunities to meet with college representatives when they visit the Islands, and contact the school to see if you can talk with current students, ideally those who came from Hawai'i.
For visits to local colleges such as UH, Chaminade, HPU and the community colleges, work with the admissions office prior to a visit. Sometimes there are open house days, other times, you can set up a tour of campus and housing. Feel free to ask to meet with someone from the department you're interested in to get a feel for the program and faculty.
Viewpoint: go after acceptance
"Why would I spend $1,000 going to a school that my kid might not even get into?" says Lillian Klein, a mother of three children who have gotten into college. "This is a strategic mission. You can wait and do your visit when you have choices, once you have acceptance." In the meantime, she and her daughters researched schools online. "Look at the message boards, communicate with parents whose kids are at the school. You can get a sense of the flavor of the student body."
Another way to get a feel for a college campus without physically visiting is by taking a virtual tour online. Marissa Lum, a 2015 Castle grad who attended UH Mānoa, was unable to visit the Mainland schools she was considering due to extracurricular activities. Instead of flying to California, she looked up the schools online. "It didn't really matter the size of the school. The location mattered somewhat, if there were things to do around campus," she says. The website campustours.com has stats on more than 1,800 schools, with links directly to each school's virtual tours and campus maps.
Lum also says it really helped her get to know some of the schools when she met with representatives here in Hawai'i, since talking to a real person was more important to her than the scenery. In the end, Lum chose UH Mānoa for a number of reasons, including saving money in case she wants to attend a Mainland university for grad school. And she'd been to Mānoa on multiple occasions, including field trips and a two-week summer program during which she got to live in a dorm, which inspired her to live on campus. "It's definitely a good experience," she says. "You get to know all the people around you."
---

Upcoming ACT Test Dates
Oct. 10
Register by Sept. 17; late registration until Sept. 25
Dec. 12
Register by Nov. 6
Feb. 6
Register by Jan. 8
April 17
Register by March 12
June 12
Register by May 7
July 17
Register by June 18
---
Helpful Websites
Come up with a big-picture plan at the nonprofit College Board's website, bigfuture.collegeboard.org, or knowhow2go.org, which helps middle and high school students prep for the college route.
College Navigator is a resource provided by the U.S. Department of Education. It has the scoop on every college in the country, with data on admissions, retention, graduation rates and financial aid. Narrow down choices, build a list of favorites for side-by-side comparisons and create your own interactive maps and spreadsheets. nces.ed.gov/collegenavigator
U.S. News & World Report has a College Compass service ($39.95/year) that has profiles of more than 1,900 schools, including data on campus life, sports and financial aid. usnews.com/usnews/store/college_compass.htm
The forums on College Confidential are renowned for providing information on what's really happening on U.S. campuses. collegeconfidential.com
The National Association for College Admission Counseling has an extensive offering of resources for students and parents, including schedules of college fairs and plenty of resources in the Knowledge Center. nacacnet.org
If obstacles feel insurmountable, visit youcango.collegeboard.org, with success stories for students who overcame challenges getting into college—and resources to help others to do the same.
Use an app, like Scholly Scholarship Search, to sniff out opportunities. Scholly requires a $44.99/year account.
---
Timeline to Success
Finding and getting accepted to the right college or university is actually a four-year process. That may sound daunting, but take each step one at a time and stay organized, and you'll be fine. Here's how to manage the road to college admission:
9th Grade
• Enroll in challenging classes.
• Keep grades up.
• Get involved in extra-curricular activities.
• Explore potential career paths.
• Set up a college savings plan.
• Develop good time-management skills.
10th Grade
• Try some AP classes.
• Take a practice Preliminary SAT/National Merit Scholarship Qualifying Test (PSAT/NMSQT) in October (this year, it's Oct. 14, 17 and 29). Juniors qualify to compete for the National Merit Scholarship Program, but younger students can take it for practice. collegeboard.org/psat-nmsqt
• Consider volunteering during the summer.
• Visit campuses while traveling, just to get a sense of what type of college appeals to you. Small? Big? Public? Private?
11th Grade
• In October or early November, take the PSAT/NMSQT.
• Sign up to take the ACT or SAT. Colleges usually accept either one, but check with where you're interested. Many students will take the test once as a junior and again as a senior. Is it worth taking it twice? According to ACT, 57% of students increased their Composite score on the retest.
• Visit campuses if possible.
• Attend college fairs and network with the college representatives.
12th Grade
• In the fall, repeat the ACT/SAT tests. Sign up for the SAT Subject Tests, if appropriate. Send in scores.
• Gather teacher and other personal recommendations. Send thank yous afterward!
• Narrow down the list, but have at least four to eight schools to apply to.
• Draft your essay. Leave enough time for at least two people to read it and comment.
• Check all due dates at the colleges you want to attend; they vary by institution and you don't want to miss anything.
---

Standardized Tests
SAT/SAT Subject Tests
The nationally administered SAT tests reading, writing and math and is used to test how ready a student is for college. The SAT Subject Tests are also used by many colleges for admission consideration, particularly for certain majors, and to help with course placement. For bilingual students, the Subject Tests are also an excellent opportunity to show off mastery in another language, like Mandarin, Japanese or Korean. For more, go to sat.collegeboard.org/home.
The SAT underwent a revamp in early 2016, notes Denise Yamamoto, a college and career counselor at Mililani High School. "There was a revision in 2005 with the writing component; now they are making the writing component optional again and kind of following what the ACT is doing. The SAT [used to] penalize you for guessing, but with the revision, they aren't going to penalize you for guessing." For more on the changes that took place in spring 2016, visit collegereadiness.collegeboard.org/sat/inside-the-test/compare-old-new-specifications.
Registration deadlines are typically a month ahead of the test. Test dates are as follows: Oct. 3, Nov. 7, Dec. 5, March 13, May 8, June 5. collegereadiness.collegeboard.org/sat/register/dates-deadlines
The ACT is a national college admissions exam that includes English, math, reading and science questions. The ACT Plus Writing includes a 30-minute writing test, which is required by some colleges and not others. In Hawai'i, the state picks up the cost of taking the ACT test for all juniors, says Yamamoto. To register, visit act.org.
DO
bring a current photo ID issued by a city/state/federal government agency or the high school, as well as printed test ticket and calculator.
DON'T
bring a cell phone to an SAT test; they are prohibited. ACT test sites allow cell phones if they are turned off and placed out of reach.
---
---