2021 Hawai'i College Guide: A Local Kid's Guide to Surviving College
Tips to stay on top of academics, money and more.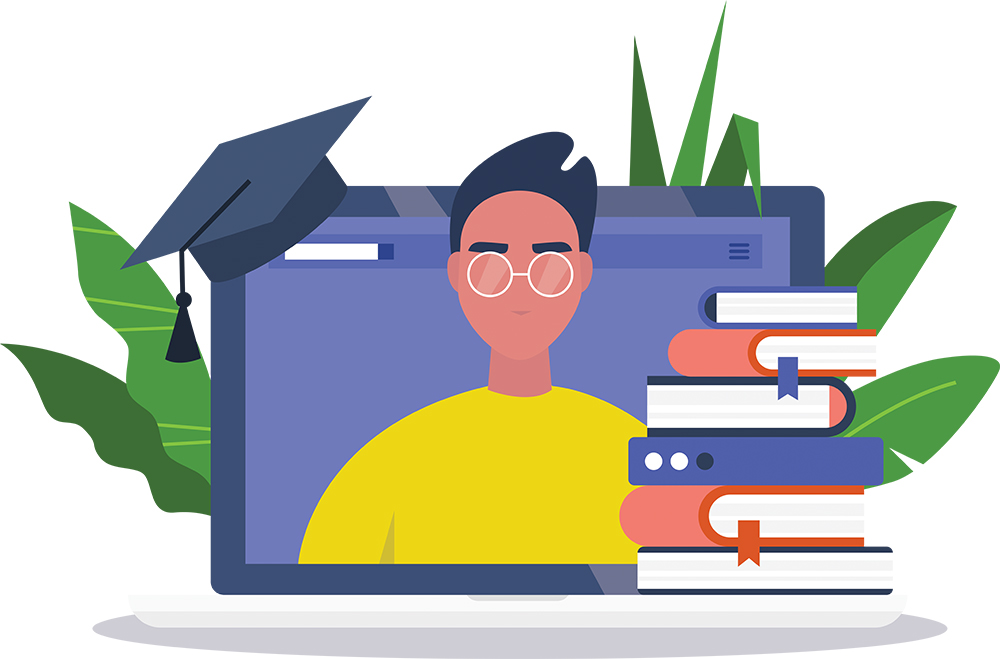 Scheduling Classes
1. With so many options available, pace yourself. Make sure you're on the right track by talking with an academic or major adviser. That's why they're there!
2. Take a mix of subjects. You don't want to overwhelm yourself with hard classes, but you also don't want to bore yourself with too many easy ones.
3. Don't stack all of your classes on the same days. If you have to, check if your professors allow you to eat in class and bring a lunch. Don't starve!
4. Have some backups ready. There is a chance that as a first-year, you won't get everything you want, so look for courses that may count toward your requirements, even if they're not among your top choices.
5. Remember to check not just the times, but also locations. If you have back-to-back classes across campus from each other, will you make it? And remember, Hawai'i kid, if snow is involved, it could take you longer to get there.
6. Try out your options. The course descriptions you liked on paper may not be as appealing in person. Visit multiple classes that interest you during the first week, then add or drop before the deadline.
Getting Around
Research public transportation. Bus or metro passes are often included in a university's student fees.
Split rides with friends. Riding by yourself in an Uber or Lyft can be expensive and sometimes sketchy, so travel in groups.
Find the nearest Zipcar. The minimum age for most car rentals is 25, but Zipcar members can rent a car at 18 with a valid driver's license.
Depending on the size of your school, you may want to invest in a bike or skateboard to shave off minutes when switching from class to class.
Working Part-Time
Search the school's job database. Campus jobs usually hire for the next year or semester, so more crop up near the end of term.
Look for "help wanted" signs on and off campus. Go on a walk downtown and keep your eye out around campus. Some jobs might not be posted online.
Walk into places where you want to work and ask if they're hiring. Bring your résumé and leave it with them in case of an opening.
If all else fails, the dining hall is usually an easy place to get hired as a student.
Gearing Up
1. If you're heading someplace cold on the Mainland, it's best to buy winter jackets there. Winter clothes can be expensive in Hawai'i; plus buying them when you arrive saves space in your suitcase.
2. Check which appliances are allowed in the dorms before buying a rice cooker.
3. Be the cool kid from Hawai'i with all the 'ono Hawai'i snacks—Spam, furikake popcorn, li hing mui sour belts. Spread da aloha.
4. Talk with your roommates about splitting the cost of cleaning supplies such as a Swiffer or vacuum. Don't be that kid who has to be reminded to keep his/her dorm clean.
Money Tips
Download an app such as Venmo or Cash App. Every time you go out to eat with friends, come across a campus fundraiser or just need to pay your roommate for toilet paper, various apps and some banks let you do it instantly, so you can request and send money from a bank account.
Buying Books
Don't go to the campus bookstore first! While it'll be your No. 1 resource for school swag, the books are almost always pricier there.
BookFinder.com is an incredible online resource—it compares prices of new and used books from more than 100,000 sellers, so you can be sure you're getting the best deal.
Does your school have a Facebook page where students sell old textbooks? What about a used section at the bookstore? Buying used textbooks is cheaper; plus you may find useful notes to help you ace the test. (Think of it as a free personal tutor.)
Check Amazon for textbook rentals. Anyone with a school email address can start an
Amazon Prime Student account for half the usual membership price, which comes with free two-day shipping and access to free movies and music. (Amazon also offers a six-month free trial.)
---
---