"12 at 12th Ave." kicks off 12th Avenue Grill's anniversary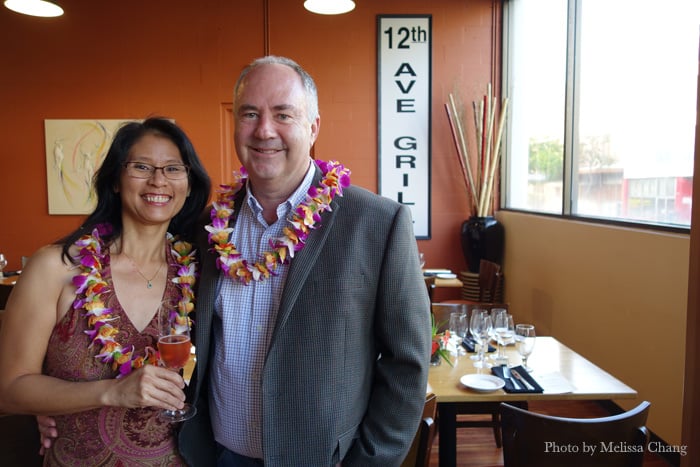 Can you believe it's been 11 years since 12th Avenue Grill opened in Kaimuki? There's something to be said for longevity in the restaurant business, especially when there are so many to choose from, so many new ones that come and go.
I remember when they were located in the tiny space where Koko Head Cafe is now. It was almost impossible to get a seat, especially without a reservation. I was so excited when I finally got to eat a meal there. Since then, I've had quite a few meals there, and always impressed that owner/chef Kevin Hanney always tries to support local businesses and expose diners to the new products they have.
In their new, larger venue, they can touch more people and show us more possibilities with local products, while staying true to the upscale American flavors we love. My most memorable dinner in the new space was actually with my cousin Patrick Chu, who had been in Tokyo for 16 years. I took him to a preview of their St. Patrick's Day whiskey tasting not just for the booze, but because I knew 12th Avenue Grill would have items that he would not have had in Japan. Pat's pretty picky, but he loved every bit of dinner and the noises he made over his plate made the adventure satisfying for me.
To celebrate during their twelfth year in business, the restaurant will have events at least once a month. On July 1, they'll be featuring Ni'ihau lamb; on July 28, they'll have a special dinner paired with Maui Brewing Company beer. At this writing, the hashtag at these events is #12At12th.
At their eleventh anniversary dinner, 12th Avenue Grill Wine Director Rick Lilley featured Tyler Winery pairings. Owner/winemaker Justin Willett is part of the new wave of young, talented winemakers who are creating old world-style wines with varietals cultivated in American terroir. Tyler Winery's motto is "modern thinking with classical approach," which is what attracted Rick to them. (Rick, by the way, is a fan of "The Drops of God" manga, which is what got him pumped for the wine program at the restaurant.)
We started out with some appetizers, including Shinsato Farm rabbit sausage with caraway mustard:
It was hard not to fill up on these appetizers, especially the rabbit sausage!
It was an intimate party, full of faces that I don't normally see at 12th Avenue Grill events.
It was a little dark, so I couldn't take photos of all the wines or labels. But I can vouch that these were nice, drinkable, everyday wines. Master Sommelier Chuck Furuya also brought a few bottles of other labels for us to try, as well.
To start, a perfect pairing with the Chardonnay (or a dry Reisling): amaebi crudo with lemon balm oil, its deep-fried head, and butter-seared abalone with inamona gremolata.
My favorite dish was the calamansi-cured duck "ham" with scalloped Ewa leeks, Big Island fig and Manoa honey brûlée. I'm hoping this goes on their regular menu, but quite a few restaurants in the last month have told me that many customers don't prefer duck. This one was super savory, but also sweet, and the leeks and honey were actually quite creamy. This was nice with the Tyler "12th Ave Grill Cuvee" Pinot Noir, Santa Barbara 2013.
The best wine pairing of the night was with the caraway dusted Ni'ihau lamb loin, served with a grilled Hamakua mushroom, shaved local fennel and crispy lavosh. The Tyler Ben Nacido Old Vines Pinot Noir, Santa Barbara 2012 made everyone at our table sit up and nod in approval. Not that the other pairings weren't good, but this one was perfect. Oh, the elements were great by themselves, too.
My favorite: Hawaii's summer fruits! Minted mango, lychee and pineapple were served with Kula strawberry and Ho Farms lemongrass sorbet and a macadamia nut tuille.
Now, this photo isn't what it looks like. If you subscribe to Edible Hawaiian Islands magazine, you would have seen some articles on people in the food business and the culinary (or beverage) related tattoos they have. Rick wanted to show publisher Dania Katz his Cabernet Franc tattoo and explain each elements' significance.
If you want to find out more about 12th Avenue Grill's events, visit their website. For more of my photos, click here.
12th Avenue Grill
1120 12th Avenue
808-732-9469