10 Tips for Becoming a Better Parent
As well-meaning parents, we want the very best for our children.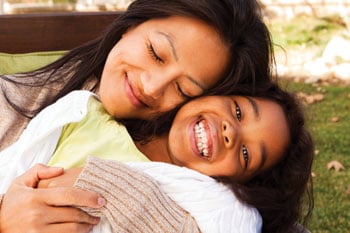 Love Unconditionally
Parenting is an exciting journey. As well-meaning parents, we want the very best for our children. In striving to achieve our goals to be better parents, we are often driven to teach our children a multitude of things. However, most importantly, we need to have a deep sense of commitment and reservoirs of personal strength to be nurturing, effective parents. Here are 10 valuable tips on becoming a better parent.
1. Love Unconditionally
Love is a special timeless gift parents can give to their child. Feelings of love imbue a child with feelings of acceptance, importance and self-worth; they can also provide him or her with a definite sense of identity. Loving children unconditionally implies that your love is constant and not conditioned by the child's gender, looks or achievements. Unconditional love can positively influence all aspects of your child's life and instill in him or her a sense of confidence and security.
2. Create Security
Creating security is the foundation of positive parenting. Children thrive in a secure environment based on mutual trust and respect. It makes them feel safe, protected and better able to take on responsibility when threatened by external challenges. It also becomes a powerful tool in reducing your child's stress and worries which are found to be detrimental to a child's development and success.
3. Recognize Your Child's Uniqueness
Parents need to recognize that their child is a unique individual with his or her own identity. It is in your child's best interest to refrain from comparing your child with other children and siblings; this helps to develop his or her positive self-image and feel a sense of pride in his or her own worth. Every child needs to feel accepted, respected and encouraged. By adopting this attitude, you can impact your child to confidently follow his or her own mind and character.
4. Incorporate Values
As human beings, we are defined by our value systems and the ways in which we conduct ourselves. Fostering an understanding of values in childhood contributes to the formation of good character. As a parent, you need to incorporate values such as honesty, humility and compassion in your child's life, which will shape his or her patterns of behavior and contribute toward all his or her future successes.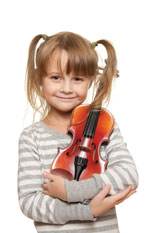 Recognize Talent
5. Recognize Talent
A child whose potential and talents are recognized by his or her parents, will have a clearer vision for the future and will be better able to focus on the objectives he or she has set for him- or herself. Parents who take the time to instill a sense of purpose in their child will find the child develops character traits such as good ethics and fundamental values, determination and perseverance.
6. Teach Discipline
Parents are their child's first teachers. It is a parent's responsibility to provide a structure conducive to teaching discipline. Parents need to provide guidelines of expected behavior. This will teach their children not to go beyond certain boundaries, to fulfill promises and obligations, and to adhere to family schedules.
7. Help Raise "Street Smartness"
The secret of raising a street-smart child is to ensure that your child thinks and acts independently and promptly when faced with problems. In today's world, when children are increasingly being kidnapped or confronted with violence, experts in the field believe that the best way to teach your child safety is through your own direct involvement. Teaching your child how to avoid accidents or mistreatments and helping him or her develop ways to cope when lost or stranded will equip your child with the necessary tools to be streetwise.
8. Develop Time-Management Skills
As a parent, you can teach your child the important lesson of time-management by consistently expecting him or her to complete all assignments and chores on time. Instilling good time-management skills in childhood will lay the foundation for success in your child's adult years. By actively motivating your child to make punctuality a way of life, you will have paved the way for higher accomplishments in the future.
Build Interpersonal Skills
9. Build Interpersonal Skills
A child needs to learn to get along well with others and function efficiently in group and social settings. Developing these skills at home will significantly help your child adjust to make new friends at school. It will also teach your child the importance of good communication as he or she learns to communicate
effectively by your good example.
10. Encourage Thankfulness
A child needs to value all the wonderful gifts bestowed on him or her, such as good health, a nice home, caring parents and the myriad opportunities he or she has for personal development. Encouraging your child to be thankful for all God's gifts and all the good things in life instead of taking anything for granted will have a lasting, positive impact on his or her young mind.
Following these 10 tips can help you not only be a better parent, but also the kind of good, loving parent to whom your child will cherish and be close to for a lifetime.