10 shots: Eat the Street Oktoberfest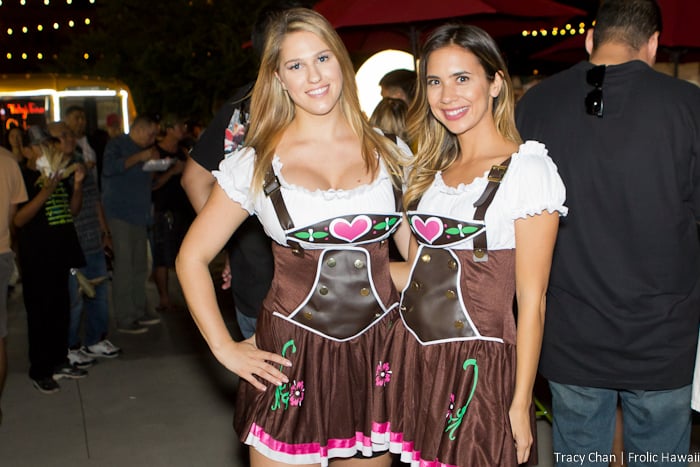 One of the best-attended Eat the Street events of the year, Oktoberfest pulled out all the stops (pun intended) at Makers & Tasters Friday night. An expanded beer garden served up Goose Island Oktoberfest, Gordon Biersch Marzen and the usual bottles, a high-energy "German" band had the crowd dancing and food vendors offered traditional German fare like bratwurst and sauerkraut. Here are some of our favorite scenes and eats:
The custom ceramic stein that everyone wanted, but that sold out with pre-orders.
Mike Lewis and his awesome "German" band, complete with amazing soprano vocalist, who kept the party going with traditional German tunes, toasts and fun classics including a crowd-pleasing Chicken Dance.
These girls who dressed for the occasion.
Packed beer tents, including a special expansion below the main beer garden where Goose Island Oktoberfest and Gordon Biersch Marzen were on tap.
The beautiful bratwurst from featured vendor Deutschland 808.
Bratwurst and sauerkraut with sriracha mustard sauce from KOI Market.
The entire menu from Wurst Wagen. Seriously.
These tiny dancers who regularly appear at the KRATER 96.3 tent.

Five-0 Ribs reprising the sauerkraut, beer, German sausage and ribs stew that won them "Grinderz Choice: Best Beer Dish" two years ago.
This meetup for shy people with similar interests, in the midst of the crowds.
---