Yummy Bentos Made Easy
Help your child eat healthy by making bentos fun.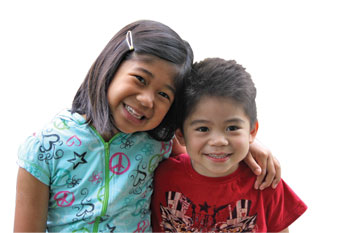 Kennedy and Payton
Like most parents, I want my children to eat well and be healthy, so when my daughter Kennedy began eating solid food, I fed her lots of fruits, vegetables and whole grains. When she was ready for preschool, I wanted those healthy habits to continue. My plan was to excite her with a colorful plate of yummy options. So began my love affair with bento-inspired lunches.
Get Inspired
My fridge is my daily inspiration. I keep a bento journal to stay organized. I begin by listing the options I have on hand (leftover chicken, strawberries, broccoli, rice, etc.). I draw a rough sketch of how I want to arrange the bento the night before. This makes assembling easier.
Easier Than It Looks
Keep it simple, keep it nutritious and keep it fast. With a little planning, a simple bento should only take 10 to 15 minutes. Start by incorporating lots of color (fruits and vegetables) into your bento. If you don't have time to cut up your own produce, visit a salad bar. You can find every color of the rainbow at most salad bars. I love the salad bar at Whole Foods; it has a wide assortment of fruits, vegetables and proteins. Use these items throughout the week to add color and nutrition to each bento meal.
Quick Tips for Parents:
1. Bento Box: For beginners, purchase a "bento-style" box with
compartments or dividers. This will make packing easier and
prevent different food flavors from mingling.
2. Tools: Start with some colorful toothpicks, small cookie cutters, rice molds and small sauce containers.
3. Balanced Nutrition (Color): A bento has to be colorful and
appetizing to the eyes. Use an assortment of fruits, veggies and protein. As a guideline, strive for one part grain, one part protein, one part fruit or vegetables.
4. Leftovers: It is sometimes fun to make a bento from scratch, but, for daily practicality, leftovers help keep it simple.