Youth Competitions This Weekend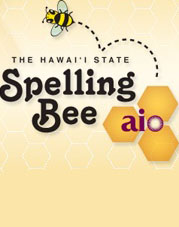 A Web Exclusive
This weekend holds two state educational finals for youth—the winners of which receive a trip to Washington D.C. for national competitions.
The Honolulu Theatre for Youth and the Hawaii State Foundation on Culture and the Arts present a "Poetry Out Loud" National Recitation Contest in partnership with the national program, Poetry Foundation, which encourages students to learn great poetry. Fourteen high school students from around Hawaii will compete by reciting classic and contemporary poems at Tenney Theatre on Sunday at 1 p.m. The winner receives a trip to Washington D.C. for the national finals, a $200 cash prize and a $500 stipend for the school. The nationals give the winner an opportunity for a $20,000 award. Free. Open to the public, seating is limited.
On Saturday at 7 p.m., you can watch the live PBS broadcast of the 2011 AIO Hawaii State Spelling Bee. AIO, a parent company to HONOLULU Magazine, stepped in as a title sponsor to save The Hawaii State Spelling Bee from being cancelled. School-level competitions began last year, followed by district-level spelling bee competitions, which culminates to Saturday's state finals with fourteen competitors from public and private schools. The spelling bee champion will win trophies, a trip to Washington D.C. for the Scripps National Spelling Bee in June as well as other gift certificates and prizes. For more information, visit islandfamilymagazine.com.