Your Weekend: The Best Holiday Family Fun-December 17, 2020
Make your own snowman (and eat it!), drive through a festive display and talk with Santa, read a potential award-winning book and join a new book club for keiki and plan your Christmas week fun.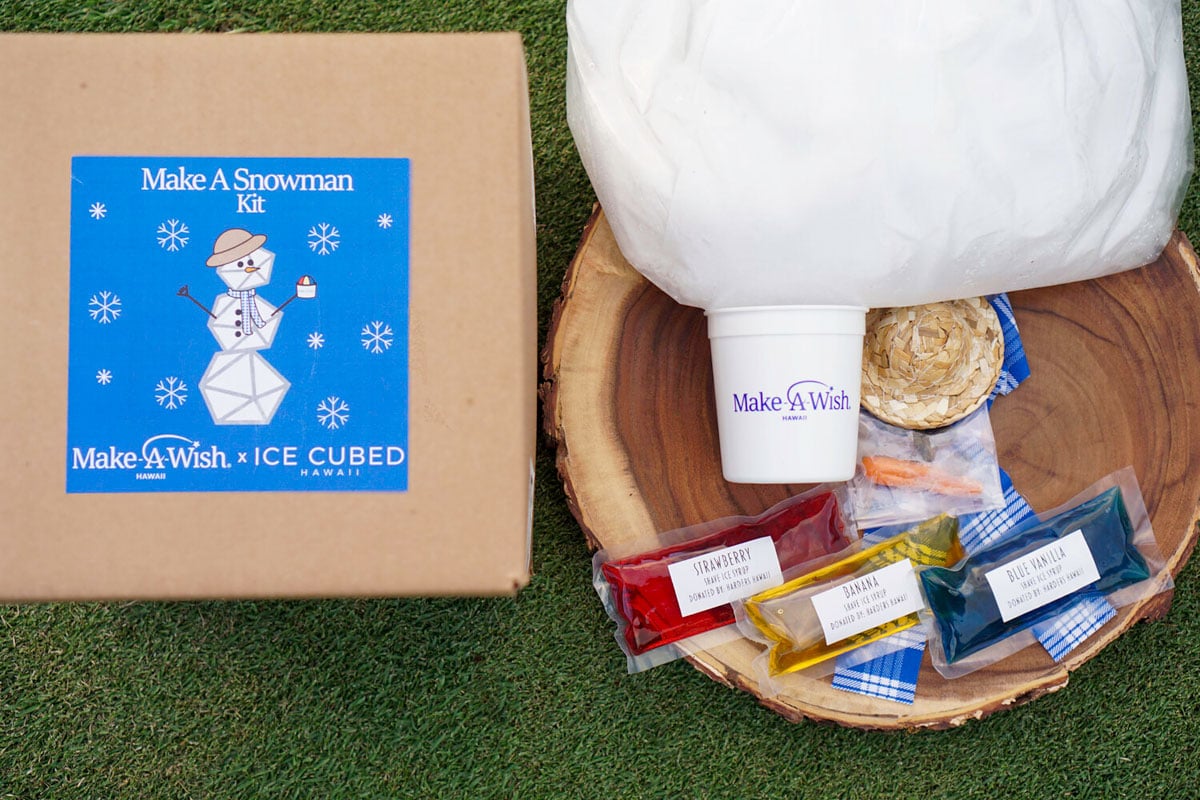 Photo: Courtesy of Ice Cubed Hawai'i
Editorʻs Note: We will be taking a few weeks off to spend the holidays with our family. Weʻll see you back with our first Weekend Guide of 2021 (phew!) on Jan. 7.
Make-A-Snowman Kit Pickup
Last weekend, these cute and cold kits sold out quickly, but now you have two more chances to grab your own DIY set. Ice Cubed Hawaiʻi, known for its custom cocktail ice cubes, is selling pre-orders of the set as a fundraiser for Make-A-Wish Hawaiʻi. You'll receive 5 pounds of "snow," carrot nose, palaka scarf, a woven hat and locally made Harders Hawaiʻi syrup so you can eat the leftovers. Pickup is this weekend in town at Murphy's Bar & Grill on Saturday and Matsumoto Shave Ice in Haleʻiwa Sunday. Go straight home and start building because shave ice won't last long, even in a cooler.
$30, $10 goes to Make-A-Wish Hawaiʻi
All ages
Pre-order only.
Saturday, Dec. 19 pickup is 10 a.m. to 2 p.m. at Murphy's Bar & Grill, 2 Merchant St.
Sunday, Dec. 20 pickup is 10 a.m. to 2 p.m. at Matsumoto Shave Ice at Haleʻiwa Store Lots, 66-111 Kamehameha Highway, #605, Haleʻiwa
---
🎄 This is just one of more than a dozen holiday events in the next week. Find our updated list in our Holiday Corner.
---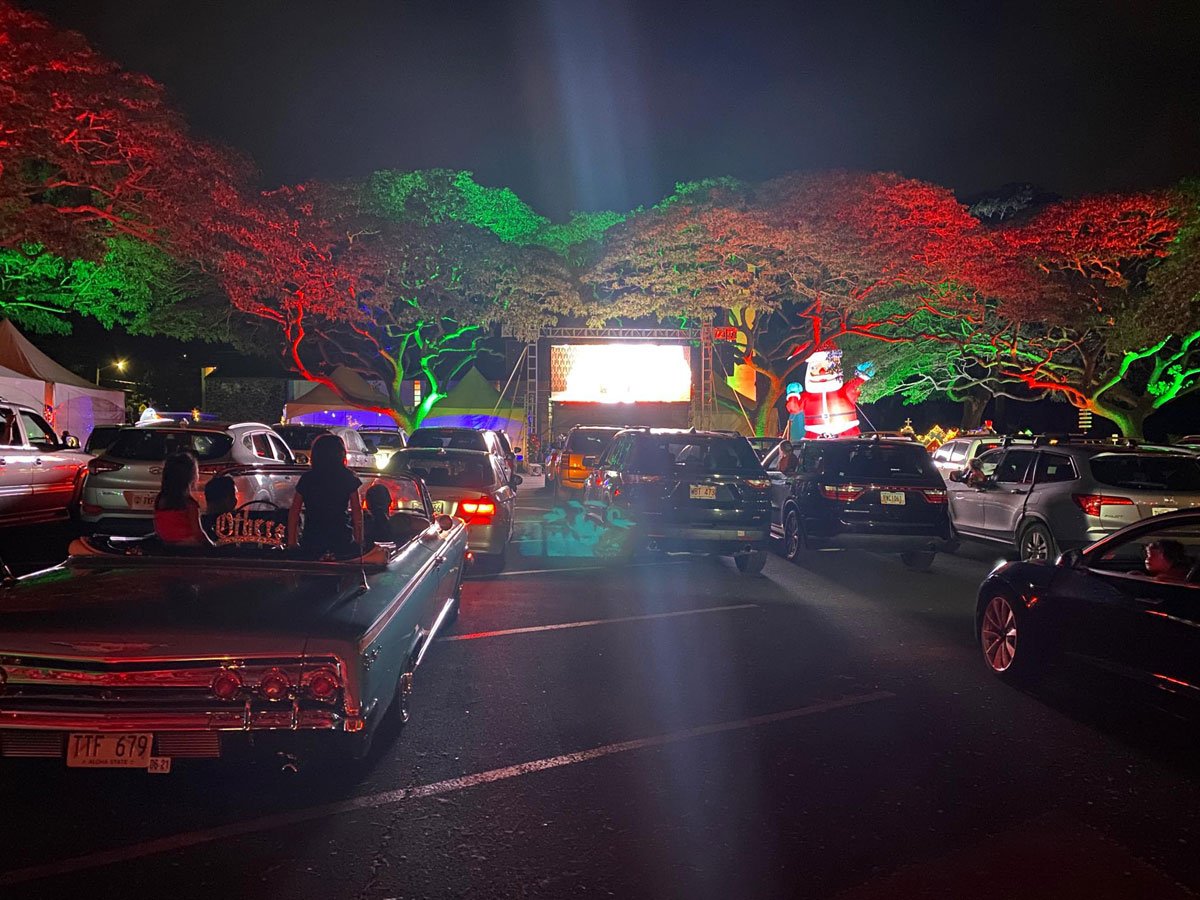 Photo: Courtesy of Kailua Events
Socially Christmas'd
Saturday is already sold out, but there are still time slots to drive through this holiday display in Kailua. Expect giant inflatables, lights, snow and a big LED screen with a personal message from Santa. We spotted the Grinch and several elves in video clips.
$30
All ages
Five time slots through Wednesday, Dec. 23: 4:10, 5:10, 6:10, 7:10 and 8:10 p.m. The drive-thru should last about 45 minutes.
Kailua United Methodist Church, 1110 Kailua Road, Kailua
---
A Christmas Carol: A Live Radio Play
Seats at the recording of Mānoa Valley Theatre's radio rendition of A Christmas Carol already sold out, but you can listen to the Charles Dickens' classic dressed up with sound effects, on Hawaiʻi Public Radio. Gather the kids around for a 1940s-style show around the radio. The one-hour recording may re-air another day. We'll let you know.
Free. HPR-1, 88.5 FM, the HPR mobile app or hawaiipublicradio.org
---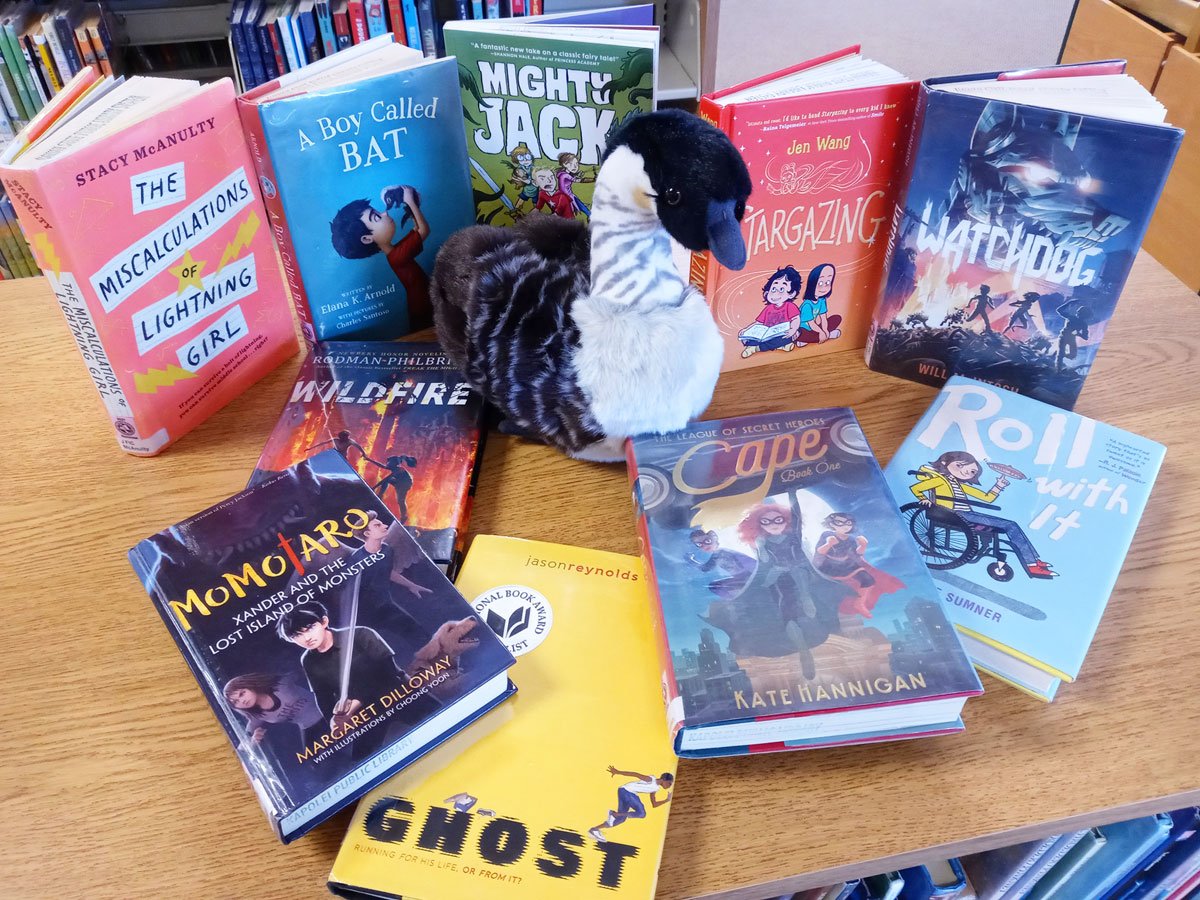 Photo: Courtesy of Hawai'i State Public Library System's Facebook page
At Home: Read & Register: Nēnē Award Nominees
Here's a good and non-screen-focused idea for winter break. In March, kids in grades four, five and six will get to decide which of 30 librarian-nominated books will earn the 2021 Nēnē Award. The Hawaiʻi State Public Library published the list online so you can start reading the contenders and choose your favorite. Don't forget, libraries are allowing people in for 45-minute visits. It is first come first serve at the top of every hour.
Then, register for the new Nēnē Award Zoom Book Club, a virtual reading club for kids run by librarians that will meet twice a month to talk about their favorite reads and play Kahoot-style games together. The first virtual meeting will be Jan. 7, 2021.
---
Salvation Army Angel Tree and Gift Registry
The Salvation Army's Angel Tree is always an opportunity to teach your child about giving through shopping for other keiki in need. Kāhala Mall and Ala Moana Center will have Angel Trees until Dec. 19, Windward Mall until Dec. 20. If your usual Angel Tree is not available, you can fill out a form hawaii.salvationarmy.org to find one nearby. Walmart is also doing an online gift registry that allows you to decide which neighborhood your gifts will benefit.
All ages
Through Dec. 20
Various locations
---
At Home: Honolulu Zoo's Keiki Kit
We love all the local DIY kits that help busy parents schedule in some creative time with the keiki. The Honolulu Zoo's set includes lessons about life in the Arctic and Antarctic to go with their crafts. Kids will receive worksheets about cold-weather wildlife including the emperor penguin and leopard seal, a blubber experiment and cutouts to create a polar bear, owls and more.
$30
Two kits are available: one for kids 6 years and younger, another for kids 7 years and older
Pickup at the Honolulu Zoo, 151 Kapahulu Ave.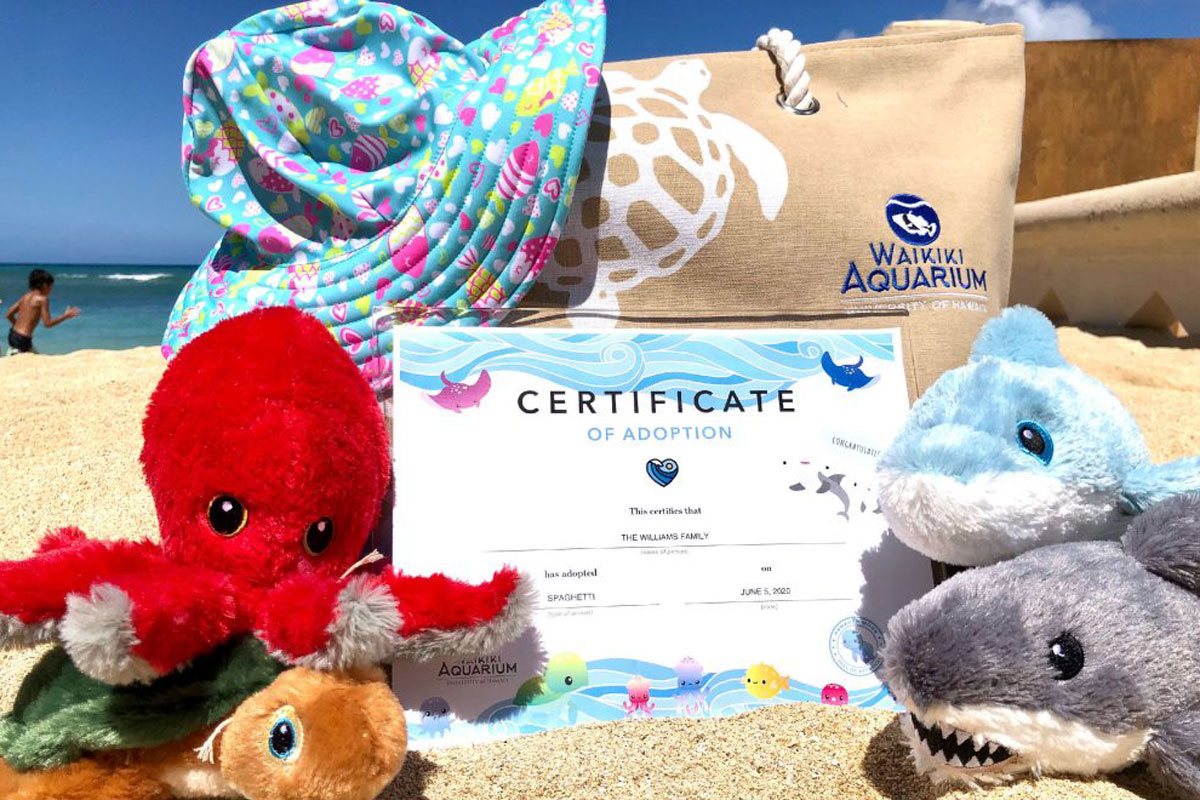 Photo: Courtesy of Waikīkī Aquarium's Facebook page
The Waikīkī Aquarium also opened its gift shop for holiday shopping, although the exhibits are still closed. You can find mermaids, sharks and all sorts of ocean-themed items. We love the certificate of adoption (and are having our own Cabbage Patch Kid flashbacks) that comes with the purchase of any plush pal made from recycled plastic bottles.
All ages
Shop is open 10 a.m. to 4 p.m. through Friday, Dec. 18.
Waikīkī Aquarium, 2777 Kalākaua Ave.
---
🎉We'll see you in 2021. In the meantime, mark these events in your Christmas week calendar: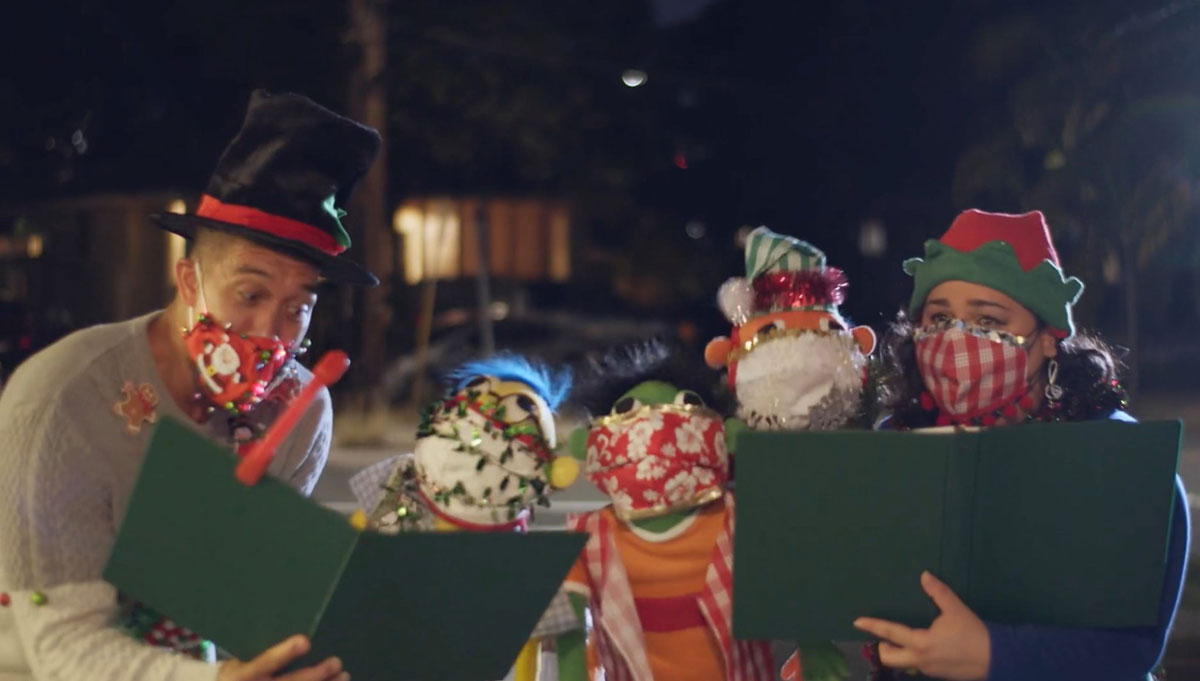 Photo: Courtesy of Honolulu Theatre for Youth
Honolulu Theatre for Youth's Da Holidays play—airs on Dec. 22, 24 and 25 on K5; Dec. 23 and 26 on KHNL; Dec. 25 on KGMB. htyweb.org
Honolulu Zoo's Christmas With the Animals—streams on Dec. 25, 2 p.m. on the Honolulu Zoo's Facebook page.
Honolulu City Lights come down on Dec. 28, a little earlier than in years past. So plan your drive by visit by then.
New Year's at Noon at the Hawaiʻi Children's Discovery Center will feature mini balloon drops throughout the center once during each of the two regular play time slots: 9 to 11 a.m. and 11 a.m. to 1 p.m. discoverycenterhawaii.org