Your Weekend: The Best Family Fun in Honolulu for June 30–July 6, 2022
Watch Fourth of July fireworks, indulge at the new Oreo Café, go to an outdoor concert, search for Snoopy and more this weekend on O'ahu.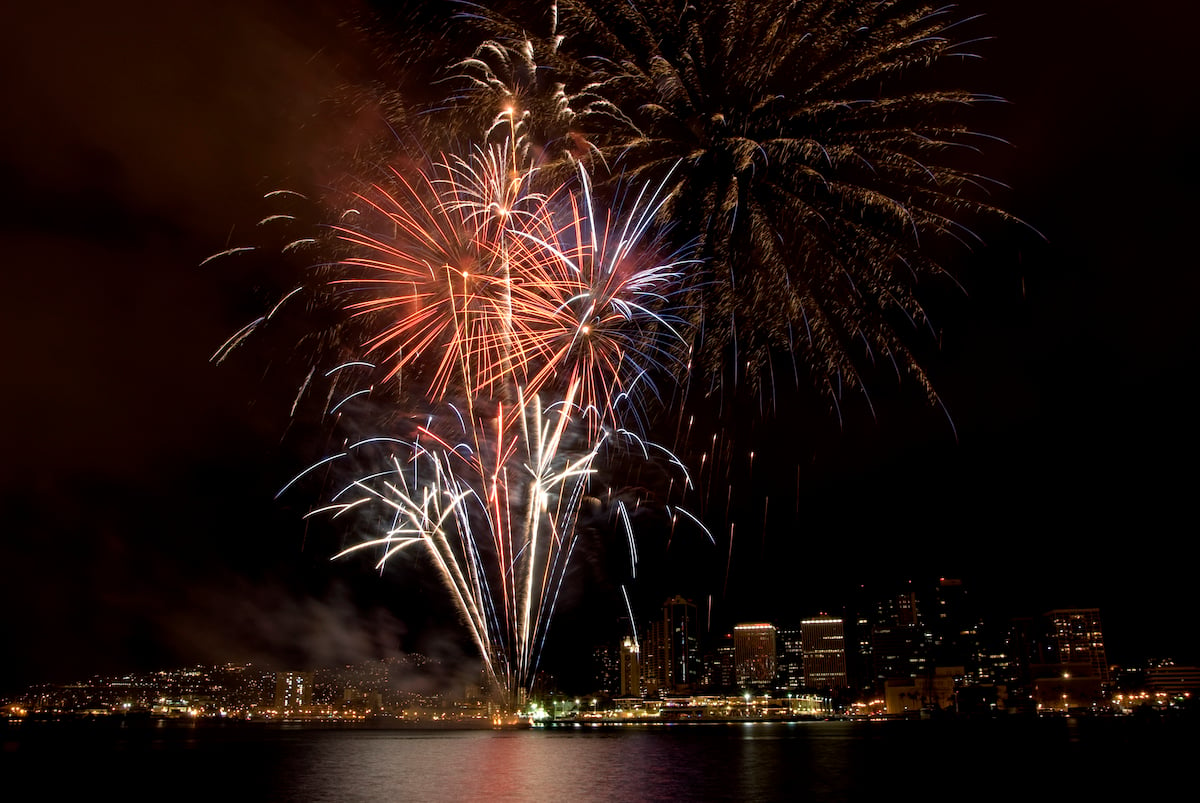 Fourth of July Firework Shows and Events
Across the island fireworks with be lighting up the skies during the Fourth of July weekend. Here's a list of Independence Day events this weekend.
Ala Moana Center 4th of July Concert Series, June 30—July 4
To celebrate the Fourth of July, Ala Moana Center is hosting a five-day concert series—and not its usual fireworks show. Nā Hōkū Hanohano Award-winning artists and up-and-coming musicians will perform on the ʻEwa Wing Stage and Centerstage and shoppers can also find holiday discounts at more than 40 retailers and enter a summer sweepstakes. alamoanacenter.com.
Hilton Hawaiian Waikīkī Beach Resort's Friday Fireworks, July 1
The Hilton Hawaiian Waikīkī Beach Resort's firework show is a weekly event, but this year it just so happens to kick off Independence Day weekend. And the Friday night firework show only recently relaunched after a two-year hiatus due to COVID-19 pandemic restrictions. Find a spot along Waikīkī Beach—we recommended the lagoon at Duke Kahanamoku Beach—and enjoy the spectacular show, which is scheduled to begin at 8 p.m.
Independence Day Firework Show and Concert at Schofield Barracks, July 2
Typically, the firework show at Schofield Barracks is reserved for Department of Defense card holders and their guests. But this year the event is free and open to the public. The event takes place from 2 to 9 p.m. at Weyand Field.
Turtle Bay Independence Day Celebration, July 3
'Ohana Day returns to the Turtle Bay Resort, with local food vendors, bubbly libations and, of course, an exciting firework display. Guests can also listen to performances by musicians including Paula Fuga, Eli-Mac and DJ Keala Kennelly. The event begins at 3 p.m. with concerts starting at 3:30 p.m. and fireworks scheduled for 8 p.m. turtlebayresort.com.
Fourth of July Freedom Fest at Pearl Harbor, July 4
This is the biggest party of the year at Pearl Harbor base. Starting at 3 p.m., families can visit a petting zoo, partake in keiki games and grab dinner from local food trucks including Kona Ice and Kehau's Kitchen. Automobile enthusiasts can also check out the car show before the concerts and fireworks begin.
Hukilau Marketplace 4th of July, July 4
In Lāʻie, Hukilau Marketplace at the Polynesian Cultural Center presents an exciting Fourth of July celebration. From carnival games and face painting to fireworks and bull riding for adults, guests can partake in an array of carnival festivities. Along with games and activities, guests can chow down on classic fair food and enjoy live music. hukilaumarketplace.com/events.
Kailua Beach Fireworks, July 4
Over the last 65 years, residents and visitors have enjoyed the annual Fourth of July firework display from Kailua Beach. The show once again returns after a short pandemic-related pause to light up Oʻahu's Windward Side. kailuafireworks.com/events.
North Shore July 4th Festival and Vintage Car Show, July 4
The first 4th of July North Shore Festival takes place at Haleʻiwa Beach Park this year. The free, all-day event includes a vintage car show featuring classic automobiles, trucks and motorcycles. There will also be food vendors, live entertainment, hula performances, face painting, food-eating contests and a robotics competition. Make sure to stick around after dark, as the fireworks start at 8 p.m. haleiwajuly4thfestival.com.
Oreo  Café Opens, June 30
The world's second Oreo Café is opening in Honolulu—specifically inside the IT'SUGAR candy store at Ala Moana Center—on June 30. The approximately 2,000-square-foot café will feature a first-of-its-kind treats bar, where visitors can customize sweets or pick from a delicious menu of Oreo-inspired desserts. The menu will feature Hawaiʻi-inspired flavors and a reimagined shave ice with layers of Oreo cookies and soft serve. Ala Moana Center, 1450 Ala Moana Blvd., Honolulu, (808) 400-6008, www.itsugar.com
Lisa Matsumoto's Once Upon One Time, June 30 to July 10
View this post on Instagram
Lisa Matsumoto's Once Upon One Time adapts and intertwines familiar tales to create a musical fairy tale fantasy for the whole family. Journey to the kingdom of Da Wicked Queen and crazy characters in this delightful retelling of Snow White and the Seven Dwarfs, Cinderella, Little Red Riding Hood, The Boy Who Cried Wolf and Hansel and Gretel, told "local style."
Waikīkī Aquarium Summer Concert Series, June 30
The aquarium's popular summer outdoor concert series, Ke Kani O Ke Kai, returns Thursday with Makana and special guests Bobby Moderow, Jr., Kawika Kahiapo and George Kuo. You can also explore the aquarium exhibits. Bring blankets and lawn chairs to sit on the beach front. There will be food available for purchase. (You can't bring in outside food and drinks.)
The Search for Snoopy, Opens July 1
Kids of all ages will love this immersive—ready: infinitely Instagrammable—experience called The Search For Snoopy: A Peanuts Adventure, which will make its world debut in Honolulu on July 1. People can walk through Snoopy's doghouse, into Charlie Brown's bedroom, where you take a detour into his soundproofed closet to scream at the top of your lungs, pull up a stool at Lucy's psychiatry booth and address the classroom.
---
SEE ALSO: 🥜 A New Peanuts Immersive Experience Will Make Its World Debut in Honolulu on July 1
---
Open Farm Day at Keiki and Plow, July 1
Open Farm days are back at Keiki and Plow in Hawaiʻi Kai. For two hours on Friday, kids can play in the outdoor kitchen and play spaces, visit animals and pick their own vegetables and herbs from the keiki-friendly crops. You can also buy eggs from Keiki and Plow's chickens to take home. Register for your spot early. Space is limited.
---
SEE ALSO: 🚜 We Tried It: Keiki and Plow
---
Mōʻiliʻili Summer Fest, July 2
Honolulu's largest bon dance is back after a COVID-19 hiatus! Bring cash and get your yukata ready for local retail vendors, summer matsuri games, arts and crafts for keiki and, of course, delicious Japanese street food. There's free parking at UH Mānoa's lower parking structure.
Wildest Show at the Zoo, July 6
In-person concerts at the Honolulu Zoo are back this summer after airing virtually for the past two years. This time around, the series of five Wednesday performances will raise funds for a new Hawaiian hawk, 'io, habitat. Before the show, enjoy animal-themed keiki coloring contests, conservation stations and animal trivia. Then lounge on the lawn while munching on picnic fare available for purchase. Robi Kahakalau headlines this Wednesday's concert.
Regal Theatre Summer Movie Express, On-going
All Regal theaters on Oʻahu are offering discounted movie tickets this summer. Movie tickets are now $2 on Tuesdays and Wednesdays—up from $1 last year—but that's still a big-time bargain. Some of the movies on the list include Sing and Space Jam.