Your Weekend: The Best Family Events-Sept. 19, 2019
Get free passes to 4 museums, see athletes spike on the beach, and sample ethnic foods for free.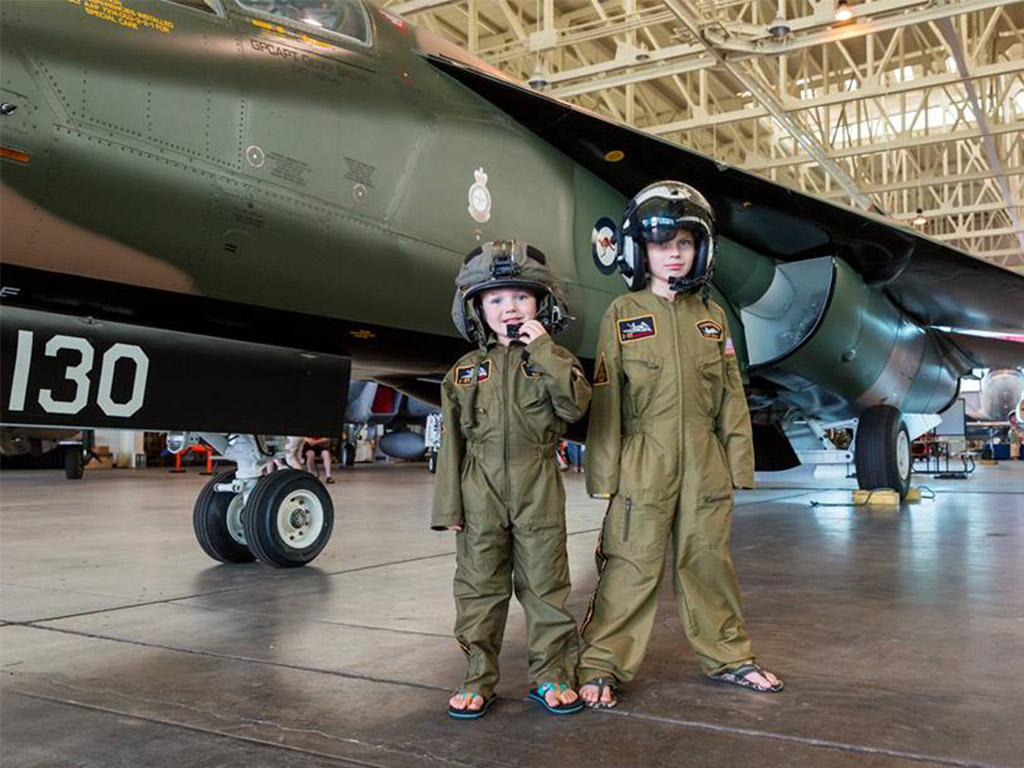 Photo: Courtesy of Pearl Harbor Aviation Museum
Pacific Aviation Museum is one of five venues offering free admission this Saturday. Aspiring pilots here keep it casual in their flight suits and slippers.
Hawaiʻi Open
Professional beach volleyball players will be in Waikīkī Beach this weekend for the Hawaiʻi Open, an invitational tournament comprising 16 Main Draw teams for men and women (champions of the Huntington Beach Open, Austin Open, Hermosa Beach Open and Seattle Open). Bring your own snacks and cold drinks, and dress for a day under the sun. When your kids need to move around, take them to the Sponsor Village and Jumpman Zone, then over to the bounce houses, volley darts, rock-climbing wall and bungee run.
Smithsonian Magazine Museum Day Live!
This Saturday, four O'ahu museums—Pearl Harbor Aviation Museum, Queen Emma Summer Palace, Japanese Cultural Center of Hawaiʻi Gallery and Hawaiʻi State Art Museum—will offer free admission as part of the nationwide program called, Smithsonian Magazine Museum Day Live! The state art museum is free all the time, but others normally cost between $5 and $25 per general admission. For free entry, visit this website to download one ticket per email address. Each ticket is for two people.
---
Something exciting is happening this Saturday at Pearl Harbor Aviation Museum! For details, read "7 Ways To Have Fun at Living History Day 2019."
---
Multi Cultural Festival
If you've never been to Hawaiʻi Plantation Village in Waipahu, this Saturday is the day to go. There will be: guided tours of ethnic plantation homes; kids' games and crafts; films about immigrants from China, Japan and Korea (10:30 a.m., noon and 1:30 p.m.); and free food samplings (taro, bean soup, somen, pancit, poi and bibim kuksu). Your keiki can also watch entertainers from the Micronesian regions of Chuuk, Pohnpei and the Marshall Islands. Do you have writers in your family? Students in grades 6 to 12 and adults 60 years and older can enter an essay contest describing what the festival's theme, "E Pluribus Unum" (translation: out of many, one) means to them. Prizes range from $100 to $300. The submission deadline is Oct. 1.
HAIS Education Fair
If you're thinking of sending your children to private schools (or want to transfer to another), spend a few hours at the HAIS Education Fair this Saturday. More than 55 independent schools on Oʻahu will have representatives there to provide info and answer your questions. Kids are welcome, too, as there will be plenty of activities to keep them busy. Don't miss the four breakout sessions: "Financing an Independent School Education," "Kindergarten & Elementary School Admission," "Using the SAO to Apply to Schools for Grades PreK-12" and "All About the SSAT Admission Test for Grades 4-12." Visit the website for session times and a complete list of schools.
---
Want useful tips on how to test, interview and pay for a private school education in Hawaiʻi? Visit our 2020 Private School Guide.
---
Waikīkī Hoʻolauleʻa
The largest block party in Hawaiʻi happens this Saturday at Aloha Festivals' Waikīkī Ho'olaule'a. Expect thousands of people on the main strip between Seaside and Kapahulu avenues, which will be closed off for pedestrians. You can sample Hawai'i cuisine from food trucks, participate in arts and crafts, shop for Hawaiʻi-made souvenirs and listen to live music on four stages. Not sure where to park? Click here for a list of available parking lots in Waikīkī.