Your Weekend: The Best Family Events-Sept. 12, 2019
Stay out late on a full-moon Friday, see kāne compete with conch shells, and enter the Cover Kids Search in Kapolei.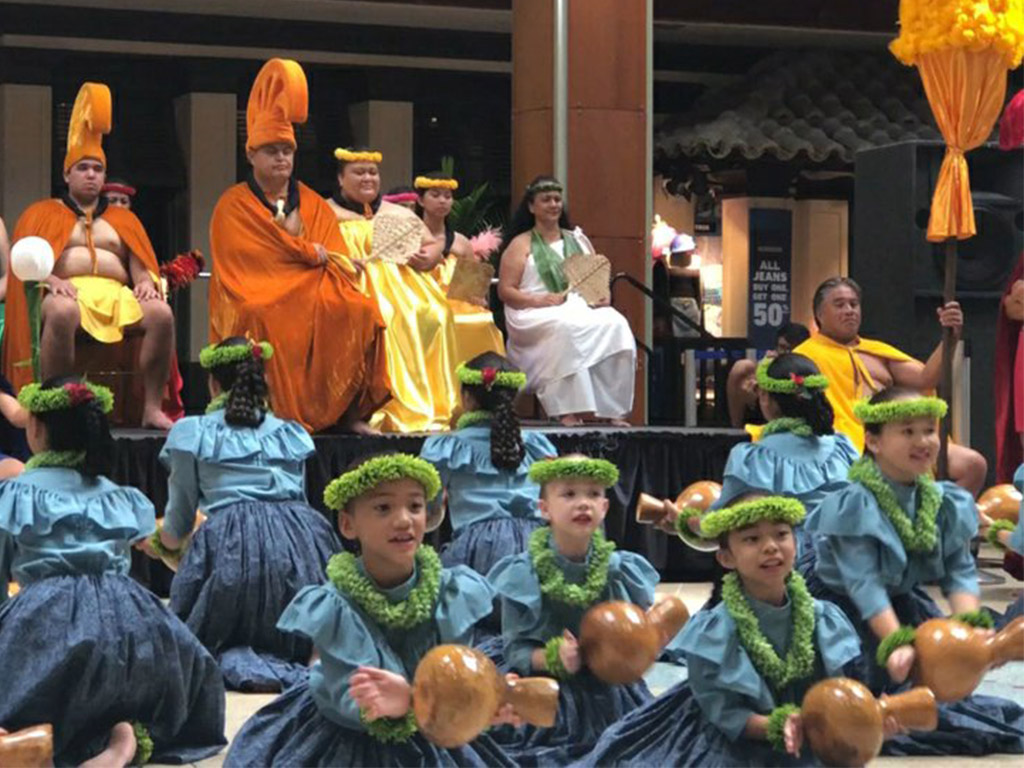 Photo: Courtesy of Aloha Festivals
The Keiki Hoʻolauleʻa is this weekend at Pearlridge Center.
Chinatown Mid-Autumn Lantern Festival
Now, here's a unique way to view Friday night's full moon: In Chinatown at the autumn lantern festival. This free event takes place in the Chinatown Cultural Plaza, where you can validate your parking ticket while dining at any of the restaurants. Don't forget to buy and take home a box of moon cakes (round dense pastries with sweet fillings). Tradition says that the cakes were made by a moon princess. Kid-friendly activities at the festival include a lantern-making workshop starting at 6 p.m., a keiki ID-making booth with the community policing team, and hundreds of homemade lanterns on display. If you're reading this before mid-afternoon on Friday, it's not too late for your kids to enter the lantern-making contest for free. Rules state that the lantern must fit inside a 24-inch cube, include an LED light and be delivered to the festival between 4:30 and 5 p.m. for judging. All lanterns will be featured at the event, whether they win or not. To park in the Chinatown Cultural Plaza, enter from Kukui or Maunakea streets. It's always a good idea to lock your vehicle and be alert when walking in the area at night.
---
Cover Kids Search at Kapolei Commons
Our search for kids to feature on the cover of HONOLULU Family magazine next year is in Kapolei Commons this weekend! Visit us from 5:30 to 8 p.m. to take a photo with our professional photographer and enter our 2020 Cover Kids Search for free! The shopping center will host a Movie on the Lawn, featuring Incredibles 2. And kids can make superhero masks at the Art Explorium booth, get their faces painted and customize their own balloon animals. Click here to learn more!
---
ʻUkulele Lending Program Launch
Do you know that your family can borrow ʻukuleles from local public libraries—for up to three weeks—for free? It's a new program by 'ukulele musician Jake Shimabukuro and the nonprofit group Music For Life Foundation. Shimabukuro himself will visit Kaimukī Public Library this Thursday afternoon to strum a few tunes and officially launch the branch's lending program. The 'ukuleles you can borrow are bright-colored Waterman models made of polycarbonate plastic. They're even waterproof and come with their own drawstring bags and tuners. Talk about kid-friendly instruments!
---
Your Hawaiʻi library card come with plenty of free perks! Get more details at "Our Guide: Unexpected Ways to Use Your Hawai'i State Public Library Card."
---
Keiki Hoʻolauleʻa
Celebrate Hawaiian culture this Saturday at a special hoʻolauleʻa just for keiki. Watch musical groups and hālau hula (hula schools) perform songs and dances. Participate in Hawaiian-themed arts and crafts. See cultural demonstrations and other kid-friendly activities. A highlight of the day is the Keiki Conch Shell Blowing Contest from 2:30 to 3:30 p.m. The winner will be invited to blow the pū (conch shell) in the Aloha Festivals Parade on Sept. 28.
Second Saturday
It's time to bid aloha and farewell to "Second Saturday" monthly events at the Hawaiʻi State Art Museum— a program where keiki can take mini-lessons with professional artists and visit exhibits for free. But there's good news. Starting in November, all "Second Saturday" events will be replaced by another free program for young artists, Super Saturday (see below). Meantime, take your kids to the "second-to-the-final-Second Saturday of the year" on Sept. 14 to make air-dry clay animals, play in the "I Love Art" kids room with their friends and see the new 12-foot Mr. Chickenpants sculpture on the lawn. Snap selfies with the hybrid bird while you wait for your kids' clay figures to dry.
---
Plan ahead! Starting Nov. 9, the Hawaiʻi State Art Museum will permanently launch "Super Saturday" with live entertainment, food booths and free art stations for keiki. For details, visit "We Tried It! Super Saturday at Hawaiʻi State Art Museum."
---
Sunset on the Beach
Spend your Saturday afternoon in Waikīkī, then finish off the evening with a free showing of the movie Up. The Pixar film, shown on a giant screen on the beach (you can't miss it; it's huge), is about an elderly widower, an adorable pup and an inquisitive little Boy Scout who won't take no for an answer. (Parents, does this sound familiar?) Live music and games at Queen's Surf Beach begin at 4:30 p.m., so get there early. Bring picnic blankets or beach towels to claim spots on the sand before Up starts at 7:30 p.m.