Your Weekend: The Best Family Events-Oct. 3, 2018
Our picks for the weekend's best family events.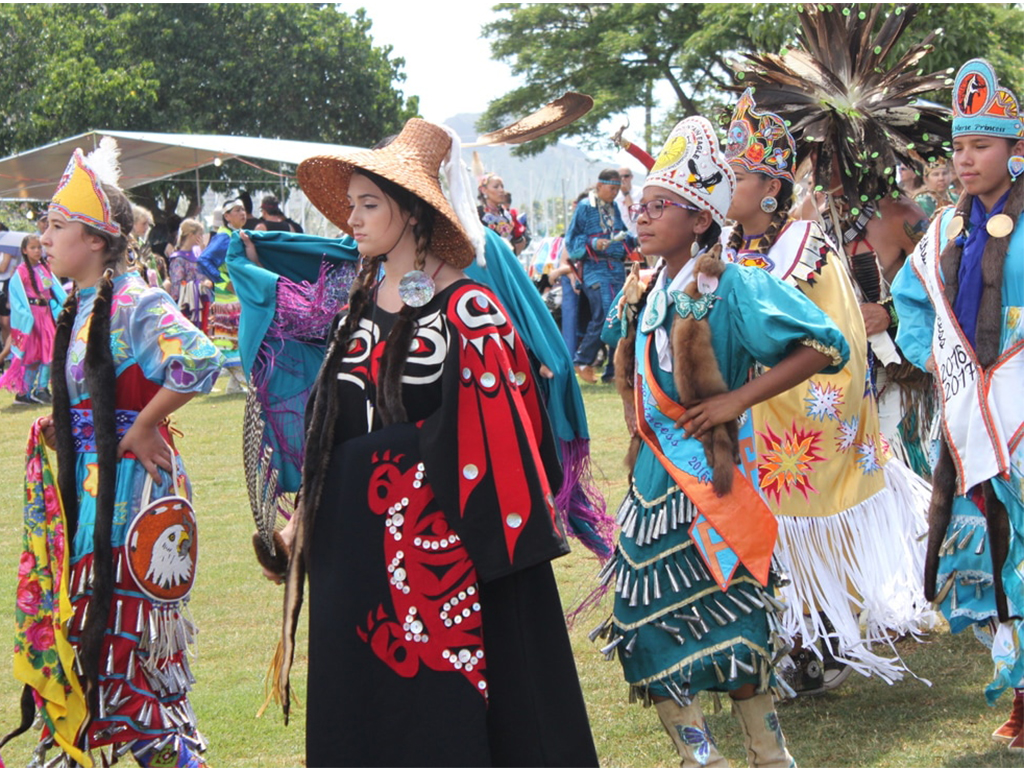 Photo: Courtesy of Honolulu Intertribal Council
The Honolulu Intertribal Powwow is this weekend at Ala Moana Beach Park, featuring food, crafts and cultural activities.
Honolulu Intertribal Powwow
Experience the cultures of Native American Indians and Alaskan Natives at a two-day powwow at Ala Moana Beach Park. Shop for handmade jewelry, blankets and dolls; introduce your keiki to cultural activities; see dancers and drummers on the lawn; and view colorful, elaborate regalia worn by various tribes. The most popular food items for sale will be fry bread smothered in garlic butter, fry bread taco with cheese and seasonings, and, new this year, a hamburger patty sandwiched between layers of fry bread. Bring a blanket or beach towel to have a picnic on the grass.
Fall Harvest Festival at Waimānalo Country Farms
The pumpkins are ready for picking on the Windward side. Saturday, Waimānalo Country Farms kicks off its autumn celebration with hayrides, games, produce for sale and, of course, pumpkins to take home. Keiki can pet animals—which in the past included cows, donkeys and a llama—for a $6, hay is $1 extra. Games have included country-style games such as ring and ball toss games as well as the Bazooka Pumpkin Cannon. We tried it. Read our 15 tips for this annual tradition.
Looking for more Halloween fun? Find more than 30 not-so-spooky events and our roundup of 14 trick-or-treat spots on the 31st in our Halloween Corner.
Dining for Kids
Throughout the month of October, four restaurants on Oʻahu will donate their sales to nonprofit PARENTS Inc., whose mission is to protect abused and neglected children in Hawaiʻi. The fundraiser runs from Oct. 3 to Oct. 22 at Chef Chai, Romano's Macaroni Grill, Auntie Pasto's Kunia and Side Street Inn Kapahulu. To participate, print out and show your server the restaurant's specific flyer for "Dining For Kids," or present it from your mobile device.
Manawale'a Riding Center Onipa'a
Get to this fundraiser early for a free keiki horseback ride. Then shop in the country store, ride the Pony Express Train and play games. Proceeds from this event go toward Manawalea's Therapeutic Horsemanship Program. The free horseback ride is only for the first 100 kids who come between 1 and 3 p.m. Covered shoes and long pants are required.
Kroctober Fest
Join other families at the Kroc Center Hawaiʻi to kick off the month of October with pumpkin carving, arts and crafts, prizes and entertainment. Kids can climb a rock wall, jump in bouncers, play games such as Jumbo Jenga and a potato sack race, watch short films while snacking on popcorn or pick up a pumpkin for $8. This event is open to the public. Food will be available for purchase.
Clean Energy Fair at Kāhala Mall
Kids will learn about energy savings and usage this Saturday at the Clean Energy Fair, an annual program to kick off energy Action Month in October. Arrive at the fair by 10:15 a.m. for a "sub-zero science" program, followed by photo sessions with Maka, the "super energy super saver." Various booths will hand out prizes and keep kids entertained with games and activities.