Your Weekend: The Best Family Events-Oct. 10, 2019
Support keiki entrepreneurs, master the art of listening and join the biggest block party for pets.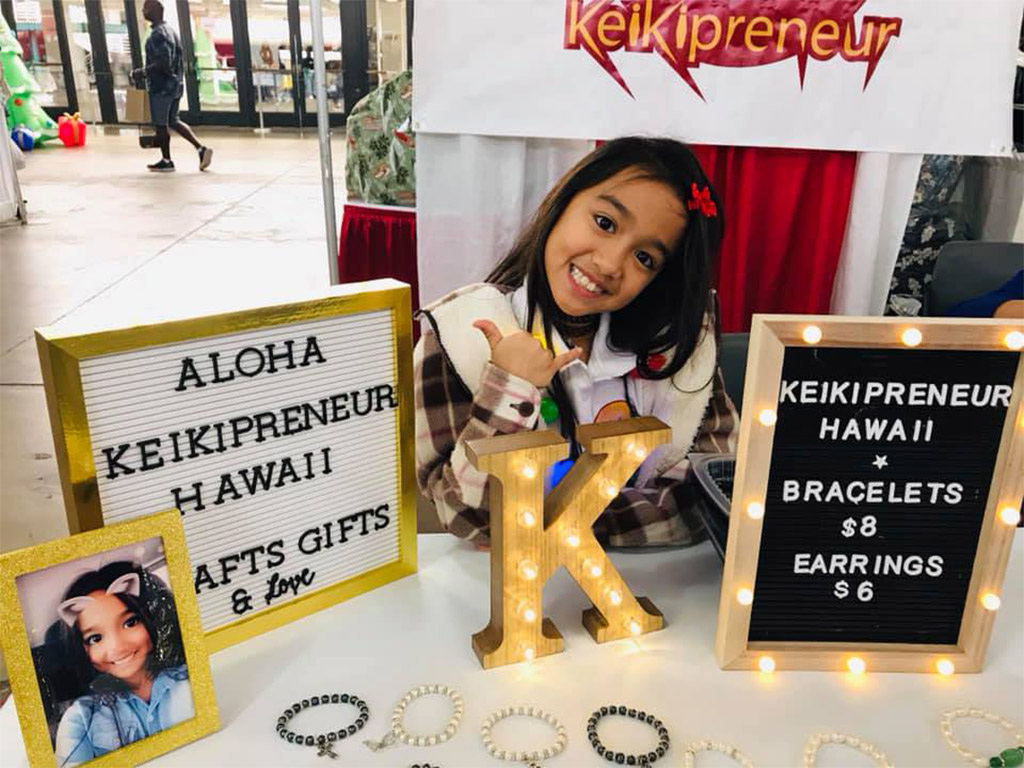 Photo: Courtesy of Pacific Expos
Savvy young businesspeople will market and sell their own items at the Hawaiʻi Food & New Product Show this weekend.
Food & New Product Show
If your family likes to walk around big-box stores and eat food samples, they'll feel right at home at the Food & New Product Show this weekend. Hundreds of local businesses introduce their new products at this show, with tastings galore. Other highlights of this event include a pumpkin festival, plant sale, live entertainment and a Keikipreneur Zone, featuring products made by local children. Also new this year is the Cookie Con & Sweet Expo, a dessert fest to satisfy your sweet tooth.
Shhhhh
The art of listening—and speaking up at the right times—are themes of Shhhhh, a play that runs for two weekends at Honolulu Theatre for Youth. This 35-minute production teaches keiki to find their own inner voices, listen to others and appreciate the sound of silence. For fun ideas on how to engage children before, during and after the play, the theater has posted a Shhhhh activity guide. Please note that 11:30 a.m. on Saturday, Oct. 19, is the "HTY For Every Family" (pay-what-you-can) show, which also includes a translator for American Sign Language.
---
SEE ALSO: Honolulu Theatre for Youth's "HTY for Every Family"
---
Second Saturday
Bring your keiki to the Hawaiʻi State Art Museum on Saturday to make Halloween-themed ornaments with the Hawaiʻi Stitchery and Fibre Arts Guild. While their ornaments dry, you can visit the galleries, play in the I Love Art kids' room and see the 12-foot-tall Mr. Chickenpants in the outdoor sculpture garden. This is the final "Second Saturday" program before the museum on Nov. 9 launches "Super Saturday," which is another free art program for kids, except with multiple art activities and live entertainment.
Pregnancy & Infant Loss Remembrance Walk
Families who have lost babies through stillbirth, SIDS, miscarriage and other medical conditions are gathering at Magic Island on Saturday morning to honor their little ones. Sign-in begins at 9 a.m., along with kids' crafts and face painting. Then from 10 a.m. to noon, speakers come to the mic, followed by a butterfly release and solidarity walk around Magic Island. As of this writing, 36 more butterflies were available for purchase at $8 each through sharingthebutterflyexperience.com.
PetBlock Pāʻina
Join pets and their humans this Sunday at the biggest block party ever thrown by the Hawaiian Humane Society! Expect live music by Simple Souls, dozens of pet-related vendors, and a pet talent and costume contest at 6:30 p.m. and 7 p.m., respectively. Food booths include Serg's Mexican Kitchen, Shaka Bowls, Side Street Inn, Hawaiian Pie Co., Mr. Tea Cafe and at least a dozen more crowd favorites. If you'd like to support the society, T-shirts are for available at the event for $30 each. PetBlock replaces the nonprofit's annual PetWalk, which the nonprofit ended after 28 years.