Your Weekend: The Best Family Events-Oct. 10, 2018
Take a free hayride, create keepsake art, make a Harry Potter-approved wand or plant a succulent.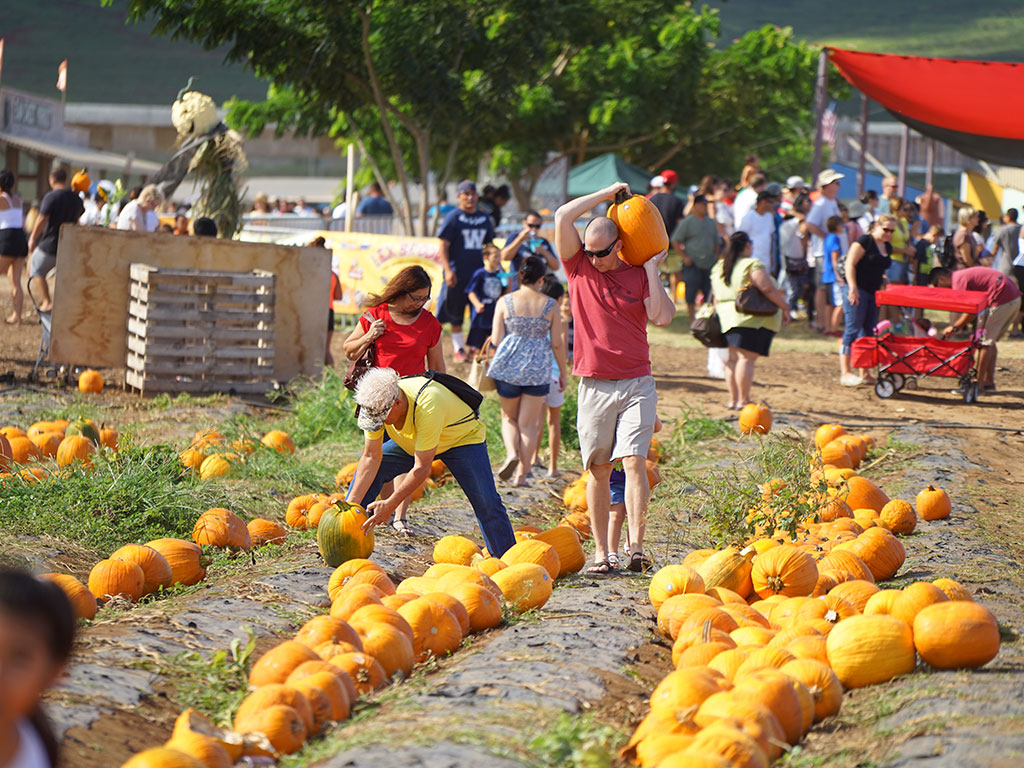 Photo: Courtesy of Aloun Farms
Art with heART! A FUNdraiser for Art Explorium
Create five artistic keepsakes while snacking on dishes by Graze Hawai'i at this fundraiser for Best of HONOLULU Family winner, Art Explorium. Kids and their parents can paint a canvas with a local artist, design a screen-printed tote bag, build a succulent planter, create a Japanese enamel charm and don a custom-designed party hat. All attendees will also be entered to win an Art Explorium Birthday Party, keiki ʻukulele signed by Jake Shimabukuro, a Kaimukī Superette gift certificate and other prizes. The event is Sunday afternoon, so you donʻt have to worry about getting to bed late on a school night.
Aloun Farms Pumpkin Festival
West O'ahu's pumpkin patch is open this weekend. That means you can haul home a 30-pound pumpkin if you're feeling ambitious, or pick smaller gourds and pick string beans and go on a free hayride. Don't forget the free keiki zone, to run the kids through the biggest obstacle course ever, and bring a wagon to haul home your finds (and tired keiki). Note: Saturday is Military Appreciation Day, so people with military ID get in free. There is another way to waive the $3 admission fee. Click here to find out how and read our 14 tips for Aloun Farms Pumpkin Festival.
Looking for more Halloween fun? We have more than 40 family-friendly events, a roundup of your trick-or-treat spots for the 31st, crafts and snacks in our Halloween Corner.
Keiki Succulent Workshop
Kids can will create their own succulents and learn how to take care of them at this workshop run by Paiko Hawai'i. Keiki will pick their own pot, plant and decorate it to take home. Pre-registration is required.
Mischief Managed at Kaimukī Public Library
Harry Potter and the Sorcerer's Stone was released in the U.S. 20 years ago, turning kids and adults into Muggle fans of the boy wizard and his friends. Friday, celebrate the anniversary (and the end of fall break) with an all-day event in honor of the boy with the lightning-shaped scar. Arrive early to watch the first movie (10 a.m.), then stay to make a wand at Ollivander's (1:30 to 2:30 p.m.), answer trivia (3:30 to 4:30 p.m.) and take on a magical scavenger hunt (1 to 4:30 p.m.). You could win a plush Hedgwig, Hogwarts gear or a snitch necklace.
Sparkle at Honolulu Theatre for Youth
Lucas is all about glimmer and glitter. Isabella doesn't and when she comes to play, Lucas starts to lose his sparkle. This two-show only performance for the youngest theatergoers teaches kids itʻs OK to be themselves. Don't forget to take a look at HTY's Sparkle activities guide for ideas on how to incorporate related lessons at home during playtime.
Reserve Now: Hawai'i Nature Center "Night Insect Safari"
Hawai'i Nature Centerʻs popular weekend workshops always fill up. We just checked, and out of the six hands-on programs offered this fall, only one is left. So register this weekend for the Night Insect Safari scheduled for Saturday, Dec. 1. Kids 6 years and older will head out to hunt for insects that come out after sunset. Entomologists and keiki will set up camp to see what creatures are drawn in by the light.