Your Weekend: The Best Family Events-Nov. 7, 2019
Watch Polynesian sports, dance with glowsticks and honor military members on Veterans Day.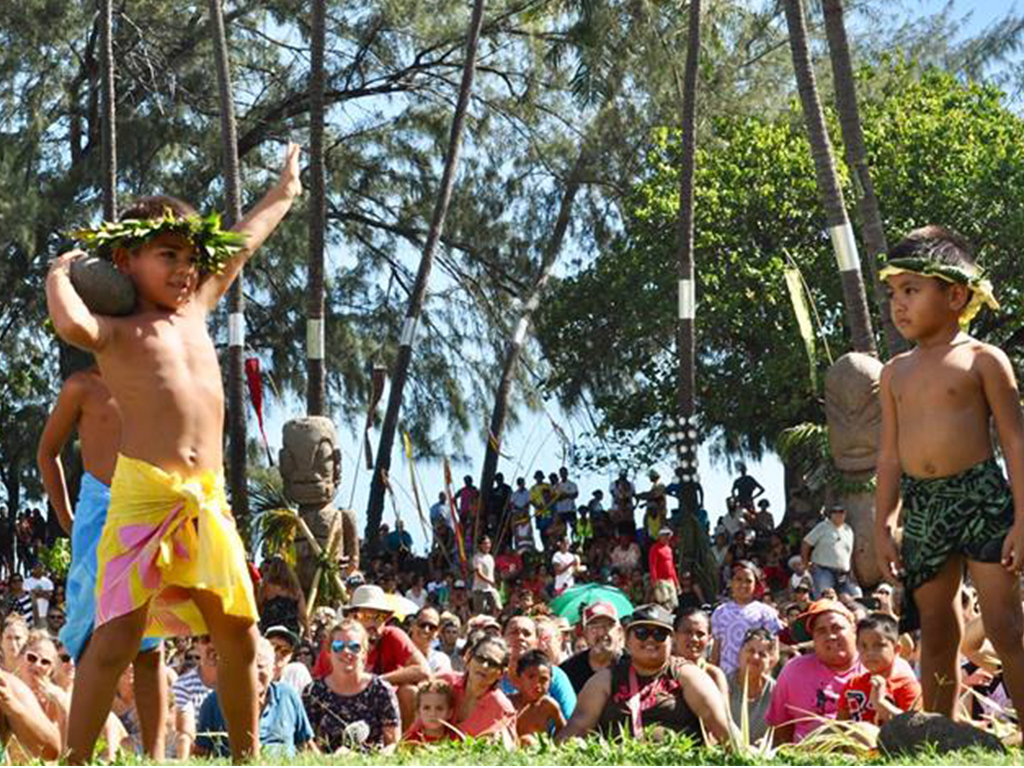 Photo: Courtesy of Heiwa Tu'aro i Vaihi Facebook page
Waimea Valley Makahiki Festival & Heiwa Tuʻaro I Vaihi
Bring your family to Waimea Valley to watch Hawaiian arm wrestling, rock lifting, barefoot racing and other traditional Polynesian games. Arrive by 9 a.m. for the opening ceremony, or by 10 a.m. to see coconut tree-climbing races. The rock lifting competition begins at noon, and wrestling kicks off at 1:45 p.m. Food vendors are on the premises, so you might want to bring cash for snacks and drinks. Waimea Valley also has a swimmable waterfall that is safe for kids (with adult supervision, of course.)
---
See also: "Our Guide: Waimea Valley"
---
Burger Bash
Join HONOLULU Magazine at Kāhala Mall for this celebration of all things burger. More than a dozen restaurants are serving up their favorites. Your vote decides the crowd favorites. We suggest buying the $25 pass, which you can use to get five smaller versions from places including Butcher & Bird, Smith & Kings, Square Barrels and more. Presales on hnltix.com ends tonight! And make a beeline to the HONOLULU and Jana Lam booth to get first dibs on special holiday stockings created as a collaboration between the local designer (and mom of two!) and HONOLULU.
Super Saturday
A quiet corner of downtown Honolulu comes alive this weekend when the Hawaiʻi State Art Museum hosts "Super Saturday," a free program where kids can take mini workshops from professional artists. Some highlights include breakdancing, keychain and scrunchie making, 3D wiring, watercolor painting and a musical program called "boomwhackers." Also, watch a screening of the animated series project Wao Akua, and don't forget to visit the Honolulu Police Department's booth to make free ID cards for your children. The event runs through lunchtime, so you might want to bring some cash to purchase food at the museum's café, Artizen by MW, and cotton candy by Love Puff Hawaiʻi.
---
Learn more about this monthly event for art-loving keiki at "We Tried It: Super Saturday at the Hawaiʻi State Art Museum."
---
Family Dance Party
Break out the glowsticks you didn't use on Halloween and bust a move or two! This Saturday, a dance party happens on the lawn of Kapolei Commons, where keiki can safely run around. Expect high-energy dance competitions, a silent disco corner, hula hoops and family-friendly pop tunes. The party ends at 8 p.m., leaving just enough time for a pre-bedtime snack at the shopping center. Late-night Target run, anyone?
East-West Center Family Sunday
Want to teach your keiki about Canada's indigenous people and their nature-inspired art? Then carve out 90 minutes on Sunday afternoon to visit the East-West Center's "Family Sunday" event. At this free program, children can learn to weave with cedar and lauhala with the help of two artists—Brenda Crabtree and Ulana Me Ka Lokomaikaʻi. The hands-on activity is tied to the exhibition titled "First Nations Art of British Columbia," on display at the gallery through Jan. 12, 2020. Parking on campus is free and open on Sundays.
Veterans Day: Wahiawā Lion's Veterans Day Parade
"Honoring Our Real Superheroes" is the theme of this year's Wahiawā Veterans Day Parade, which is the longest-standing parade in the state of Hawaiʻi. Expect a procession of military vehicles, marching bands, school groups, Corvettes, and former and current service members. The parade starts at 10 a.m. at Ka'ala Elementary School, travels along California Avenue and ends at 10:45 a.m. at Wahiawā Town Center.
Veterans Day: Sunset Ceremony
Participate in a sunset ceremony at the Battleship Missouri Memorial to honor service men and women in the military. George Howell, Commanding Officer of the USS Missouri, will be the ceremony's keynote speaker. Capt. Jack Laufer, USCGR (Ret.), a board member for the USS Missouri Memorial Association, will present the ceremony's opening address. Free shuttle rides start at 3:30 p.m. from the Pearl Harbor Visitor Center to the ship. Bags are not allowed on the shuttle. Please RSVP using the email or phone number listed below.