Your Weekend: The Best Family Events-Oct. 31, 2018
Our picks for the weekend's best family events.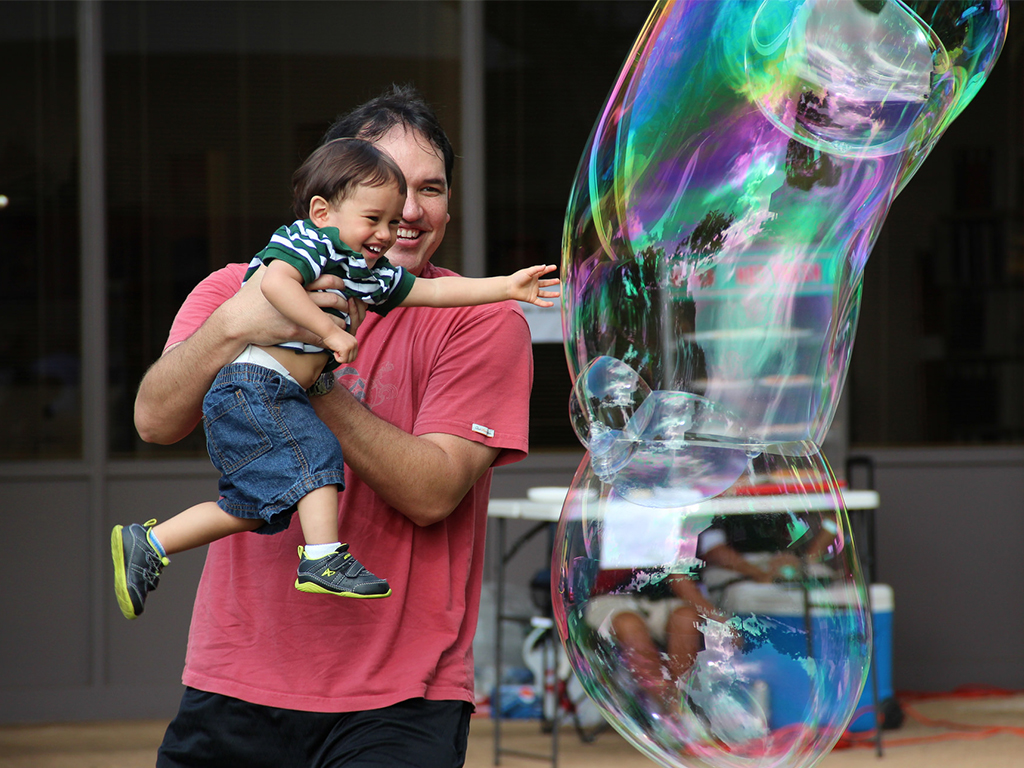 Photo: Leeward Community College
Giant bubbles are part of the fun at this weekend's Leeward Discovery Fair.
Leeward Discovery Fair
Got little scientists in your home? Bring them to Leeward Community College's free day of family fun. For the 50-year anniversary celebration, kids will be able to watch liquid nitrogen freeze flowers and boiling liquid, play with giant bubbles, step into quicksand and decorate high-flying rockets. The first 500 families to check in at the information booth will receive baskets filled with $50 gift cards, backpacks, school supplies and other prizes. Not only is this anniversary celebration a free event, it's easy on budgets, too. Select food items will be sold for 50 cents each, and parking will be free all day. We tried it! Click here to see our guide to the annual day of free fun.
Family Dance Party
Boogie the night away at a keiki dance party fueled by deejays, Flossing challenges (the dance move, not the dental string!), and plenty of glow sticks, bubbles and balloons. When you crave peace and quiet, bring your kids to the silent disco station, where they'll dance to music only they can hear on headphones. Takeout dinner options include Barrio Café, Aloha Plate, DB Grill or La Tour Café, and frozen treats from Kona Ice. If you'd rather sit down to a leisurely meal with the family, head to Eating House 1849 and Ruby Tuesday for dining deals.
Arbor Day Honolulu Festival
Foster Botanical Garden—that peaceful oasis in downtown Honolulu—will host a free event for nature lovers this Saturday. Families can receive a free tree while supplies last, participate in a free guided tour of the gardens, learn the art of lau hala weaving, and sign up here for an outdoor yoga session. Keiki ages 10 and up also can sign up here to "forest bathe," a therapeutic practice involving nature and all five senses. If keiki are too young for any of the pre-registered activities, bring a picnic lunch and blanket, and spend a relaxing afternoon at the garden.
Hanahau'oli Children's Fair
Joyful Jamboree, a free event celebrating the 100th anniversary of Hanahau'oli School, will have pony rides and lemonade stands, a white elephant sale and country store, and other family-centric activities. After kids get their faces painted, they can pose in the photo booth and walk through the post-Halloween haunted house. Bring reusable bottles to fill up with water, and park for free at Roosevelt High School, where shuttles will transport riders to and from the campus.
Shirokiya Japan Village Walk Renewal Opening Matsuri
Have lunch at one of 32 food stalls and play kids' activities for free, including kingyo sukui (goldfish scooping), amezaiku (candy artistry), origami and draw-your-own uchiwa, paper fans. For grownups, there will be live music, taiko drumming and 50 percent off signature dishes. Note that some activities are reserved for keiki ages 12 and younger.
To read about Gachapon toy machines and daily kids activities at Shirokiya, read our blog "We Tried It: Shirokiya Japan Village Walk."