Your Weekend: The Best Family Events-May 22, 2019
Our picks for the weekend's best family events.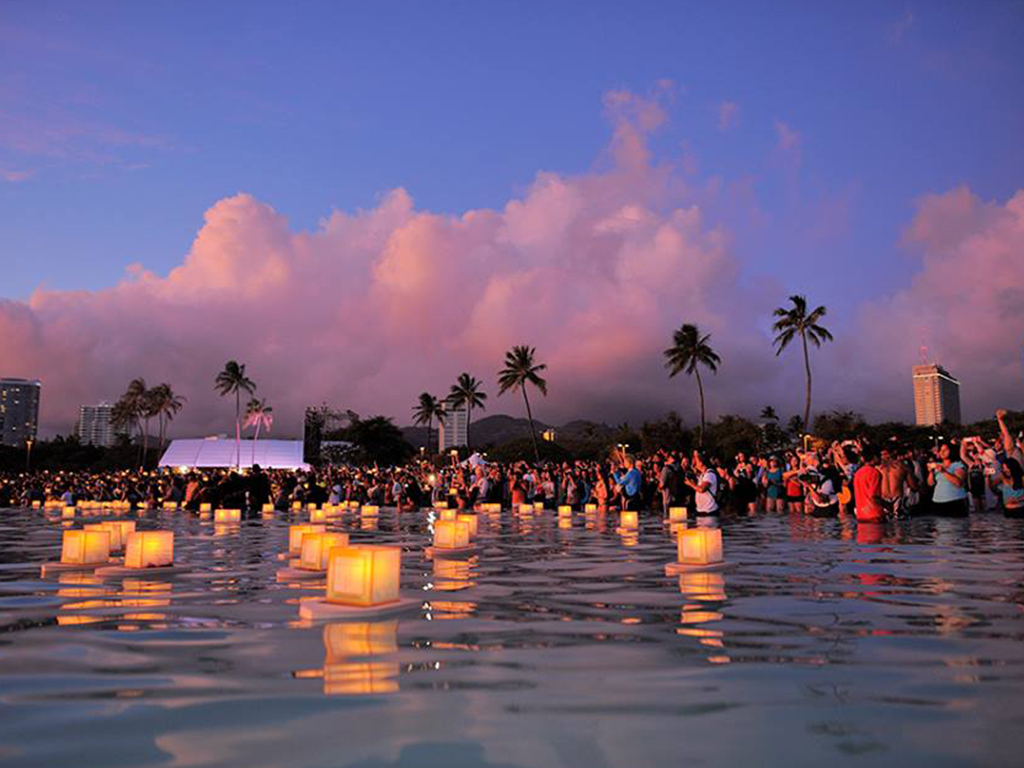 Photo: Courtesy of Shinnyo Lantern Floating Hawaii
Travelling Bricks: An Exhibition Made of Lego Bricks
More than 120 giant models made of millions of Lego bricks are up for viewing at Bishop Museum, as part of a traveling exhibit from May through October. What to expect? Ten-foot-long Carl Sagan and Saturn V rocket models, a 22-foot-long Titanic ship, and trains, planes and spaceships. You'll also see replicas of Aloha Tower and the voyaging canoe Hōkūleʻa, both built by a local Lego hui. When kids are done viewing everything, they can climb into a pit holding 300,000 Lego bricks—and start building their own masterpieces. Remember, this is a special exhibition, so it will cost you an additional $4.95 to visit.
Do you know that Bishop Museum has a planetarium show and lava-melting demo just for children? For more tips, read "Our Guide: Bishop Museum."
Star Party at Dillingham Airfield
Peer through telescopes to view globular clusters, double stars, galaxies and nebulae at this free public star party in Waialua, courtesy of the Hawaiian Astronomical Society. But before you head there, you might want to pack a take-out dinner, insect repellent, jackets for cool temperatures, and picnic mats for your family to sit on. The event starts at 7 p.m., so please arrive at Dillingham Airfield before the gates lock at 6:30 p.m. Sorry, pets are not allowed. For directions to the airfield, click here. For tips on how to park and what not to bring, please view the Star Party etiquette guide.
Hawaiʻi Geek Meet
Is anyone in your family a Star Wars fan, cosplayer, ham radio operator, Trekkie, techie, astronomer, steampunk fashionista, mermaid enthusiast—or something along those lines? If yes, head over to Ala Moana Beach Park on Sunday where self-proclaimed geeks will share their hobbies and inventions with the public. Some highlights of this event: a lightsaber tournament at 10 a.m., followed by an open tourney from noon to 2 p.m. for kids ages 8 to 12, and at 3 p.m. for teens age 13 and older. A geocaching challenge from 10 to 2 p.m. will send people across the park, hunting for a hidden container (geocache) using GPS coordinates. The Geek Meet is not a commercial event, so please bring your own snacks and drinks if your family needs to refuel.
Discovery Day with NOAA
What does the inside of a whale look like? Find out this Friday when a 45-foot inflatable whale—complete with internal organs—goes on display at the Salt Lake-Moanalua Public Library. In this free, one-day program, members of the NOAA (National Oceanic and Atmospheric Administration) will answer questions and talk about weather patterns, oceans and marine life. Please note that children must be accompanied by their adults at all times.
Shinnyo Lantern Floating Hawaiʻi
More than 7,000 glowing lanterns will light up the shoreline of Ala Moana Beach Park on Monday as part of the Shinnyo Lantern Floating ceremony to honor the spirits of people who have passed on. If your family would like to float a lantern, pick one up from 10 a.m. to 3 p.m. at the Lantern Request Tent, then write a personal message on the lantern and release it into the water at sundown. Bring your camera to capture the moment. For easy parking, please leave your vehicle in the Hawaiʻi Convention Center between 7 a.m. and 11:45 p.m. and walk to the beach park. A complimentary shuttle will transport people with disabilities. Please note that this is a ceremonial event, so there will be no food, souvenirs and beverages for sale.