Your Weekend: The Best Family Events-May 30, 2018
Our picks for the weekend's best family events.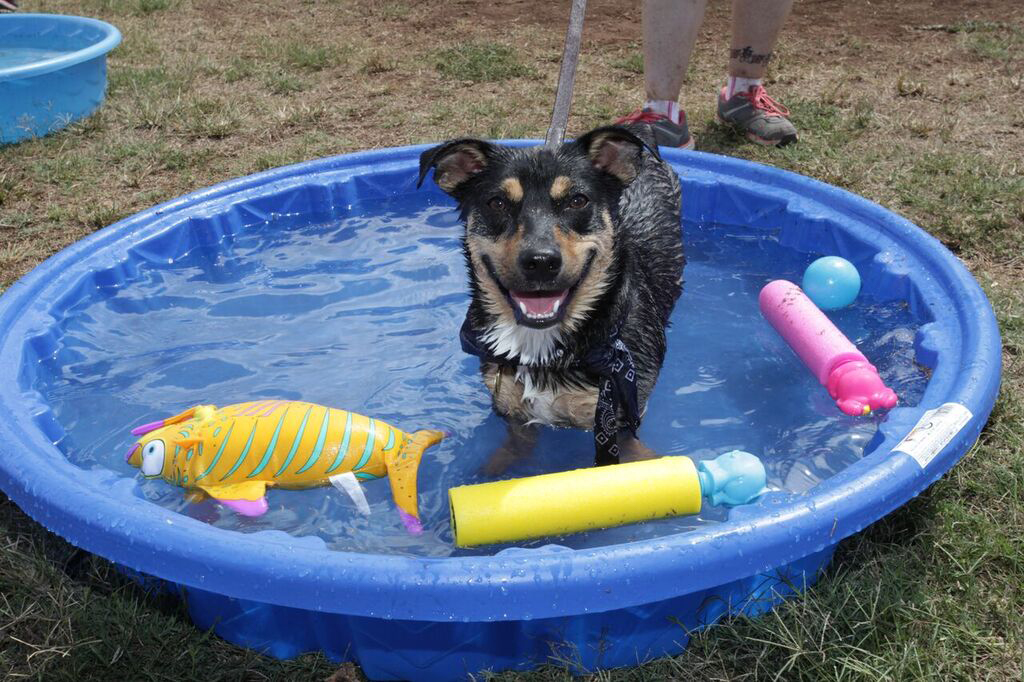 Photo: Courtesy of West ʻOahu Pet Walk
A canine cools off at the West ʻOahu Pet Walk
The Experience
Pearlridge Center is bringing a new activity center to Center Court this summer. It is called "The Museum of Aloha presents The Experience" with seven interactive exhibits. The list includes a balloon-filled cave, a confetti-shooting volcano, a sticker-filled gummy bear sculpture and a room with thousands of hanging lei. Families who pay the $10 for 15-minute tickets (some of the exhibits have five-minute time limits) will also receive small snack samples including Da Snack Shopʻs nitrogen ball treats which smoke for photo effects.
Summer Reading Program Kick-Off
The 2018 Summer Reading Program kicks off this Saturday at public libraries statewide to encourage readers of all ages. In line with year's theme, "Reading Rocks," the Hawaiʻi State Library in downtown Honolulu will host a live concert featuring cover songs by The Stellarcats, drumming by Taiko Center of the Pacific and vocals by The Tonga Sisters. The kick-off includes kids' activities, refreshments and a music sale by the Friends of the Library of Hawaiʻi. This year's reading program runs through July 14. Participants can register online or in person at their neighborhood libraries to receive reading rewards.
West Oʻahu Pet Walk 2018
The state's only "lighted night walk for pets and people" doubles as a fundraiser to help end pet overpopulation and reduce euthanasia of animals on Oʻahu. Arrive between 5 and 7 p.m. to register and run your dogs through obstacle courses and toy-filled swimming pools. The walk from 7 to 8 p.m. Along the one-and-a-half-mile route, dogs will receive treats and toys, while their humans snack on pizzas, chicken wings and light pūpū. Pet ownership is not required to participate.
Screen on the Green
Buy dinner and shop from 2 to 6 p.m. at the Haleʻiwa Farmers Market in Waimea Valley, then stick around to watch Disney's animated movie Coco. Bring low-back chairs, picnic blankets and pillows for your family to spread out on the lawn. This is the first of Waimea Valley's 2018 summer-movie series, happening every Thursday evening through July 19. Coco will be followed by Deep on June 7, Jumanji: Welcome to the Jungle on June 14; Despicable Me 3 on June 21; The Emoji Movie on June 28; Mary Poppins on July 5; Pete's Dragon on July 12; and Sing on July 19.
Flight Adventures
Tour open cockpits, participate in STEM aviation activities, and watch a large-scale remote-control air show by award-winning Warbirds West and local group Paradise Flyers. This one-day event, which replaces the Biggest Little Airshow in Hawai'i, ends with the traditional Candy Drop, where kids catch sweet treats falling from the sky. From 9 a.m. to noon, the Paradise Flyers will teach kids ages 10 to 17 how to operate a radio-controlled plane on the museum's flight line. To register for RC plane lessons, follow the registration link in the ticket order confirmation email.