Your Weekend: The Best Family Events-May 29, 2019
Our picks for the weekend's best family events.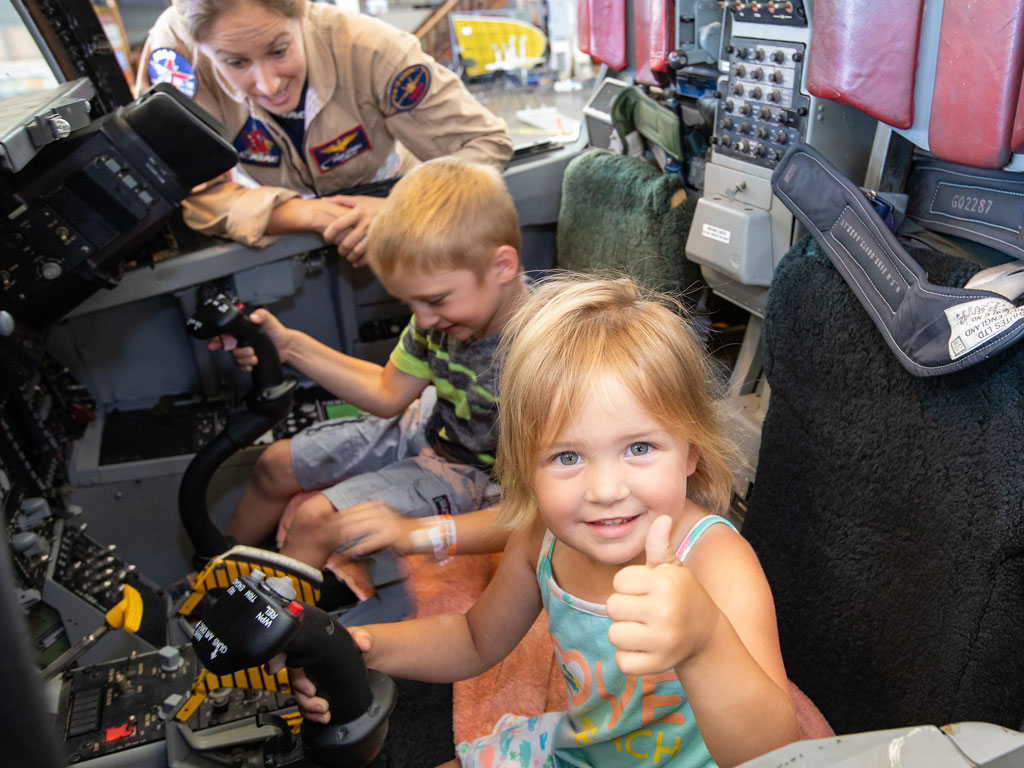 Photo: Courtesy of Pearl Harbor Aviation Museum
Keiki can climb into cockpits, fly remote-control airplanes and play with all things aviation (with free entry) at Flight Adventures.
Flight Adventures
The cockpits are open and remote-control aircraft are ready to take off at this event at the Pearl Harbor Aviation Museum. This year, admission is only $5 and kids 18 years and younger get in free when you register ahead of Saturday's event. Usually, admission only is free during the museum's LIVE day in the fall. When you arrive, make sure to sign up for the opportunity to fly remote-control planes (registration opens at 8 a.m., with flying only between 8:30 a.m. and noon) and stick around for the candy drop at the end of the airshows, scheduled for 10:30 a.m. and 2 p.m. Remember, if you do not have base access, you will park at the Pearl Harbor Visitor Center and take the shuttle to the museum.
Summer Reading Program Kick-Off
Launch your keiki into a "A Universe of Stories" this Saturday when the Hawaiʻi Public Library's summer reading program officially begins. Multiple events will be held across Oʻahu this week including: Uncle Wayne and the Howling Dog Band's live performances in the Kapolei, Kaimukī and Kāneʻohe branches; a family dance party in the Nānākuli library; a Pokémon GO stamp rally in the ʻAiea library; and a Lego city build-out with Playwell TEKnologies in the main branch in downtown Honolulu. The build-out requires pre-registration, with a maximum of 50 participants in 25-minute sessions each. To search for other summer reading program events by location and genre, visit librarieshawaii.org and drop down on the "attend" tab.
Touch a Truck Day and Dad's Appreciation Day
Father's Day isn't until June 16. But Wet'n'Wild Hawaiʻi will offer dads (and their family and friends) discounted tickets on general admission this weekend. While that's happening, the parking lot outside the water park will have a Touch a Truck event, where keiki can climb aboard and get up close to heavy-duty utility vehicles, mini-excavators, rollers, bucket trucks, and other big, loud vehicles. Cover your ears when kids start honking! In addition to the trucks, there will be motorcycles and show cars on display.
West Oʻahu Pet Walk
The only lighted night walk for pets on Oʻahu is this Saturday in Kapolei—and you don't have to be a pet owner to participate. Along the mile-long route, sponsors will hand out gifts including scoop bowls, tennis balls, teeth treats, bags, and snacks and drinks for humans. Prior to the walk, dogs can play in an off-leash area filled with balls and balloons, then take a free doggie bath to freshen up for a photo session with their humans.
Keiki Fun Sunday-The Fabulous Fish
Kids get in for free this Sunday at Sea Life Park Hawaiʻi, where there will be gyotaku fish printing on tote bags, educational games to teach keiki about fish, a "baby shark" dance performance, a bubble wand show, puppet shows, live mermaids and scavenger hunts. In addition, the first 100 kiddos ages 12 and under to enter the park will receive a free marine-themed hat.
Sunset Mele and Night Market
Friday is the last day for the state's public schools, and it is the first night of this year's free family movie event at the Hawaiʻi Convention Center. Listen to live music by Conner Snow, Robi Kahakalau and other local entertainers. Shop in the marketplace of 35 vendors and pick up everything from Jamba Juice to Filipino food and gelato. Then head into the theater for a showing of Aquaman. Booths and entertainment begin at 4 p.m. The movie starts at 6 p.m.
Bark To The '80s: Dogs Days of Summer Bash
Dress your doggie in neon colors and 'lil legwarmers this Saturday for a "Bark To The '80s" party just for pooches. There will be a canine costume contest at 1 p.m. and prizes for the top dogs who best represent the decade. Sign up for the contest at the Hawaiʻi Pet Beat table before 12:30 p.m., and visit other booths for pet-care information and new products. To attend the bash, people are required to show their event tickets (printed out or on their smartphones) at the reception desk, where they'll receive an event guidelines sheet. Register at the link below.