Your Weekend: The Best Family Events-May 2, 2018
Our picks for the weekend's best family events.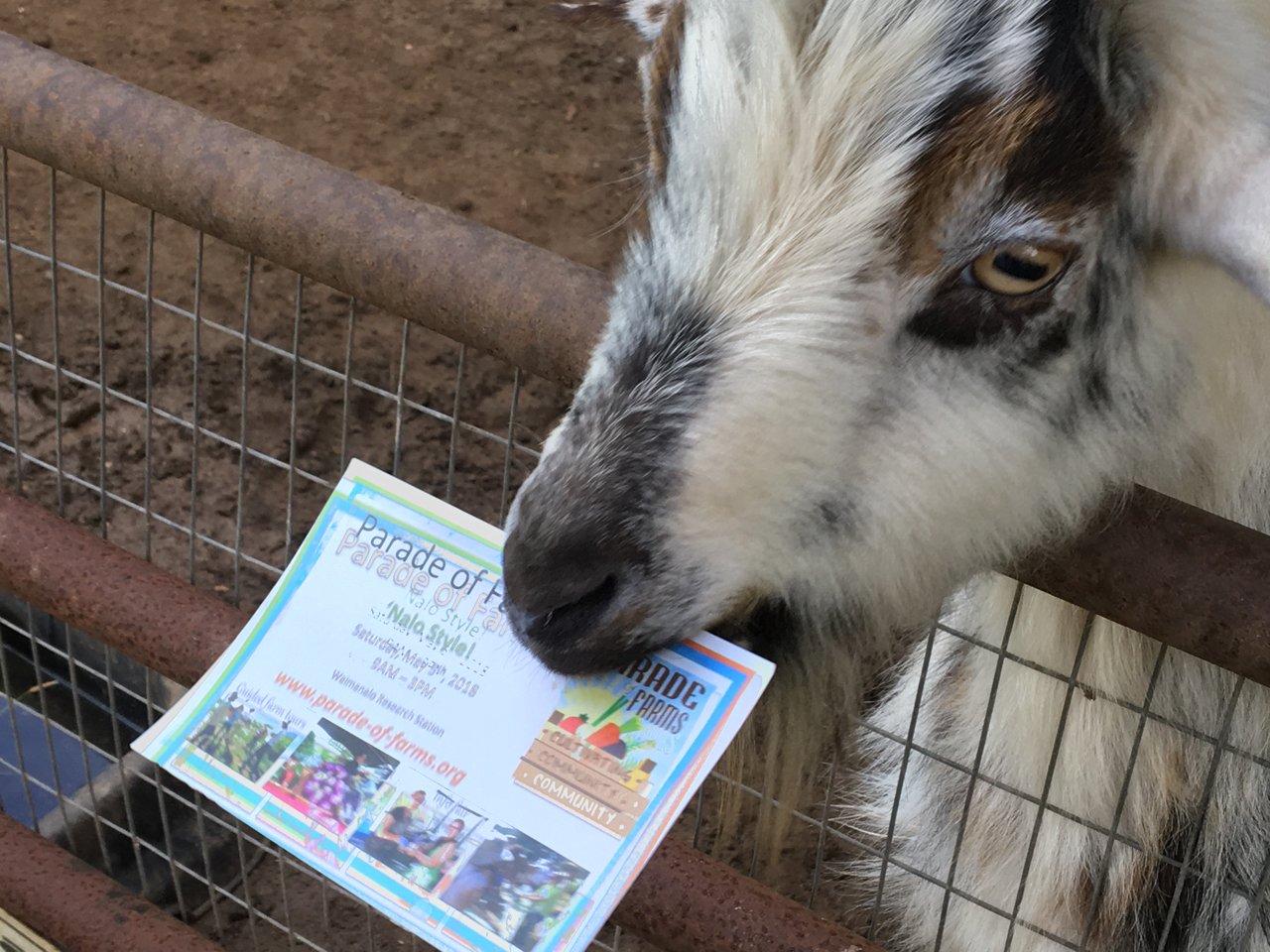 Photo: Courtesy of Oahu RC&D
A goat from the Therapeutic Horsemanship of Hawaii promotes the 2018 Parade Of Farms.
3rd Annual Parade of Farms
Recent rains and flooding in Waimānalo haven't stopped the Parade of Farms, an annual behind-the-scenes tour of local agribusinesses. Start at Waimānalo Research Station to ride tractors, purchase homemade treats and learn about beekeeping, sustainable research, entomology and tropical fruit trees. Pre-purchased tickets are required for guided tours: "Slice of Paradise" at Frankie's Nursery (pineapple and tropical fruits); "Cultivating Our Future" at Go Farm Hawai'i (farmer training); and "Natural Nalo" at Kanu Farms (fruit orchards and eggs). If your family wants to meet therapy horses and pet goats and pigs, sign up for "Horsin' Around Waimānalo" at Therapeutic Horsemanship of Hawai'i. Farm tour fees include transportation to and from Waimānalo Research Station.
13th Annual Hawai'i Book & Music Festival
This weekend, the backyard of Honolulu Hale transforms into a playground for book and music enthusiasts. Head over to the Book Swap to trade trade five "gently used" books for five others (parent tip: do this first), then visit the Keiki Tent to dance and sing along with PBSKids host Mr. Steve or local favorite Uncle Wayne and the Howling Dog Band. At the "Kristi Yamaguchi Reading Corner," listen to children's books read aloud by the ice-skating Olympian herself. Want more details? See our six tips in "Inside Look: 2018 Hawai'i Book and Music Festival."
2018 Flores de Mayo and Filipino Fiesta
Bring your picnic blanket and foldable chairs to Kaka'ako Gateway Park this Saturday for the 26th annual Filipino Fiesta. Feast on pancit noodles from Gerry's Grill, pastries from Red Ribbon, chicharon pork rinds from San Nicolas, and more. Take your kids to the youth area, where they can don native costumes and learn to play "paris paris" and "sungka" games. Relax in the late afternoon while top vocalists perform pop and Broadway tunes. For tips on how to navigate the fiesta, read our "Inside Look: 26th Annual Filipino Fiesta."
Mother's Day Craft & Gift Fair
Stumped on what to get grandmas, sisters, daughters and aunties for Mother's Day? The annual Home and Garden + Craft Fairʻs Mother's Day Craft & Gift Fair section will have more than 40 booths. Popular this year: Hard-to-find tumblers from the 2018 Starbucks Korea summer collection; FriXion erasable pens; scarves that double as lightweight jackets/beach cover-ups; planners and organizers just for Moms; and handcrafted jewelry by local artisans. There will be a booth for kids to make–and take home–wooden crafts.
Ma'ema'e Family Night 2018
Gear up for another school festival of rides, food and games—this time in Nu'uanu. Family Night at Ma'ema'e Elementary School promises a bake sale, keiki rides, country store, pop-up boutiques, silent auction and, our favorite, the Bargain Bin. Gamers in the family can play in the Virtual Reality Room then everyone can watch student rock stars. Free parking is available in surrounding church parking lots and other businesses.