Your Weekend: The Best Family Events-May 16, 2018
Our picks for the weekendʻs best family events.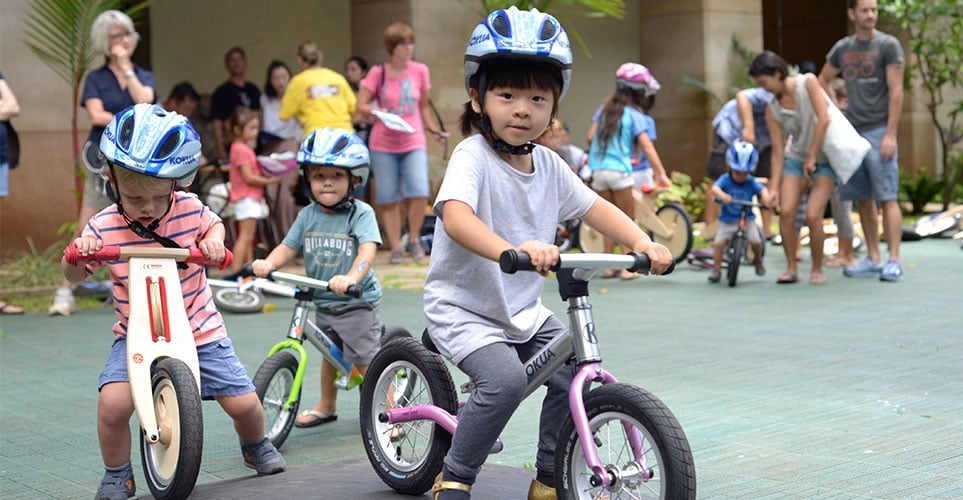 Photo: Honolulu Museum of Art
Bank of Hawaiʻi Family Sunday
Bring the family to the Honolulu Museum of Art, where admission is free, and kids can participate in art activities and entertainment. This month's theme, "Where are We?" focuses on two-wheeled travel. Kids can make their own bike flags, maps and printed bike designs; participate in a bike rodeo; and test their agility on balance bikes. At 10:30 a.m. and 1 p.m., short films for children from around the world will be shown in the Doris Duke Theatre adjacent to the museum. Activities stop at 2 p.m., but the museum is open free of charge until 4:30 p.m. A shuttle bus is available to take families to the museum's free Family Day at Spalding House, a similar program with activities for kids. For more information about the museums, read "Our Guide: Honolulu Museum" and "Our Guide: Spalding House."
Visitor Industry Charity Walk
Take a walk around Waikīkī and stop 15 times for snacks, drinks and entertainment provided by our hotels and businesses at the 40th annual event. Walkers will also get breakfast and lunch. Strollers are allowed but you will need to leave wagons, pets, skates and scooters at home. The route is a little more than five miles from Ala Moana Beach Park and back, but the atmosphere is friendly and the pace leisurely.
University of Hawai'i Baseball's Senior Weekend
The final home game of the year in Mānoa will give fans a chance to say farewell to 12 seniors. The baseball 'Bows will face Long Beach State on Friday, Saturday and Sunday then hold a small graduation ceremony for the players who missed commencement last week while they were playing on the road. Friday night, fans can get autographs from the team on the field. Sunday is the discount day, where families can get four tickets, hot dogs and drinks for $25.
"Connecting Through Art"
In this one-day workshop, "Fathers and Sons, Mothers and Daughters. Connecting Through Art," parents or caregivers can bond and paint a masterpiece together with their child. The class will be taught by local artist Wayne Takazono. Art supplies and refreshments are included in the fee.
Ekiden and Music Festival
Listen to hit tunes by Japanese and Hawaiʻi bands in an outdoor, evening concert at the Waikīkī Shell. On the line-up are local performers Kalapana, The Manaʻo Company and The Real Hoʻaikāne. From Japan: Sunplaza Nakano-kun, Pappara Kawai, May J. and girl group Shiritsu Ebisu Chugaku. Gates open at 4:30 p.m., and terrace or lawn seating is first-come, first-served. The concert leads up to the Honolulu Ekiden, a 26.2-mile relay race scheduled for the following day.