Your Weekend: The Best Family Events-May 1, 2019
Our picks for the weekend's best family events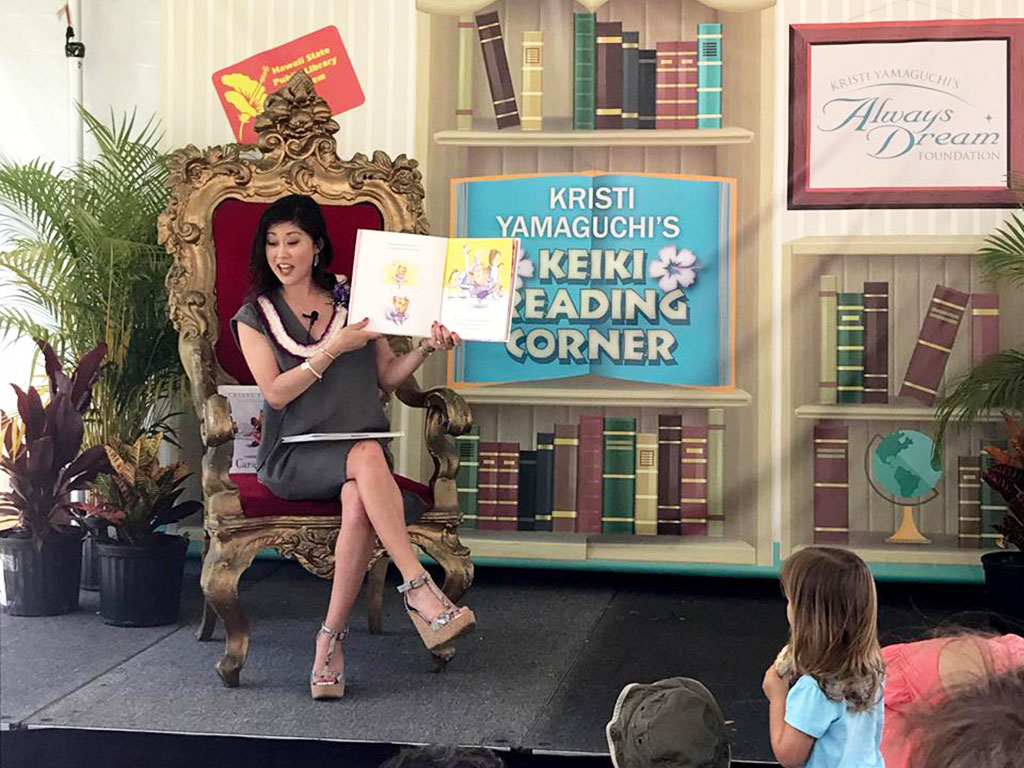 Courtesy of: Hawai'i Book and Music Festival
Hawai'i Book and Music Festival
There is never a shortage of activities for the keiki at the annual free Hawaiʻi Book and Music Festival, and this year is no exception. The Kristi Yamaguchi Reading Corner will feature the Olympic skater herself and other local celebrities reading their favorite children's books. Mr. Steve the song man of PBS will perform on the Keiki Stage three times per day while the Keiki Fun Zone offers rides and bouncers. A few tips: bring a blanket to spread out on the lawn and don't forget some of your unloved books to exchange at the popular book swap event. Food trucks and booths will be selling dishes all weekend long—so you might want to bring some extra cash.
Other celebrities will be at the festival! To learn more, visit "Inside Look: Hawaiʻi Book and Music Festival."
Parade of Farms
Have you ever wondered where your food comes from? Spend Saturday on the farm at the annual Parade of Farms. This free, day-long event highlights the farms of Waiʻanae. Keiki can try various hands-on activities, such as planting seeds to take home and painting postcards using fresh fruit and vegetables. At lunchtime, families can buy farm-to-table dishes cooked up by Kahumana Organic Farm and Café. Reserve your spot for guided tours of Waiʻanae farms for a behind-the-scenes look into the business (and lifestyle) of local farming. Families can take "The ABC's of Farming" tour to taste locally made honey from Tolentino Farms and visit the Iliʻili Farms for an up-close look at aquaponics. Tickets are $20 for adults and $10 for youth per tour. Keiki 5 and under receive free admission.
Monster Truck Rally
Come see car-crushing giants compete in racing and wheelie contests then go freestyle during the Monster X Tour. You can also meet the drivers, see the trucks up close and even ride a real monster truck at the pre-event Autograph Pit Party for an extra $15.50. The freestyle motocrossers will perform sick tricks, such as Cliffhangers, Double Grabs, Superman Seat Grabs and, of course, the Backflip! Keep in mind, parking will be limited because the 50th State Fair is being set up in the Lower Halawa Parking Lot—so arrive early. Each person will only be allowed one bag and an empty non-glass beverage container or flask. And bring cash for parking and several concessions.
Quatro de Mayo
Commemorate Cinco de Mayo one day early at Kapolei Commons. This family-friendly event celebrates Mexican-American culture through various activities including a free showing of the Disney movie Coco under the stars. Keiki can create earth-friendly maracas and "fiesta-themed" colorful paper collages at the Art Explorium booth. Mexican-themed food and drinks will also be available for any hungry niños (or niñas).
Hawaiʻi Pacific Health Women's 10K and 5K Fun Run
Lace up your running shoes and start exercising! This 5K fun run is for runners and walkers looking for a weekend workout with family and friends. Loop once around Diamond Head and finish back at Kapiʻolani Park for some post-race festivities featuring giveaways, health screenings, massages and snacks. Don't worry—your accomplishments will be recognized with a finishers race shirt, commemorative medal and perhaps an award. If you haven't signed up yet, same-day registrations are from 5 a.m. to 6:15 a.m. at the Kapiʻolani Park Bandstand. Runners can participate with strollers, and children riding in them can participate in the race free of charge. For those looking to go the longer distance, the 10K run will start at 6:30 a.m. The course goes around Diamond Head and through Kāhala, returning to Kapiʻolani Park.